WHAT.
GZERO Media is a company dedicated to providing the public with intelligent and engaging coverage of global affairs. It was created in 2017 as a subsidiary of Eurasia Group, the world's leading political risk analysis firm.

WHY.
Interest in global affairs is soaring these days, and yet traditional sources of insight are either too politicized, too polarizing, or too boring.

We believe there's a better way to help people understand the forces that are reshaping their world. By delivering deep insight with a light touch. By taking a global view. By pushing beyond predictable opinions and formats to inform, engage, challenge, and entertain.
HOW.
Our approach is at once journalistic, analytical, and creative. We not only explain the most important stories in the world today — we tease out the critical connections between them, so you can be smart about what comes next.

Whether you get the daily dish on global affairs from our GZERO Daily newsletter, see global leaders in a different light onGZERO World with Ian Bremmer, or get your fix of laughter and outrage from our political satire show PUPPET REGIME, we hope that you come away with a broader and deeper understanding of the world.
WHAT'S BEHIND OUR NAME?
For decades, a small number of leading countries regularly came together – in formats like the Group of Seven (G7) or the wider Group of 20 (G20) – to seek collective solutions to the world's most pressing challenges. What's more, the United States used its power, for better or worse, as a kind of "G1" to underwrite global norms of global commerce, finance, and security.
Today, that order is slipping away. No single power or group of powers is willing or able to set a global agenda. It's a world of many pretenders, but no leaders. Welcome to the GZERO.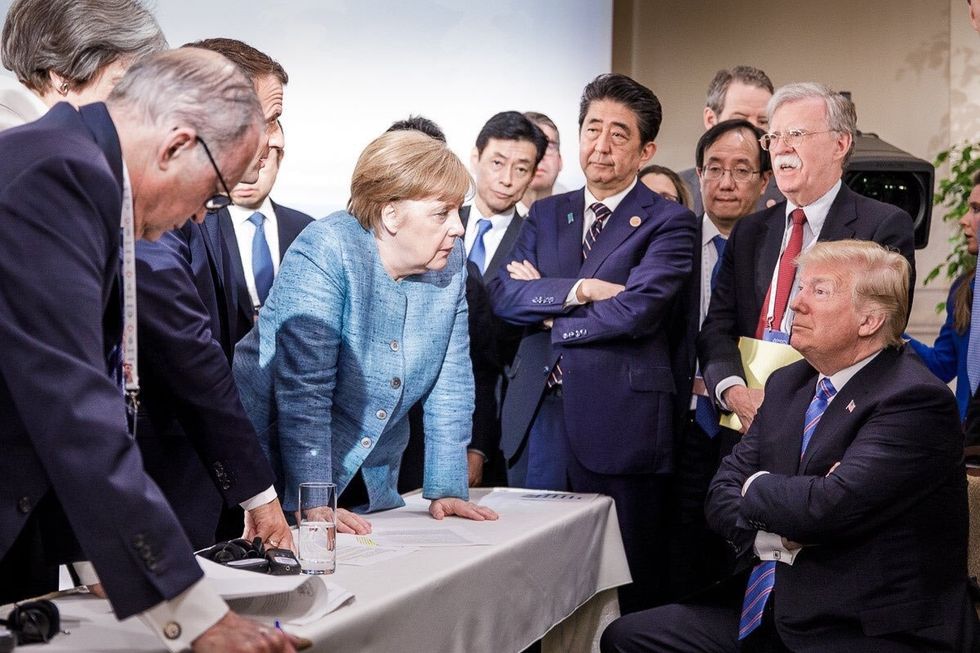 Ian Bremmer
Ian Bremmer is President and Founder of GZERO Media. He hosts the weekly digital and broadcast show, GZERO World with Ian Bremmer, where he explains the key global stories of the moment, sits down for an in-depth conversation with the newsmakers and thought leaders shaping our world, and takes your questions.
Ian is also the President and Founder of GZERO Media's parent company, Eurasia Group, the leading global political risk research and consulting firm. Ian is a New York Times bestselling author of eleven books including "Us vs Them: The Failure of Globalism," "Every Nation for Itself: Winners and Losers in a G-Zero World," "The End of the Free Market: Who Wins the War Between States and Corporations?" and "Superpower: Three Choices for America's Role in the World." His latest book, "The Power of Crisis," draws lessons from global challenges of the past 100 years—including the pandemic—to show how we can respond to three great crises unfolding over the next decade.
Ian earned a master's degree and a doctorate in political science from Stanford University, where he went on to become the youngest-ever national fellow at the Hoover Institution. Although he might not admit it, Ian's secretly jealous of his puppet's interviews with the world's most powerful leaders.
Evan Solomon
Evan Solomon is the publisher of GZERO Media and a member of Eurasia Group's Management Committee. He is excited to grow the GZERO brand with engaging new offerings and partnerships that help viewers around the globe better understand the rapidly changing world in which they live.
Evan has been one of Canada's preeminent journalists for more than 25 years. Prior to joining GZERO, he was the host of CTV's nightly political program "Power Play" and of Canada's most-watched political TV show, the Sunday morning "Question Period." He also hosted "The Evan Solomon Show," a daily iHeartRadio/Bell Media radio program.
Evan has a long history of building brands and creating programs, starting as the co-founder of the pioneering Shift Magazine, an international digital culture magazine, and as the founder of the Sirius XM show and podcast "Everything is Political." He has also hosted the PBS series "Masters of Technology" and CBC shows such as "Power and Politics," "CBC News: Sunday," "The House," and "FutureWorld." Evan has reported on events from around the world, covering Europe, Asia, and the Middle East, and he has interviewed key political figures, from prime ministers and presidents to the Dalai Lama. Evan's best-selling books include "Fueling the Future: How the Battle Over Energy is Changing Everything" and "Feeding the Future: From Fat to Famine, How to Solve the World's Food Crisis." He has also been a columnist for Macleans and The Globe and Mail.