GZERO Daily: the newsletter for people who love global politics
Sign up for our free newsletter to keep up with what's going on around the world - and why it matters.
Subscribe
GZERO Daily: the newsletter for people who love global politics
Subscribe Now

We have updated our Privacy Policy and Terms of Use for Eurasia Group and its affiliates, including GZERO Media, to clarify the types of data we collect, how we collect it, how we use data and with whom we share data. By using our website you consent to our Terms and Conditions and Privacy Policy, including the transfer of your personal data to the United States from your country of residence, and our use of cookies described in our Cookie Policy.
Podcast: Rebuilding American infrastructure with Pete Buttigieg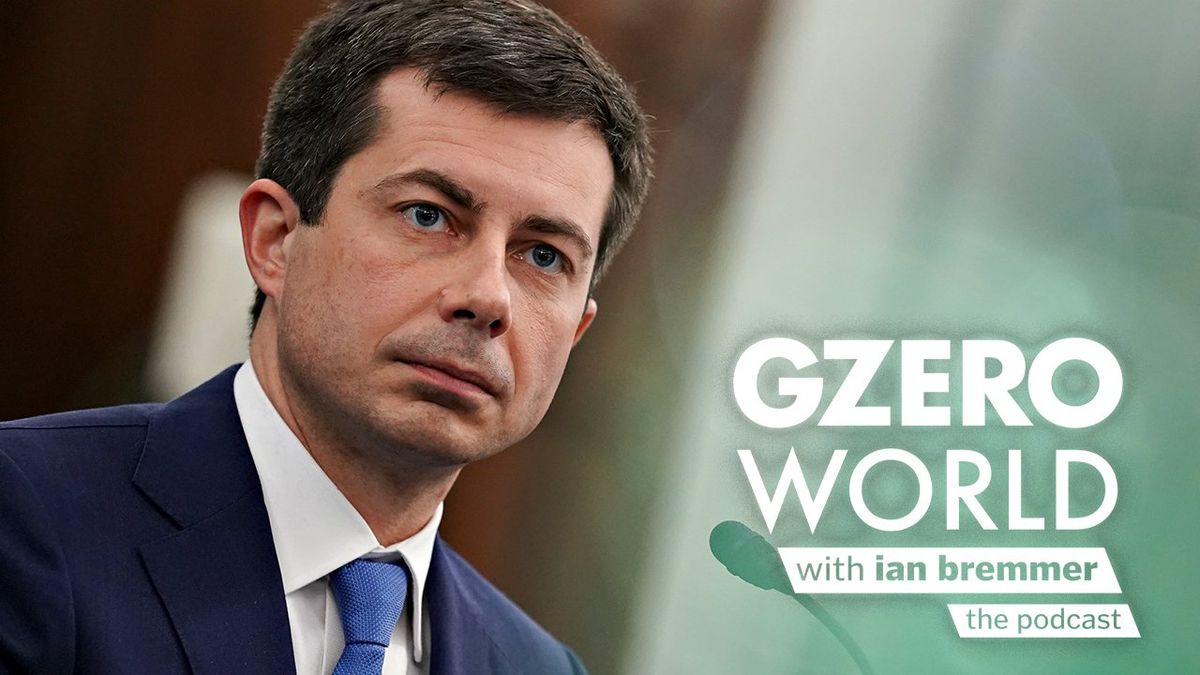 TRANSCRIPT: Rebuilding American infrastructure with Pete Buttigieg
Pete Buttigieg:
This administration was scoffed at for suggesting that we could have anything major done on a bipartisan basis, only to get that bipartisan infrastructure law done. So we're going to continue working with senators and their offices as there's a lot more good work to do.
Ian Bremmer:
Hello and welcome to the GZERO World Podcast. This is where you'll find extended versions of my interviews on public television. I'm Ian Bremmer, and on today's episode, we are bridging America's divides. And I mean that literally, because it is infrastructure week on GZERO World and I'm talking to Mr. Infrastructure, US Transportation Secretary, Pete Buttigieg. We will discuss the state of America's roads, bridges and tunnels, as well as the landmark legislation meant to upgrade them all. We'll also talk about how major technological advances in electric vehicles and industrial shipping are poised to change the ways we move and the things we ship. Let's get to it.
Announcer 3:
The GZERO World podcast is brought to you by our founding sponsor, First Republic. First Republic, a private bank and wealth management company, places clients needs first by providing responsive, relevant and customized solutions. Visit firstrepublic.com to learn more. GZERO World would also like to share a message from our friends at Foreign Policy; an endangered purpose, a fish whose bladder fetches tens of thousands of dollars on the black market, the highly desirable and delicious colossal shrimp. Travel to the Gulf of California on a new season of The Catch, a podcast from Foreign Policy and the Walton Family Foundation. You'll hear about the tension local fishermen face in providing for their families and protecting marine habitats, and your role in returning balance to the environment. Follow and listen to The Catch wherever you get your podcasts.
Ian Bremmer:
Secretary Pete Buttigieg, so glad to have you on the show.
Pete Buttigieg:
Well, thanks for having me on.
Ian Bremmer:
A lot of talk about. I thought I would start with the issue [inaudible 00:02:07], the debt limit crisis. I've seen both former President Trump say that he's fine with the default and a lot of Republicans talking about prioritization being something they're comfortable with. I know one of the sectors that would be most impacted is transportation infrastructure, so just wanted to give you a chance to opine on that.
Pete Buttigieg:
It's easy politically to go out there and say anything that isn't defense, any non-defense discretionary spending, isn't that important and we ought to cut it, until you look at what that actually means and transportation's a great example. If you look at the House Republican budget framework that they voted through and passed on the floor, if that were actually to carry today, that would mean that we would have to stop our progress hiring air traffic controllers, at the very moment when I think most Americans realize we need more, not less. In fact, there'd be no way to absorb those cuts without hundreds of air traffic control towers shutting down altogether. On railroad safety, something that rightly has a lot of attention in the US right now, we would be in a situation where tens of thousands of miles of track fewer would be inspected every year for safety. There would be cuts to our capacity to manage hazardous material and obviously, more generally, the impact on transportation, at the very time when we're finally making the investments we've needed to make as a country, would take us in the wrong direction with damaging economic as well as safety consequences. So if you really want to slash everything that isn't the Pentagon, you got to be ready to own those positions and I think it's very telling, as we have gone out to talk to the American public about what those cuts would mean, that none of these congressional Republicans who voted for those cuts have actually stepped forward to defend them and explain why air traffic control ought to be cut or why it's a good thing that you might have to wait a couple more hours in a security line at an airport, because of the cuts to TSA. These are real impacts that are going to have a real effect on our everyday lives, not to mention on our economy.
Ian Bremmer:
To what extent do you think that these members that passed that bill and it wasn't easy for them to pass it at the time, were just not aware of what some of those cuts would mean? Or do you think it was largely performative on the political side?
Pete Buttigieg:
Hard for me to gauge what motivated these different members. And within that caucus, I know some of them are probably motivated differently than others. What I know is that this is not what the American people want and we understand that the budget will be the result of a negotiation. It's natural and fitting and proper to negotiate over the details of the budget, which is why the President submitted a detailed budget, as a start for negotiation. What is not normal and not appropriate is to negotiate over whether to take the economy off a cliff with a default, which is unacceptable. And whether you're talking to the business community, whether you're talking to just ordinary people wondering what it means for them, it's very clear that default is not an option and we should begin, not end, these negotiations with that premise.
Ian Bremmer:
Now, I noticed that the first thing that you mentioned, when I talked about potential default, was air traffic control and summer season is upon us. People are starting to travel in greater numbers and we've got 10% fewer air traffic controllers today than we had before the pandemic. What does that mean? Leaving aside, any additional political challenges in terms of people that are just planning on flying, how are their experiences going to be different in that environment?
Pete Buttigieg:
Well, I'll start with the good news and then I'll tell you some of the challenges we face. So the good news is after a very disruptive year last year in terms of the pace at which air travel demand returned and the struggles that the airlines had catching up, this year actually, so far, we've seen the performance quite strong. Each month, so far in 2023, the preliminary data show cancellation rates under 2%. We actually haven't seen that happen every month this far into a year in many years.
So that's the good news, but it is going to be a challenge if we can't hire the air traffic controllers we need. Now, we got 1500 hired this year or in the process of being hired, another 1800 in the President's budget for next year. And even now we are facing the effect of the hole that COVID blew in our training pipeline, because it can take more than a year, often closer to two years, to get an air traffic controller qualified for any particular position. But I do want to emphasize that issues like staffing in air traffic control are not the main cause, not even close to being the main cause, of cancellations and delays. We've been working with the airlines, pressing the airlines, and they have delivered a lot of improvements with what's under their control. And of course, we're continuing to work on what's under our control to deliver that smooth, safe travel experience that passengers want, while also stepping up our consumer protection to support passengers when airlines aren't treating them the way they should.
Ian Bremmer:
Yeah, and definitely, I've heard the message from you. I've heard the message from the President, that it's got to be easier for passengers to be compensated when things blow up, when things go wrong. Airline travel is not something inside the United States that most Americans look forward to. It's not their favorite part of the holiday. Now, beating up on Southwest after their debacle was relatively easy. That was a supine target. But generally, how's your engagement been with the CEOs as you've been trying to essentially put them under heel on some of these issues?
Pete Buttigieg:
Well, anything that we say in public is also something that I'm willing to say and often do say when I'm sitting across the table with airline CEOs. And the bottom line is, you've got to take care of your passengers. Now, we will collaborate anytime we can be helpful. I'll give you a couple examples. We offered flexibility in the way that slots work in the New York market, and that means that you can have a larger aircraft than before, which will mean less congestion for the same or a greater number of seats. In Florida, we're helping, because believe it or not, the frequency of commercial space launches has reached the point that that can actually affect air traffic, because you have to close a window of the airspace during that launch period and we're working to deconflict that with the heaviest periods of traffic.
So we'll always work with the airlines where appropriate, but we are also going to hold them accountable when they're not taking good care of passengers. That's what the latest announcement, launching a rule about compensating passengers in extreme delays and cancellations, is all about. We've also found that transparency goes a long way. Just by putting up a dashboard on our website at flightrights.gov, that had a remarkable effect. In a matter of days, it did what regulations could have taken years to deliver, which is going from none of the top 10 airlines to almost all of them making specific written enforceable commitments about things like taking care of meals and accommodation and ground transportation and rebooking, if they're responsible for you getting stuck. So we've seen the airline industry respond. They don't respond to us merely asking, but they do respond to pressure, they respond to transparency and of course they have to respond to regulation.
Ian Bremmer:
Now, it reminded me when the US government did that, of the old clean air issues and the Chinese government was incredibly opaque about the quality of pollution and the US Embassy started putting out numbers every day at what it looked like. It was embarrassing to the government and eventually they took more action as a consequence. I feel like there's a little jiu-jitsu going on in the United States on that front.
Pete Buttigieg:
It's amazing to me. We have different tools, enforcement, which we've used fines where we have to. Rulemaking, which we're underway on a number of dimensions. But that third one, which is not about the deployment of any official formal power or large sums of money, it's just information, it's incredibly powerful. So the airlines have these customer service plans, they're required to file them with us, and those contain their customer service commitments, which we can actually go back and enforce, including with the threat of fines if they don't live up to them. But up until last year, they lived in the fine print of an obscure PDF, that almost nobody would know how to navigate to on their website, and the simple act of putting that in an easy to understand format, we combed through these reports, we have a classic dashboard format with green check marks and red Xs; does this airline or that airline take care of you in this way?
And we gave the airlines a heads-up. I wrote them, said; hey, in a couple of weeks we're going to put this information out. You might want to update your customer service plans. And sure enough, they did. So look, we're not letting up on the enforcement and the rule making, but it was a powerful lesson in the value of just getting information out there, so the passengers can understand how airlines will treat them before they commit to a ticket. And then after you commit to a ticket, it's a way to make sure that you understand your rights and what tasked for. A lot of passengers, even today, don't know, for example, that an airline has to give you a cash refund if your flight gets canceled. And often the airline's opening bid will be; well, how would you like a few thousand miles? And if a passenger doesn't know that that's the equivalent of 10 or 20 bucks, they might really be shorted compared to that cash refund that they are owed and deserve.
And that's also why on the back end, we are going through thousands of complaints, following up and launching enforcement actions were appropriate. And all of this is about making sure that the passengers have a better experience. Our number one priority with aviation is safety and we never take for granted the extraordinary safety record of US aviation, but close behind it is customer service and making sure that we stand with passengers and have their back.
Ian Bremmer:
So on the back of that, talk about East Palestine in Ohio, this horrible crash. How much more have we learned about the health implications for the community there?
Pete Buttigieg:
Well, this is something that there's going to need to be sustained attention on for years. The tests today, soil, air, and water, indicate that it is safe, but years from now, you could see health effects. And so we need to make sure, and will as an administration, make sure that these residents are taken care of. Norfolk Southern has to be accountable for the short term and long-term consequences of their derailment. And I should note that the EPA has been doing an enormous amount of work to hold them accountable. And then on the transportation side, we're working not just to make sure that they're accountable for safety issues, but to make sure that the whole freight railroad sector does better.
Now, bipartisan legislation has advanced in the Senate that would give us more tools to do that with. It would add teeth to our enforcement, it would take time off of the long timeline that the railroads were planning on getting these stronger tank cars that would help prevent some of these hazardous material incidents from happening. What we need to do now is make sure that the pressure and the attention is sustained, because often when an incident like this falls out of the headlines, then you see a pattern of watering down or delaying rules in enforcement, until the next terrible incident happens and we shouldn't allow it to go that way. So I was very encouraged by this bipartisan legislation, obviously needs to move in the House too and get to the President's desk in order for us to be able to enforce it, but we're going to continue to do everything we can with the powers that we already have, while calling on Congress to help equip us with the ability to do more.
Ian Bremmer:
Optimistic that gets through House and I see there's more opposition there.
Pete Buttigieg:
I think so. I think there's a good chance of it just because it is or ought to be a bipartisan cause. And frankly, there were a lot of members of the House who were quick to try to score political points over the plight of what happened to East Palestine. If they're serious about caring about what happened there, they have a very important moment and opportunity to show it, to prove it. And I hope that spirit will carry the day, so that we can actually get this thing done.
Ian Bremmer:
So a couple questions, bigger picture. You're joining me, I believe from Detroit, and a major conference that talks through US and Asian leadership, APEC. And when I think about American policy over the last couple of years, industrial policy has been a big piece of it. It's been investing in critical infrastructure in the United States, but it's also been nearshoring, reshoring, not necessarily a lot of talk about globalization. How much is this a balancing act to ensure that we continue to have efficiency, broader global productivity growth? How much are we potentially cutting off our nose despite our face, if we're thinking about everything in the United States?
Pete Buttigieg:
Look, I think two things are true at the same time in this administration and it starts with the top, with President Biden. One is a very strong commitment to making things in America, to rebuilding America's industrial base, to rebuilding American manufacturing jobs. And that's been a very successful policy so far with over 800,000 manufacturing jobs created. You can see that here in the industrial Midwest, in Detroit, where I'm sitting, in northern Indiana, where I grew up, and really across the region. But a second thing that is of course also very much a hallmark of President Biden is international cooperation, relationships and renewing relationships that were put under enormous strain and pressure under the last administration. Strong industrial policy does not have to mean isolation. And America by America doesn't have to mean America alone. Indeed, a lot of what you're seeing is not just nearshoring and onshoring, but also what Secretary Yellen memorably calls friendshoring and this Asian Pacific Economic Cooperation Summit is a great opportunity for us to talk with friends and then talk with economies that we have had more difficult relationships with, about challenges that we all face.
Nobody benefits, whatever the geopolitics, nobody benefits from the destruction that comes by way of climate change. There are a lot of supply chain issues, that it makes all the sense in the world for us to engage with various economies around the world on. And what's unique about this Asia-Pacific region I think is the diversity of players here. We've got everybody from Canada, later after this interview, I'll be celebrating a binational EV corridor with my Canadian counterpart, all the way through to Chile and Australia and the East Asian economies that have so much at stake in the future of the Pacific region. So this is absolutely the right time and the right place, I think, to sail right into the complexities of believing passionately in creating more jobs right here at home in the US and recognizing the importance of these international relationships, to get mutually important goals met.
Ian Bremmer:
Now, there has been underinvestment structurally of the United States, whether we're talking about semiconductors, we're talking about transition and critical minerals for EVs, whether we're talking about a lot of the core components of US infrastructure. You've been very heavily focused on these issues for the last couple of years. Give me a quick prioritization. Where do you think the United States is most vulnerable, because of that underinvestment?
Pete Buttigieg:
Well, we have to start by fixing what we have. Our roads, our bridges, our airports are not exactly leading the world, and they need to be, if we want our economy to continue leading among the world's economies. And that's why the proportions of the president's Infrastructure Law are historic, so that we can take care of roads and bridges and trains and transit ports and airports, everything it takes to get people and goods moving around safely. Then there's, what you just mentioned, in terms of sourcing critical minerals and materials related to the EV supply chain. This is hugely important and there's nowhere more symbolic of its importance than where I'm sitting in Detroit, where some of the most traditional and previously old school names in auto manufacturing are running into EVs just as quickly as these newer firms, because it's clearly where the industry is going and frankly, it's where the industry is going with or without us, so we have to act to make sure that America leads the way.
Now sometimes I hear the issue of critical minerals, sourcing and refining those materials, raised as a excuse to maintain the status quo, when the status quo is not an option. But I will also say this really is an issue, a major one. That's why the Department of Energy is investing so much in US capacity. It's why we have to recognize the urgency of preparing ourselves to source and refine those materials that go into EV batteries and building those batteries here. I've been to two facilities, each of which dwarfs what I always thought of as the enormous 800,000 square foot Studebaker factory building, that I grew up in the shadow of, in South Bend, Indiana. We're talking about facilities that are millions of square feet. They're going to be online by next year in places like De Soto, Kansas and Glendale, Kentucky with thousands of employees each making good money, producing these batteries. Setting up the supply chain and setting up the future of this industry is exciting work, it's compelling work, but from semiconductors to battery components, we do have catching up to do. And that's exactly why the administration has been so energetic and vigorous and urgent about getting that work done.
Ian Bremmer:
So you've given me 20 solid minutes on infrastructure and transportation. I don't want to go cable news on you, but I got to ask you at least a few quick political questions if that's okay?
Pete Buttigieg:
Fair enough.
Ian Bremmer:
So first of all, I wanted to say that it looks like we're heading to two pretty geriatric candidates for 2024. You are on the other end of that spectrum. Should there be an age limit? Should we think about one for running for the presidency?
Pete Buttigieg:
No. Look, as the youngest member of the cabinet, what I see is, around that cabinet table, is that I have the honor of being part of an extraordinary and extraordinarily diverse team led by an extraordinary president, who has achieved more in two years and change than many would consider possible in eight years of service. Historic achievements, advancing our economy, creating jobs, contending with the pandemic, dealing with the biggest land war in Europe since the Truman Administration, reinvigorating our industrial base, investing in semiconductors in energy here in the US, delivering an infrastructure investment that has escaped previous presidents and previous congresses, just achievement after achievement, any one of which would be considered something that would define an era under normal presidencies. And I think the measure of any administration is what it delivers. So look at what's been delivered, and I'm just talking about the things that touch transportation.
You look beyond that, what's been done for veterans, which is really important to my generation of post-911 veterans, the people I served with in Afghanistan and people who served in Iraq. You look at what's been done in terms of making everyday life more affordable for Americans with this $35 insulin. It is an extraordinary record. And I think all of us, regardless of our background, our age or other attributes, hope to be judged and evaluated based on the results we produce.
Ian Bremmer:
So if Biden had accomplished all that at a hundred, maybe AI assistant, you'd be all in?
Pete Buttigieg:
Look, we're here to deliver results for the American people as an administration, and the results are extraordinary. We're going to keep pushing, because there's more to do, which is why the President's always pressing us in the administration and pressing the case publicly to finish the job.
Ian Bremmer:
So respectfully, the results and the facilities of Senator Dianne Feinstein have not quite been that. Should she resign?
Pete Buttigieg:
Look, it's not my place to make those kinds of calls. What I'll say is that we work with every senator from every state and from both parties to get stuff done. And by the way, speaking of administration accomplishments, this administration, this President was scoffed at for suggesting that we could have anything major done on a bipartisan basis, only to get that Bipartisan Infrastructure Law done. So we're going to continue working with senators and their offices, as there's a lot more good work to do.
Ian Bremmer:
Okay. So less than fullthroated, she should stick around on that one. Okay. Another one. This is about you, so you can make a call. You just, if I understand correctly, just changed your permanent address to Michigan and I'm wondering, that's where you're joining me from right now, does that have anything to do with the possible open senate seat going forward?
Pete Buttigieg:
So there are two major reasons for the move to Michigan. Their names are Joseph and Penelope. They're our twins, our son and our daughter. And ever since they came on the scene, we've seen how important Chasten's Traverse City home has been, and they're close to their grandparents. A matter of fact, right now with Chasten traveling on a book tour and me here in Detroit, they're, thankfully, in the loving hands of their grandparents right now. It's been the right choice for our family, and I'll always remember where I came from, but Michigan has embraced us warmly too, and I'm glad to be here. And look, the last thing I'm thinking about right now is any job besides the one I've got. I know that's probably what I'm supposed to say, but also if you just consider-
Ian Bremmer:
That's definitely what you're supposed to say. I would tell you to say that.
Pete Buttigieg:
Yeah, but also look at what's on our plate. Look at what the President has asked this department to deliver, from delivering historic infrastructure investment to just making sure that with all of the challenges that have come to the transportation system, more disruptions than we've seen in US transportation since 9/11, helping recover from that and stay on top of that, that's taken about 110% of my energy and attention. And the other 120% belongs to our family and our kids.
Ian Bremmer:
I know you're young and energetic, I'm just saying I think you can keep a few balls in the air. That's all I'm telling you Pete. Last question, we'll talk about that next interview. Last thing I wanted to ask. You the first cabinet secretary, I was shocked to learn this, that's ever taken parental leave. Lessons from that, for other senior government officials and private sector executives?
Pete Buttigieg:
Well, look, I'm glad I did it and I'm glad that I had the support of my boss in this administration, to take care of my family. Our circumstance was a little unusual. The circumstances of our adoption, we got a phone call and the next day we were parents to newborn, premature infant twins. But whatever the circumstances are that allow you to expand your family and become a parent, you need to have that time, not just for connecting with your child, but just for adjusting your life and for supporting your spouse. That was certainly a very important part of how Chasten and I were taking care of each other, was having the time to do it. And this is something that every American ought to have.
Now, we've made progress. One of the few things that I would applaud from the last administration was a policy that federal employees can get 12 weeks of paid parental leave. And while 12 weeks wasn't quite possible, in my circumstance, it is a very important message. And look, I'm here at this international summit. Virtually all of the economies that are here, from Canada to Vietnam, have some kind of policy around paid parental leave. The United States ought to as well. And doing that, I think is beneficial for the economy. It's what it means to really mean it, when you talk about family values. Again, in my personal case, obviously there were times where, even if it was from a hospital room, I had to hop onto a call or a Zoom, because there were certain things that couldn't wait. But even the most senior private sector and government officials will find that in a well-run organization, you should have the policy and the means to be able to step over to take care of your family when that is the right thing to do, and return to the office ready to do your job with a whole new perspective.
Ian Bremmer:
Secretary Pete Buttigieg, thanks so much for joining me on GZERO World.
Pete Buttigieg:
Thanks for having me on. Take care.
Ian Bremmer:
That's it for today's edition of the GZERO World Podcast. Do you like what you heard? Of course you did. Well, why don't you check us out at gzeromedia.com and take a moment to sign up for our newsletter. It's called GZERO Daily.
Announcer 3:
The GZERO World podcast is brought to you by our founding sponsor, First Republic. First Republic, a private bank and wealth management company, places clients' needs first, by providing responsive, relevant, and customized solutions. Visit firstrepublic.com to learn more. GZERO World would also like to share a message from our friends at Foreign Policy; an endangered purpose, a fish whose bladder fetches tens of thousands of dollars on the black market, the highly desirable and delicious colossal shrimp. Travel to the Gulf of California on a new season of The Catch, a podcast from Foreign Policy and the Walton Family Foundation. You'll hear about the tension local fisherman face in providing for their families and protecting marine habitats, and your role in returning balance to the environment. Follow and listen to The Catch wherever you get your podcasts.
Subscribe to the GZERO World Podcast on Apple Podcasts, Spotify, Stitcher, or your preferred podcast platform, to receive new episodes as soon as they're published.