Then and Now: Iran's public trials, Somalia's new cabinet, El Salvador's state of emergency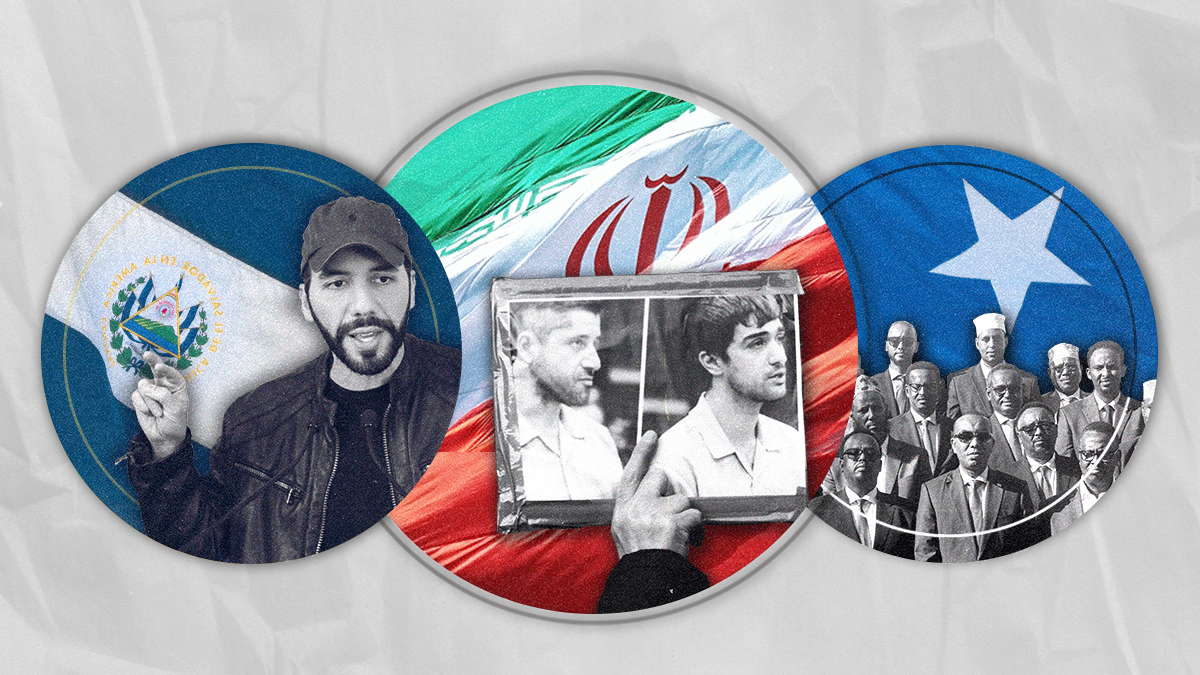 Annie Gugliotta
Three Months ago: Islamic Republic announces (sham) public trials

Media attention may have subsided, but protesters in Iran remain unbowed four months after the in-custody death of Mahsa Amini – she was arrested by the Islamic Republic's "morality police" three days before her death – set off something resembling a revolution. Three months ago, we wrote that the mullahs who rule the country with an iron fist had announced the public trial of around 1,000 Iranians for participating in anti-regime demonstrations. Since then, at least four men have been publicly hanged: Sayed Mohammad Hosseini, 39, Mohammad Mehdi Karami, 22, a karate champ, Majid Reza Rahnavard, 23, a store worker, and Mohsen Shekari, 23, a barista. They were each accused of killing a member of the Basij paramilitary, a ruthless volunteer force that operates under the draconian Islamic Revolutionary Guards Corp – though rights groups say their confessions were coerced under torture.
---
What's more, these death sentences were doled out by a small group of radical judges in "sham trials." At least 17 others have been handed down death sentences, but several have been stalled due to appeals. (This is likely a gross undercount as the Islamic Republic isn't known for transparency.) A whopping 19,500 people have been arrested since September for taking part in demonstrations, which are still ongoing but smaller. The Islamic Republic was hoping that images of hanged men dangling from cranes would scare protesters into submission, but as one protester told The Guardian, they've simply made people more furious, noting that "they've created this fire under the ashes."
Six months ago: Somalia's government recruits former al-Shabab chief to fight … al-Shabab
When appointing a new cabinet last summer, Somalia's PM did something unheard of: He tapped Mukhtar Robow, a former al-Shabab spokesperson who trained with al-Qaida in Afghanistan and once had a $5 million bounty on his head – as the new religious affairs minister. The aim was for Robow, who broke ranks with the radical Sunni group in 2017, to help the government encourage additional al-Shabab defectors as part of its bid to wage "total war" against the militant group. So, how's that plan going? Al-Shabab has continued to wreak havoc on the country, including a recent attack on a Somali military base that killed 11 soldiers as well as a deadly attack on a Mogadishu hotel frequented by lawmakers in Nov. 2022. Crucially, the US-backed government has also made some gains in pushing the group out of urban areas in central Somalia. And in recent days, US ground troops killed Bilal al-Sudani, the Islamic State's point person in Somalia. While ISIS is less potent in Somalia than the al-Qaida-aligned al-Shabab, the fact that President Joe Biden greenlit this ground operation reinforces that Washington is deeply concerned about Somalia exporting terrorism throughout the region. Meanwhile, Somali troops recently captured Harardhere, a port town and major supply route for the terror organization, as well as the nearby town of Galcad. In recent days the US carried out airstrikes northeast of Mogadishu that killed 30 combatants. Indeed, these are significant gains, but much of the campaign's future successes will be contingent upon the government's ability to cooperate with clan militias around the country.
Nine months ago: Will El Salvador's strongman remain popular?
Last April, we wrote about El Salvador President Nayib Bukele's bid to address the gang-ridden country's out-of-control crime rate. It's been nine months since Bukele, a millennial and former political outsider, enforced a state of emergency that gave him extraordinary powers to crack down on the country's roughly 70,000 gang members. At the time, Bukele's approval rating was sky-high, but citizens accustomed to democratic proceedings don't typically take well to curbs on their rights. Nine months later, Bukele's approval rating hovers around … 83%. Despite the fact that he's rounded up and jailed nearly 2% of the entire adult population, resulting in at least 90 in-custody deaths, support for his state of emergency remains widespread. What's more, a new Human Rights Watch report, based on a leaked government database, suggests that children have also been rounded up as part of this tough-on-crime spree, while prisons remain dangerously overcrowded. Some 100,000 have been arrested as part of his campaign, which includes suspending the right to be informed why they were detained and the right to legal counsel, and Salvadorans still want more Bukele! That's in large part because his plan is working: According to government data, El Salvador's homicide rate reportedly declined by a staggering 56.8% in 2022. Human rights groups have criticized Bukele's government, but Salvadorans say they care more about security. This bodes well for Bukele, who should cruise to reelection in 2024.