G-7 leaders gather to chart next moves on Russia, China, other issues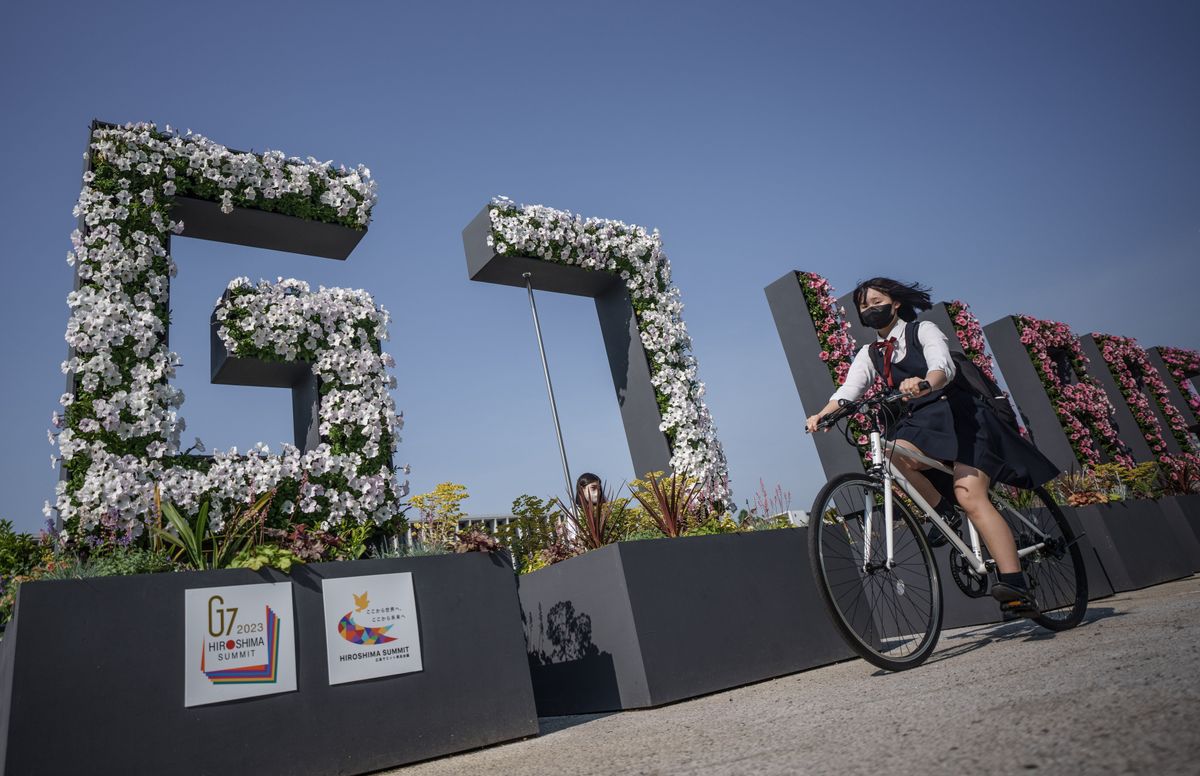 Michael Kappeler/dpa via Reuters Connect
The leaders of the industrialized nations that make up the G-7 will hold their annual meeting on May 19-21 in Hiroshima, Japan, a location of special significance at a time of intensifying great power competition. In the closing chapter of World War II, the US detonated an atomic bomb over the Japanese city, killing more than 100,000 civilians.
This year's G-7 summit takes place as Russia's invasion of Ukraine and an increasingly assertive China test the resilience of the postwar order and make it more difficult to address transnational challenges such as climate change. We asked Eurasia Group experts Ali Wyne, Lívia Pereira, and David Boling what to expect.
---
What are the top items on the agenda for the summit?
Nuclear proliferation, climate change, and food insecurity will be prominent agenda items. Conversations about climate change and the clean energy transition will build on the G-7's climate meeting last month. Special attention will be placed on the group's proposed Just Energy Transition Partnership and the possibility of India's adopting it. The G-7 countries are promoting this new template for financing climate change mitigation actions as a mechanism that will enable large emerging-market economies to diversify away from coal.
Food security talks will also take place, following a previous gathering this year of G-7 agricultural ministers. The focus will be on ensuring long-term food supplies by boosting both sustainable agricultural practices and technologically innovative ones.
What personal dynamics and narratives should we watch out for?
Observers will be looking to see how unified a stance the G-7 countries can present in their competition with an increasingly capable China and their efforts to close loopholes that have allowed Russia to blunt the impact of sanctions and continue its aggression against Ukraine.
Another dynamic to watch will be between G-7 leaders and Brazilian President Luiz Inácio Lula da Silva, who has recently argued that the US and Ukraine are partly to blame for Russia's invasion and called for diversifying away from the dollar as the dominant global reserve currency. Still, Brazil is unlikely to make a hard pivot toward China that would fundamentally undercut its relations with the West; in fact, Lula is eager to finalize the EU-Mercosur trade agreement, which would deepen his country's ties with the EU.
Finally, Japanese Prime Minister Kishida Fumio and South Korean President Yoon Suk-yeol will try to continue building trust, especially during a trilateral meeting with US President Joe Biden. Kishida and Yoon met in Seoul on May 7-8.
Japan dropped out of the cap on Russian oil because it's more dependent on Russian energy than any other G-7 member. Is that a sign of disunity?
Japan has been very tough on enforcing sanctions against Russia, especially considering its long history of aversion to such measures. But its Sakhalin projects in Russia are critical to ensuring its energy supplies. Other G-7 countries understand that Japan — a country completely dependent on imported energy — needed some leeway, so its decision to drop out of the bloc's cap has not caused disunity.
Nonetheless, there are tensions within the G-7 over policies toward China and Russia. France and Germany are more reluctant to weaken economic ties with China than the US. Following a recent visit to China, French President Emmanuel Macron said that Paris should not be a "vassal" of Washington, suggesting that he seeks to create some distance from the US. Moreover, the US has not gained traction for its proposal that G-7 countries ban all exports to Russia.
Japan has invited a number of countries from outside the G-7 to attend — which ones and why?
Eight other countries received an invitation. These include Australia, India, Indonesia, South Korea, and Vietnam, all linchpins of Japan's efforts to promote "a free and open Indo-Pacific" that challenges China's growing regional assertiveness. Brazil also received an invitation, in response to growing concerns in the West — especially the US — about its closer alignment with China. Finally, the G-7 countries recognize that it will be difficult to push back against China and Russia without greater support from developing countries — hence Japan's invitations to the Cook Islands, which chairs the Pacific Islands Forum, and Comoros, which chairs the African Union.
Japan did not invite South Africa, a country that usually attends high-level multilateral summits, prompting speculation that the Comoros invitation was meant to signal disapproval of South Africa's stance toward Russia. The two nations recently hosted joint military exercises, and South Africa has suggested that it is open to hosting Russian President Vladmir Putin in person at the upcoming BRICS summit in Durban, despite the International Criminal Court's arrest warrant against him.
Most of these countries have so far refused to join G-7 sanctions on Russia. Why? Can the group do anything to change their mind?
Few non-G-7 countries share the view that the war between Russia and Ukraine is a struggle between autocracy and democracy with profound implications for the international system. Instead, seeing it as an enduring source of disruptions to food and energy markets, they question why they should deprive their populations of discounted grain and oil supplies from Moscow to uphold a "rules-based international order" that they feel has done little to address their development needs.
The summit has a special significance for Kishida, doesn't it?
Kishida's political base is Hiroshima, so hosting the summit there is a big domestic political win for him. He will enjoy around-the-clock Japanese press coverage during the event, which will likely boost his public approval rating. That rating hit a low point late last year but has been steadily improving this year. Given that expected boost, many observers predict that Kishida may capitalize on the G-7 momentum by dissolving the lower house and calling snap elections after the summit concludes.
Edited by Jonathan House, Senior Editor, Eurasia Group.