What We're Watching: Polish state of emergency, Ukraine-US meeting, South African nuclear power, Russia's troll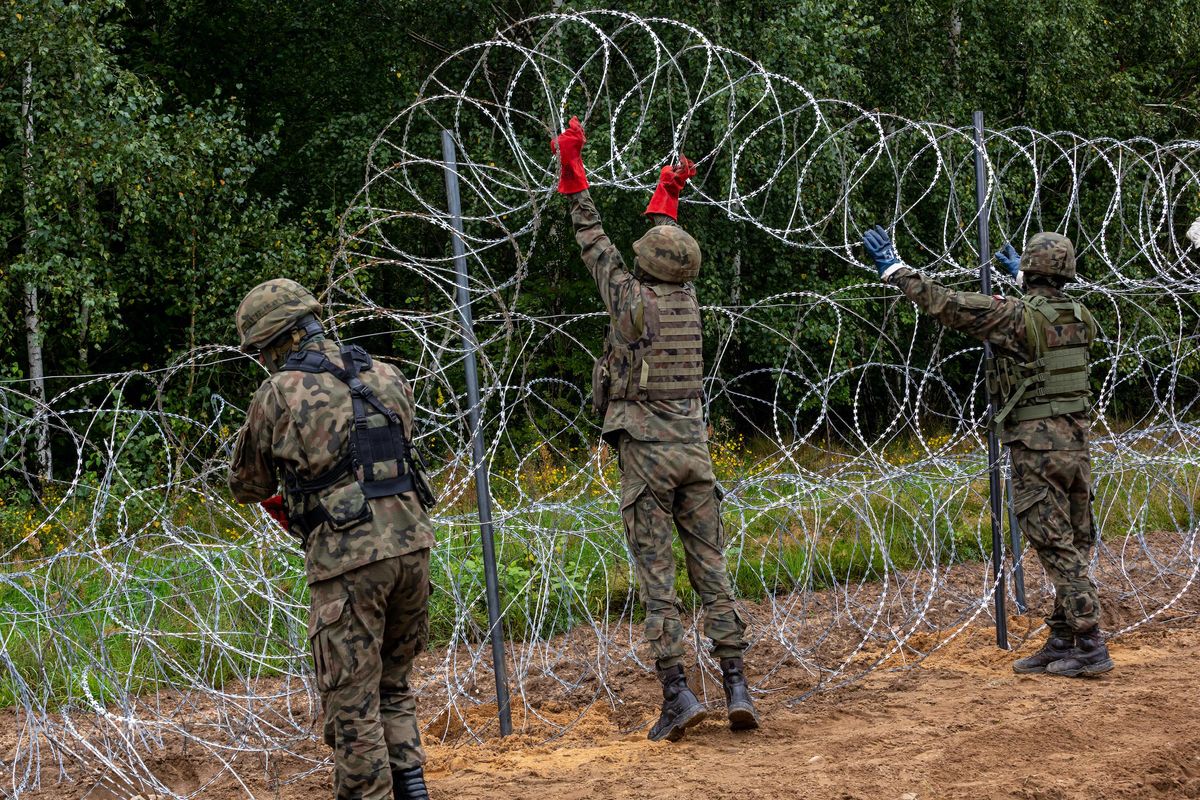 Poland weighs state of emergency: Poland is weighing whether to declare a state of emergency as thousands of immigrants continue to flood its border with Belarus. The order, which would be invoked for the first time since Communist rule, would allow the government to restrict people's movements in certain regions for 30 days. Poland, along with Latvia and Lithuania, has accused Belarus' strongman President Alexander Lukashenko of facilitating illegal border crossings, particularly for Iraqi migrants, as retribution for EU sanctions on Belarus. Indeed, there's even evidence that Belarusian troops physically pushed migrants to enter EU territory. Poland has registered more than 3,000 attempted crossings this month alone, and has responded by beefing up its border security, including erecting barbed wire fences. There are reports that Minsk is now planning on sending migrants from Morocco and Pakistan, which has absorbed the lion's share of Afghan refugees to date. Knowing that the Syrian refugee crisis in 2015 caused deep fissures within the 27-member bloc, is Lukashenko now trying to weaponize the Afghan refugee crisis to sow divisions within the EU just as the bloc is already concerned about another refugee crisis?

---
Zelensky at the White House: Ukraine's President Volodymyr Zelensky will meet with US President Joe Biden at the White House on Wednesday. After navigating a very testy relationship with former President Trump, the Ukrainian leader is surely pleased that there's a new man in charge in Washington. Indeed, Zelensky is likely to find a kindred spirit in President Biden on issues including energy security and Russia. Biden, for his part, has echoed Kyiv's strong opposition to the construction of the Nord Stream 2 pipeline, saying that the project would allow an already-brazen Kremlin to weaponize gas exports in order to harm Ukraine. So what does Zelensky want? He may ask Biden for more military assistance as a bulwark against the Kremlin, and is likely to again bring up the issue of Ukraine joining NATO, having recently grown increasingly angry at Western allies for excluding Kyiv from the club. More economic support from Washington could also be on Zelensky's agenda, but when Biden headed the Ukraine portfolio as Obama's VP, he said that Kyiv needed to tackle corruption and implement reforms in order to unlock more US assistance.
South Africa's nuclear dilemma: In a bid to address its rolling power outages, South Africa wants more nuclear energy. But the government's recent decision to double its nuclear generation capacity has been met with strong criticism from the country's energy experts, who say that the government should opt for investment in renewables like solar or wind, which can be installed more quickly and are less costly. On the one hand, nuclear plants generally require a high upfront investment, have cost overruns, and can take years to get up and running, not to mention the risk of another Fukushima. On the other hand, however, they produce almost zero direct carbon dioxide emissions, and nuclear power is reliable — exactly what the country needs to fix its spotty electricity problem. Regardless, the move is quite a flip-flop for President Cyril Ramaphosa, who just two years ago scrapped his predecessor Jacob Zuma's deal for Russia to build South Africa's second nuclear plant because it was, you guessed it, too expensive.
What We're Ignoring:
Russia's troll: Russia's foreign minister Sergei Lavrov wins this week's chutzpah awards for warning that the West was seeking to undermine Russia's upcoming elections. From September 17-19, races will be held for the State Duma as well as dozens of regional parliaments. "We have only one answer to all these attempts. We are guided primarily and exclusively by the will of our citizens, the will of our people," Lavrov said about those in the West (presumably referring to the US and EU) seeking to sow doubt in Russia's electoral outcomes.That's a bit thick, coming from the top diplomat of a country that both Americans and Europeans have caught red-handed trying to meddle in their elections.