Captain vs. America: Pakistan's Khan drags US into regime change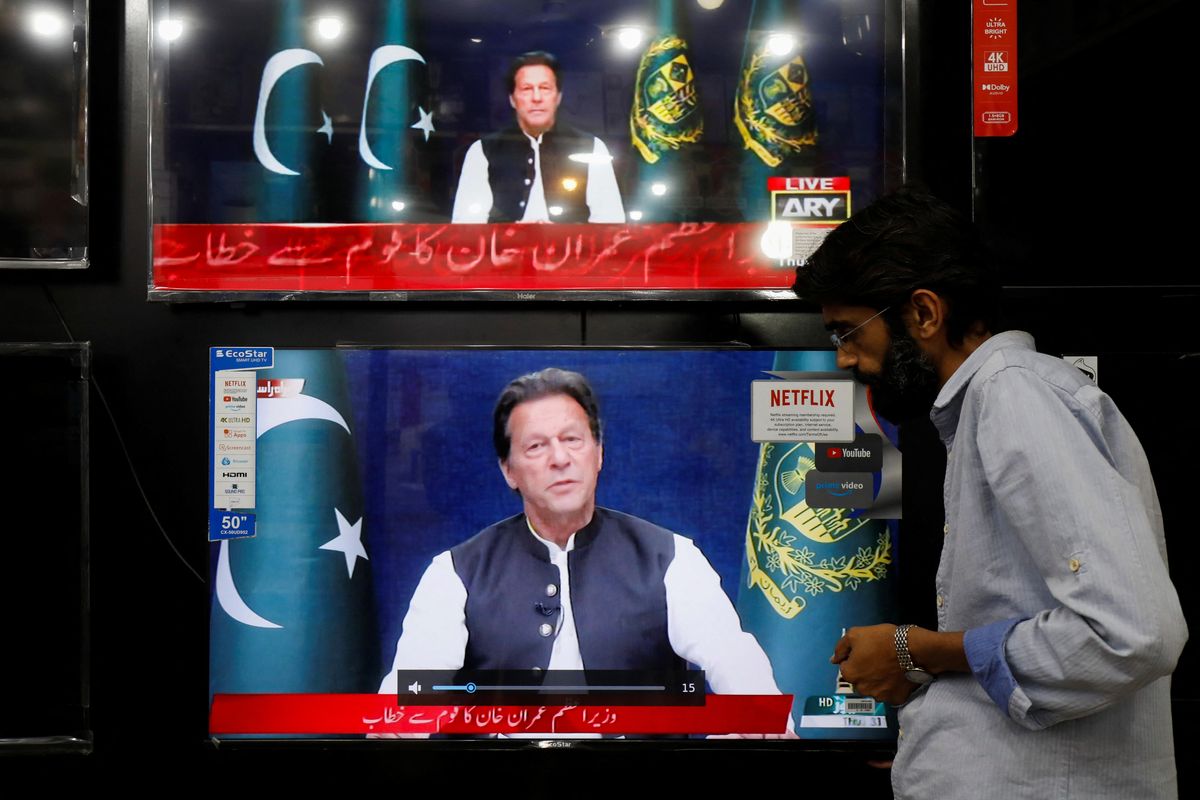 REUTERS/Akhtar Soomro
Pakistan's flamboyant cricketer-turned-PM Imran Khan is known by his followers as "Kaptaan" (Captain) for his against-all-odds brand of leadership. On Sunday, he pulled the pin from the only political grenade he had left in his arsenal of populism by dissolving parliament and pushing for a snap election to avoid being ousted in a no-confidence vote he was set to lose.
Using a cricket term to explain his defense of the political challenge he faces, Khan had vowed last week to defend his government till the "last ball" against so-called foreign conspirators and their local assets. Who was he referring to? Right-wing Pakistan's go-to foe: the United States.
---
Pakistan's leader claims that Washington was pushing for regime change in Islamabad. "The move to oust me is (a) blatant interference in domestic politics by the United States," he said. The White House denied the charge. This latest maneuver – seen as desperate by the opposition – came in response to Khan not having the numbers to keep his job in parliament, where the opposition had tabled a vote of no confidence against him. Critics had recommended he take an honorable exit and resign gracefully.
But by pulling a fast one, Khan has denied the opposition (and coalition partners and party dissidents who recently ditched him) the opportunity to have his scalp. In short, he has moved the nuclear-armed nation from a leadership crisis to an all-out constitutional emergency.
Still, as the Supreme Court weighs whether his move was legal and Pakistanis get ready to head to the polls within 90 days, alleged US interference has become front and center in the national political conversation.
"Being pro-American in the Pakistani drawing room or boardroom is key to success, but not on the street. There, being anti-American is politically advantageous," says Brig Muhammad Zeeshan, a retired Pakistani intelligence officer and currently the director general of the Center for Peace, Security and Developmental Studies in Islamabad. "As the election looms, Imran Khan will take to the streets with that message. But the US and Europe are our biggest markets, and we have to be mindful of the approach to Washington."
Khan's anti-American argument is fuzzy. He says he's been punished by Washington for trying to follow an independent (pro-China, pro-Russia) foreign policy. To back up this argument, he has been touting a diplomatic cable from the outgoing Pakistani ambassador to the US that says (premised on a meeting with US Assistant Secretary of State for South Asia Donald Lu) the US isn't too happy with Khan's government.
Furthermore, Khan claims that his party dissidents have been in increasing contact with the US embassy in Islamabad. Over the weekend, in multiple speeches, interviews, and tweets, Khan continued to hammer home the narrative that the US was out to get him.
"Imran Khan's claim of the United States engineering his ouster is outlandish," said Asfandyar Mir, a senior expert at the United States Institute of Peace. "US and Pakistan have several issues, but Imran Khan and his so-called 'independent foreign foreign policy' are not their cause. So I don't see anyone getting behind the bizarre notion of removing Khan — let alone the manner in which Khan claims he was threatened."
Khan will now likely elevate the claim of a US conspiracy before the Supreme Court to argue that the rejection of the no-confidence bid and the dissolution of the assemblies is constitutional, says Mir, who thinks Khan will lean strongly into anti-American rhetoric to make up for the lack of constitutional and legal grounds for his moves.
"Imran Khan is trying to effect regime change at home by leveraging the conspiracy theory narrative of the U.S. trying to effect regime-change against his government," says Kamran Bokhari, director of analytical development at the New Lines Institute for Strategy and Policy in Washington, DC. "On one level, I think this claim by the prime minister is hilarious, but at the same time it is extremely dangerous because people in the tens of millions believe it, given the poverty of thought in the country."