Sustainability Leaders Summit on Oct 21 & 22 will focus on Asia's role
October 10, 2021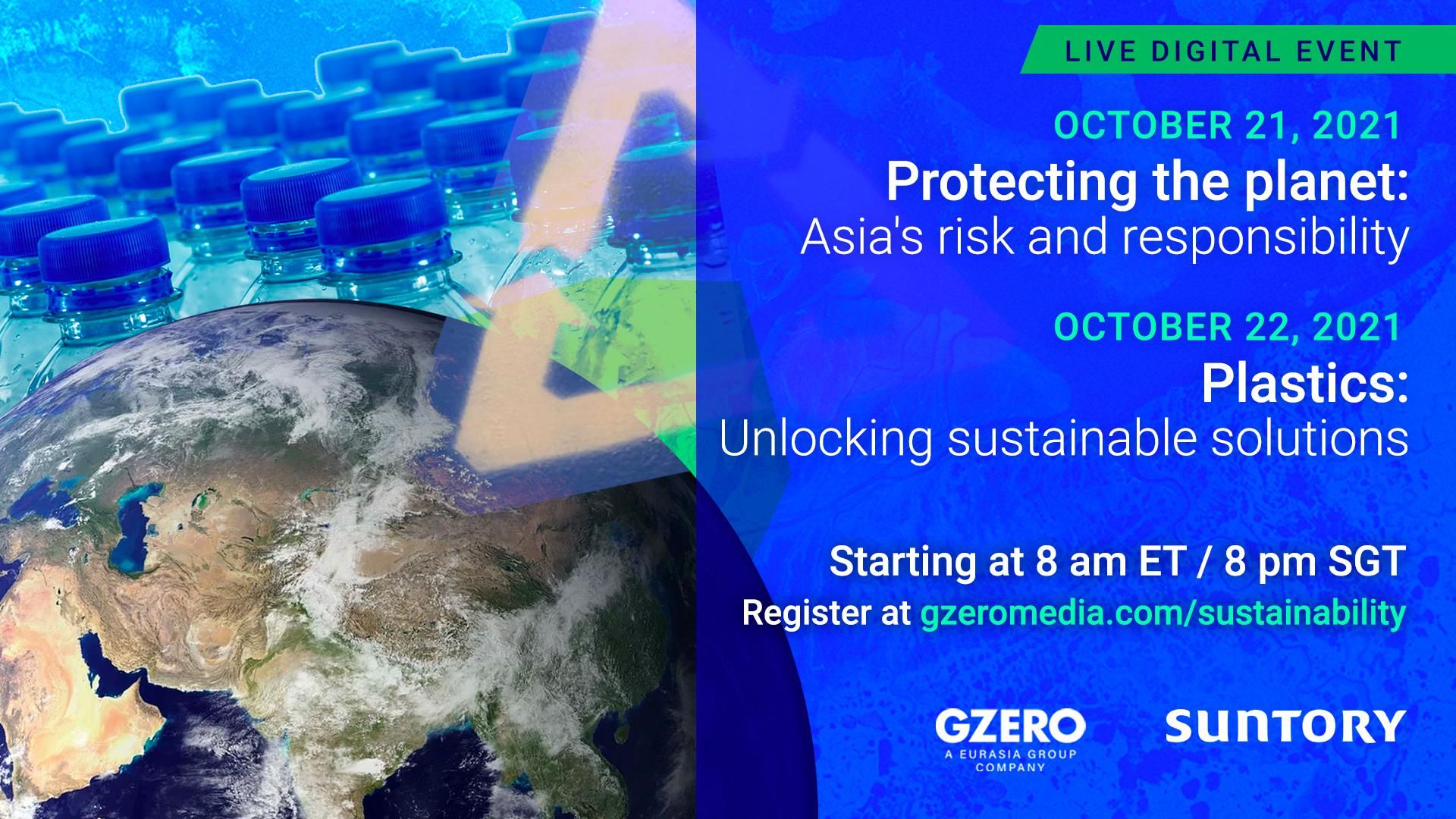 Taking place on October 21 and 22, the Sustainability Leaders Summit will go beyond preexisting narratives and debate priorities for governments and industries ahead of COP26. Placing the spotlight on Asia's role in the global sustainability agenda, the event will address whether Asian countries and companies can achieve shared sustainability goals, and what is needed to help get them there. The summit will be co-hosted by Tak Niinami, CEO of Suntory Holdings, and Ian Bremmer, founder and president of Eurasia Group and GZERO Media. We will address three key questions: How can Asian countries, with the help of the private sector, achieve shared Sustainability Goals? Why does this matter? And what are the policy changes needed to bring it about?
Attendance is free and open to the public. Register to attend.
---
October 21, 2021: Protecting the planet: Asia's risk and responsibility
Thursday | 8 am ET / 8pm SGT
October 22, 2021: Plastics: Unlocking sustainable solutions
Friday | 8 am ET / 8pm SGT
Speakers include:
Ian Bremmer, President and Founder, Eurasia Group and GZERO Media
Tak Niinami, CEO, Suntory Holdings
Kevin Rudd, former prime minister, Australia
Ko Barrett, Vice Chair, The Intergovernmental Panel on Climate Change (IPCC) and Deputy Assistant Administrator for Research, National Oceanic and Atmospheric Administration (NOAA)
Inger Andersen, Under-Secretary-General, United Nations and Executive Director, United Nations Environment Program (UNEP)
Shinta Kamdani, CEO, Sintesa Group
Rob Kaplan, CEO, Circulate Capital
Sean Kidney, CEO, Climate Bonds Initiative
Hannah Testa, Activist
Gillian Tett, Chair of the Editorial Board and Editor-at-Large, US, Financial Times (moderator)
Anchoring the Summit is a new research report prepared by Eurasia Group,
"Unlocking Sustainable Plastics in Asia,"
which advocates for a much more dynamic role for both the public and private sector in Asia to counter the proliferation of single-use plastic containers, which have had an outsized impact on the environment.
October 21 & October 22, 8 am ET / 8 pm SGT