GZERO Daily: the newsletter for people who love global politics
Sign up for our free newsletter to keep up with what's going on around the world - and why it matters.
Subscribe
GZERO Daily: the newsletter for people who love global politics
Subscribe Now

We have updated our Privacy Policy and Terms of Use for Eurasia Group and its affiliates, including GZERO Media, to clarify the types of data we collect, how we collect it, how we use data and with whom we share data. By using our website you consent to our Terms and Conditions and Privacy Policy, including the transfer of your personal data to the United States from your country of residence, and our use of cookies described in our Cookie Policy.
The Red Pen
Does the West ultimately bear the responsibility for the crisis in Ukraine? Political scientist John Mearsheimer argues in a recent op-ed in The Economist that while Vladimir Putin started the war, it was NATO's "reckless" expansion that provoked Russia to attack. In this episode of The Red Pen — where we do our best to keep op-eds honest — Ian Bremmer and Eurasia Group analysts Graeme Thompson and Zachary Witlin review Mearsheimer's points and show that nothing the West did, or didn't do, caused Putin's invasion of Ukraine.
Our topic today is who to blame for Russia's bloody and relentless attack on Ukraine, a war that has now entered six plus weeks and it's showing really no signs of resolution. And I've maintained that it's President Vladimir Putin alone who bears the responsibility for this invasion, that he is a war criminal, and he has single handedly damaged Russia's place in the world with these actions. But there are some who feel that the West, in particular the United States and NATO allies, who have provoked this situation and who bear the blame. And one of them is American political scientist, John Mearsheimer, whose ideas have generated quite a bit of conversation over the past few weeks. And I want to focus on a piece he recently wrote for the Economist titled "Why the West is principally responsible for the Ukrainian crisis." And the title alone merits bringing out the Red Pen.
So first, Mearsheimer argues that the West and especially America deserve blame for Russia's invasion of Ukraine because Moscow feared Kyiv was poised to join NATO. He further claims that Western support for Ukraine after the 2014 Russian annexation of Crimea and invasion of the Donbas with military assistance, training, and weapons shipments amounted to de facto Ukrainian membership of NATO and led directly to the current war.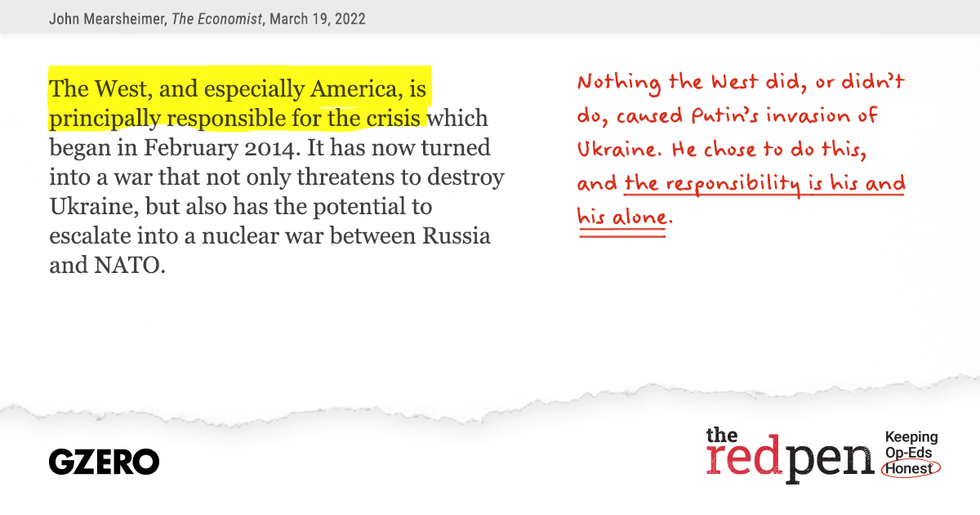 I think this is a strawman argument. We shouldn't take Russia's claim that Ukraine was integrating with NATO at face value. It is true that nominally NATO had an open-door policy, but no one seriously thought that Ukraine was or is about to join NATO. And the support that NATO did provide after Russia had already sponsored a war in Eastern Ukraine in 2014 as Mearsheimer notes, included things like advice and handheld weaponry and supplies like radios. A de facto NATO member would've received actual NATO troops to defend their country.

I accept that the West failed to anticipate Russia's reaction to NATO's eastward expansion and that miscalculation absolutely enhanced Russia's threat perception in their backyard. But to me, the principal West mistake was not about expanding NATO and embracing the East Europeans. No, the mistake in the 90's was not creating a Marshall Plan for Russia, that is making Russia's prosperity and partnership and cooperation a top priority for the Western world. So, Russia's future wasn't just about how they lost the Cold War and that feeling of humiliation and that failure more than anything else, I would argue, laid the groundwork for the structural tensions that eventually led to this war. But to be clear, nothing the West did or didn't do caused Putin's invasion of Ukraine. Putin chose to do this and the responsibility for the war is his and his alone.
Now next Mearsheimer writes, "Bringing Ukraine closer to the EU and making it a pro-American democracy were part of a US plan to make Ukraine a Western bulwark on Russia's border."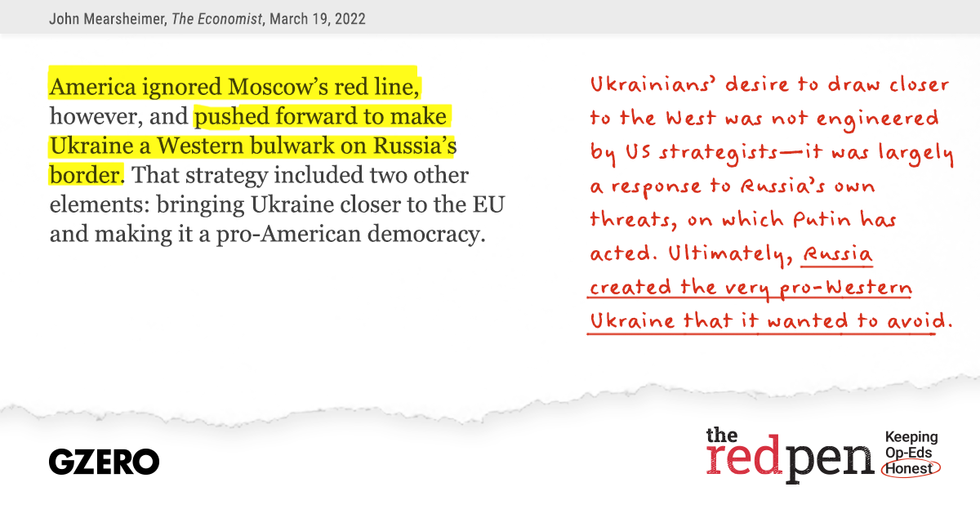 Now, wait a second. Ukrainians actually have agency. They want a democracy that's closer to the EU and they're grateful for Western help. Putin is paranoid about the example of a successful democratic Ukraine and the threat it would pose to his own increasingly autocratic regime. It was the Ukrainian people that voted for NATO and EU membership to be national goals. Neither of those choices were in any way forced upon them by the United States and its allies. In fact, I'll go further, the West was and still is reluctant to accept Ukraine into these institutions. Ukrainians haven't been dragged into NATO or the EU, the Americans and Europeans were and are actually putting up roadblocks. Ukrainians desire to draw closer to the West was not engineered by American strategists, it was a response to Russia's own threats on which Putin has acted. Ultimately, Putin created the very pro-Western Ukraine that he wanted to avoid.

Mearsheimer also dismisses the idea that Putin covets Ukraine for historical or ideological reasons. For Russian leaders, he writes, "what happens in Ukraine has little to do with their Imperial ambitions being thwarted. It's about dealing with what they regard as a direct threat to Russia's future."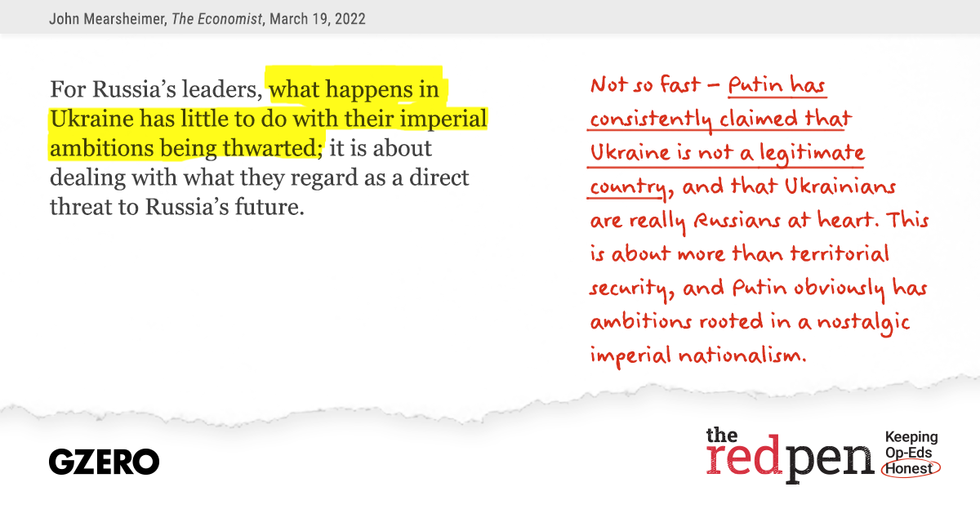 But Putin has consistently claimed that Ukraine is not a legitimate country and the Ukrainians are really Russians at heart. This is about more than just territorial security and Putin obviously has ambitions that are rooted in a nostalgic imperial nationalism. Now is that the only factor that drives his actions? Of course it isn't, but why would you dismiss it in the face of Putin's own repeated statements to that end?
And finally, and here, I want to give him credit, Mearsheimer concludes that the West may be able to prevent a Russian victory in Ukraine, but the country will be gravely damaged alongside lasting damage to the Russian economy and the threat of nuclear escalation.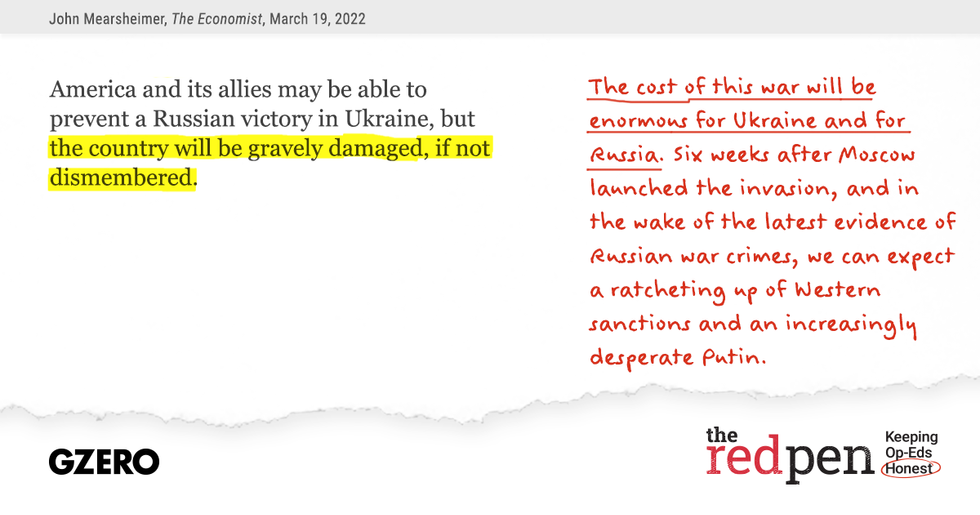 And I have no argument with any of that. The cost of this war will be enormous for Ukraine and for Russia. Six weeks after Moscow launched this invasion and in the wake of the latest evidence of Russian war crimes, you can expect a ratcheting up of Western sanctions and an increasingly desperate Vladimir Putin. Ukrainians are fighting a war of survival, and we are still very firmly in an environment of escalation. That's ugly and it's going to do enormous damage to both nations, to Ukraine and to Russia. And it's going to have a rippling impact globally, but no, the West did not cause Putin's horrible choice to wage this war of aggression.
So, there you have it. That's your Red Pen. Stay tuned to GZERO for more news and analysis about the war in Ukraine. I am Ian Bremmer, see you again real soon.
Should the world be focusing more on adaptation as an answer to the climate crisis? In a recent Wall Street Journal op-ed, Danish author Bjorn Lomborg argues that countries - and the media - are panicking over climate change instead of concentrating on tactics like levees and floodwalls. Ian Bremmer takes out the Red Pen to explain why these solutions are not enough to protect the planet.
COP26 is in the air (that's the UN Climate Conference still underway in Scotland) so feels like a good time to take our red pen to an op-ed that…isn't very green. It's from the Wall Street Journal and written by Danish author and academic Bjorn Lomborg. The title sums it up: "Climate Change Calls for Adaptation, Not Panic."
A little background on Lomborg: He's a prominent critic of the global consensus on climate change and wrote a book called "False Alarm: How Climate Change Panic Costs Us Trillions, Hurts the Poor, and Fails to Fix the Planet." Let's be clear: his views are controversial, but given his platform and this week's focus on climate policy, it's important to address the substance of his claims. So, let's break out the Red Pen!
First, the core of Lomborg's argument is that countries need to spend more time focused on ways to adapt to climate change, instead of trying to change their economies to reduce its effect. He writes, "Adaptation doesn't make the cost of global warming go away entirely, but it does reduce it dramatically."
Nobody disagrees that adaptation is important (anymore—lots of people did when COP started 27 years ago, because they thought it was tantamount of surrender).
But it's not a comprehensive solution. Take rising temperature, for example. If the air gets too hot, why can't we just use more air conditioning? Well, air conditioning requires more energy, and more energy consumption leads to more emissions. Cleaner and more efficient air conditioning requires technology, industry, finance, and policy. That's a microcosm of the real conversations in Glasgow. This stuff is complicated. It's not just about a single solution.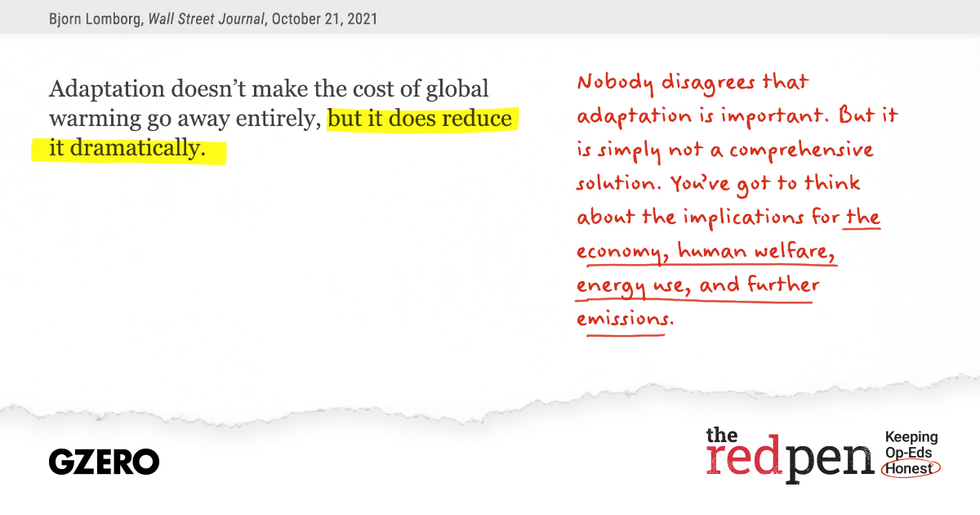 Next, Lomborg suggests that farmers can adapt by shifting production from one place to another, like corn production in North America, which "has shifted away from the Southeast toward the Upper Midwest, where farmers take advantage of longer growing seasons and less-frequent extreme heat."
Moving agricultural production like this works only in big, relatively empty, and fertile countries like the US and Canada. It does not work in highly populated, smaller countries across South and Southeast Asia or Africa, already suffering from shortages of fresh water and arable land. Adaptation alone will not suffice.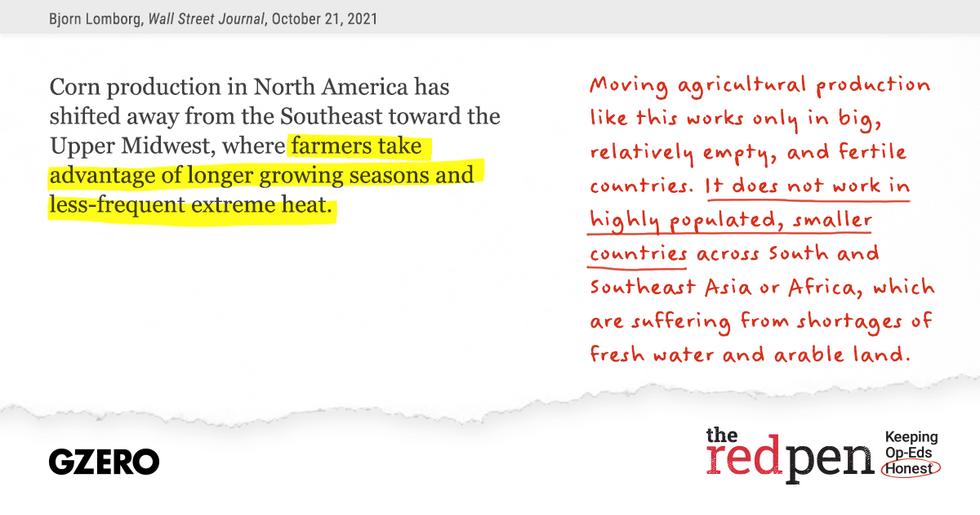 Third, Lomborg blames the media for pushing "unrealistic projections of climate catastrophes, while ignoring adaptation."
The media is an easy target. When it bleeds (or floods, or burns), it leads. (Except at GZERO, of course). And it's true that everyone is talking about how we've missed 1.5 degrees as a target, nobody mentions that the worst case scenarios of 5 and 6 are also now extremely unlikely—because of steps taken to mitigate emissions. But let's be honest: The people who are doing the real work on climate, and the governments and organizations putting lots of dollar signs behind it, are looking at the whole picture, including adaptation. And they've long since concluded that you can't adapt yourself out of climate change.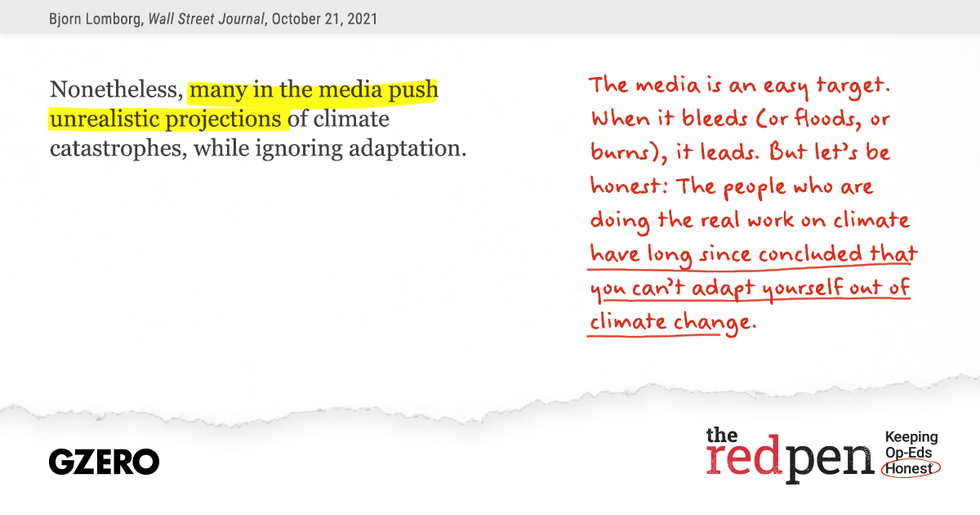 Lomborg also writes: "When sea levels rise, governments build defenses—like the levees, flood walls and drainage systems that protected New Orleans from much of Hurricane Ida's ferocity this year."

Levees and New Orleans are not usually in the same sentence...in a good way. But setting that aside, building flood walls and drainage systems works regionally, at best. It is no long term defense against rising sea levels, especially in densely populated regions like South and Southeast Asia, where millions of people live on the coasts.
The biggest problem here has been the mass destruction of coastal mangrove forests, which also acted as flood plains. Flood walls and drainage systems won't solve these problems.
Also, you can't build a levee to protect against forest fires, nor will they keep out climate migrants (build the levee sounds even worse than build the wall). And many developing country governments can't afford levees and other adaption at all.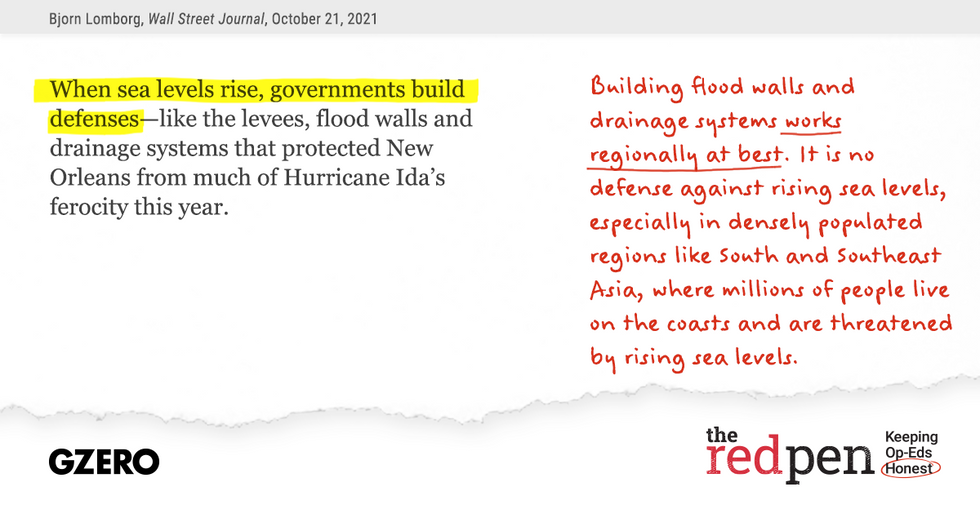 Finally, Lomborg concludes by arguing that "You don't have to portend doom to take climate change seriously. Ignoring the benefits of adaptation may make for better headlines, but it badly misinforms readers."

I agree with this conclusion – we don't need to warn people about a future doom to take climate change seriously. They're seeing it in their lives every single day, whether historically large fires in California or deadly floods in Germany or huge heatwaves in Bangladesh, India, and Pakistan. You know the other thing they're seeing? In a G-Zero world, no one is in charge, and governments and corporations are all moving in different directions, undermining pathways to a solution. That fact may end up scarier than anything Lomborg accuses the media of scheming up.
There you have it, that's your Red Pen for this week.

In his latest Washington Post op-ed, Marc Thiessen makes strong statements about how and why the Taliban came to take control of Kabul. There have been big mistakes in executing this exit. But "dereliction of duty?" Not in our view. Ian Bremmer and Eurasia Group analyst Charles Dunst explain why in this edition of The Red Pen.
Today we're taking our Red Pen to a recent op-ed from the Washington Post written by Marc Thiessen, a Post columnist, American Enterprise Institute fellow, and former speechwriter for President George W. Bush. It's titled, "Greenlighting the Taliban's takeover of Kabul is a national disgrace," and makes some strong statements about how and why the Taliban came to take control of Afghanistan's capital city. I want to unpack some of his arguments for you and explain why we disagree. So, let's get out the Red Pen.
First, Thiessen argues that "all the horrors the world witnessed over the past two weeks…might have been prevented" had the United States opted to take over Kabul, rather than letting the Taliban do so.
Let's remember: "The enemy gets a vote." Thiessen is comparing the real world, with all of its unpredictability, to a counterfactual one where everything goes according to (his) plan. Even if the horrors he cited had been averted, wouldn't others have unfolded? Putting thousands of Americans back on Kabul's streets would have meant putting them in the crosshairs of terrorist groups like ISIS-K. Do we believe these groups wouldn't have targeted Americans in Kabul with suicide bombings, like the recent airport attack, or even engage them in firefights? Biden had to decide between two unpalatable options. He chose the one he believed would put the fewest Americans in harm's way.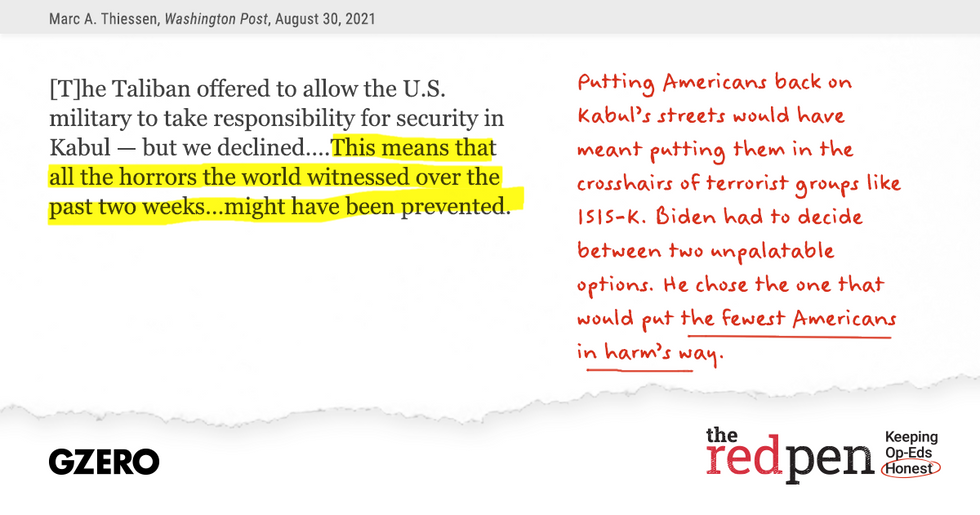 Next, Thiessen cites a former American senior general officer to argue that the "US military could definitely have secured the capital"––at least the green zone where Western embassies are located, plus access to the airport.

For starters, Thiessen bases his argument on the views of one "former senior general officer" whose identity we don't know. How widely shared are those views among current military officials? If the 20-year war has taught us anything, it should be some caution before arguing the United States could secure a city of over six million people indefinitely with a few thousand troops. Before leaving office, the Trump administration brought US troop numbers in Afghanistan to just 2,500, a 19-year low. By the end of July 2021, only 650 remained. Taking over Kabul would've required something politically incredibly challenging: a substantial troop surge that would've put more Americans in danger. Thiessen doesn't explicitly call for a surge, but the upshot of his critique is clear enough. There's an argument for a surge (even if politically very unpopular), he should tell us how many additional troops we would have to send in and for how long to hold onto a city the United States had already lost.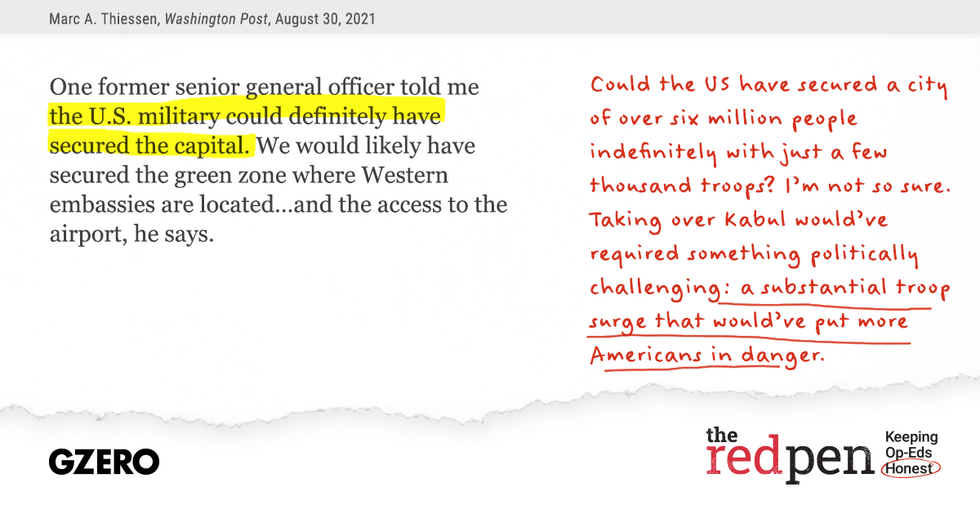 Thiessen also calls the Biden administration's decision to "cede" Kabul to the Taliban "a dereliction of duty unlike any we have seen in modern times."

Keep in mind it was Trump, not Biden, who went over the Afghan government's head back in February 2020 to negotiate with the Taliban and agree to remove all US troops from the country. There were US political considerations for doing so, I get it. But from that point, the Taliban's takeover of Kabul had, at that point, become a foregone conclusion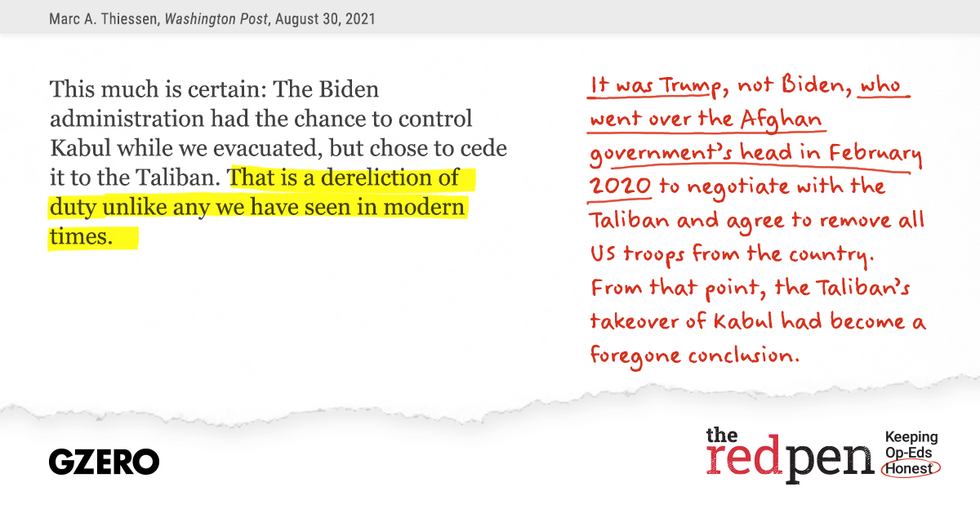 Next point: Thiessen writes that the administration's withdrawal "put the safety of American civilians, service members and Afghan allies in the hands of terrorists" — referring to the Taliban — "rather than the U.S. armed forces" and "led directly to the deaths of 13 Americans in an Islamic State attack on the Kabul airport."

Earlier, though, he almost presents the Taliban as an organization whose word General McKenzie should've trusted: "[T]he Taliban offered to allow the US military to take responsibility for security in Kabul — but we declined." What makes him believe a terrorist organization intent on retaking power would honor a pledge to allow US forces to secure the capital city? Which Taliban is it?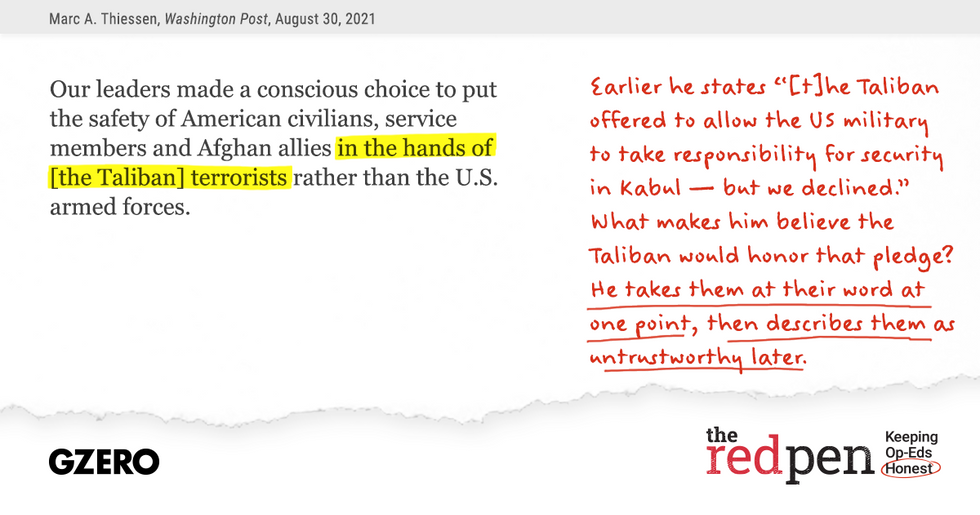 Finally, Thiessen concludes by arguing that Biden's decision to let the Taliban take over Kabul "led directly to the deaths of 13 Americans in an Islamic State attack on the Kabul airport."
Harrowing as the images coming out of Afghanistan are, Biden had decided to not risk even more US lives in the war's twilight. Staying at the airport and trying to hold onto Kabul for a few more weeks would have helped the United States evacuate more Afghan partners, but it would also have risked the lives of thousands of US soldiers.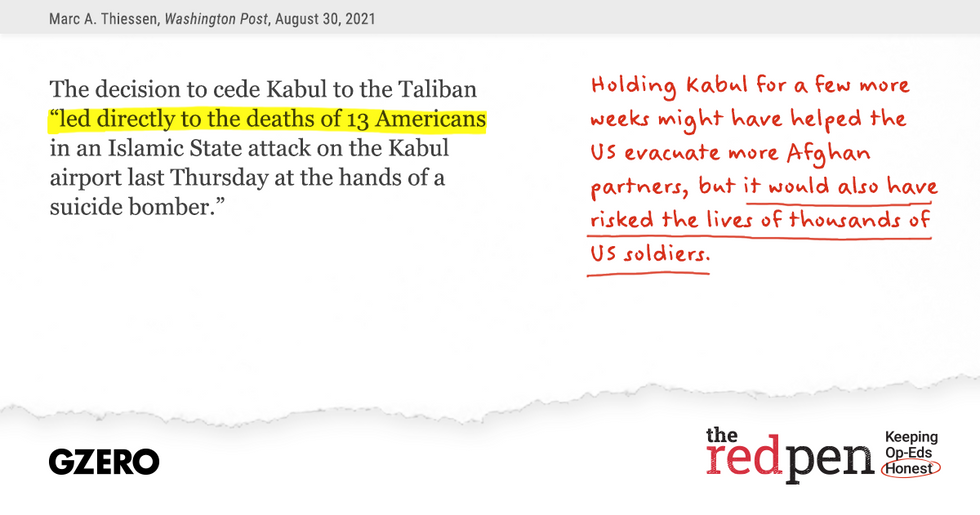 One thing I think many of us agree on — this has been a sad and embarrassing ending to the 20-year war in Afghanistan. We've left countless Afghan allies behind, despite promising them safe passage. August's events will no doubt cast an added shadow of grief over the coming anniversary of the 9/11 attacks. The Biden team certainly made mistakes in executing this exit. But "dereliction of duty?" No, not in my view.

GZERO
MEDIA
Subscribe to GZERO's daily newsletter