The US can advance democracy without being the world's sheriff
In his New York Times op-ed, David Brooks says the US is facing an identity crisis — protecting liberal and progressive values at home while doing little to stop autocrats elsewhere. But has the US really abandoned its values abroad just because it's withdrawing from Afghanistan? Ian Bremmer and Eurasia Group analyst Charles Dunst take out the Red Pen to argue that the US can advance democracy without being the world's sheriff.
---
Today we are taking our Red Pen, first time we're doing this, through recent op-ed by veteran columnist and best-selling author David Brooks of The New York Times.
The title of the piece is "The American Identity Crisis," and it focuses on the US withdrawal from Afghanistan. Coming to a theater not so near you real soon. And how it represents a double standard that Brooks believes America is experiencing—protecting liberal and progressive values at home (and many would argue with that point alone by the way) while abandoning allies in Afghanistan and doing little to stop the rise of autocrats elsewhere.
Let's get out the Red Pen.
First, Brooks laments that in, quote, "Iraq and Afghanistan, America lost faith in itself and its global role—like a pitcher who has been shelled and no longer has confidence in his own stuff."
That's right, but I'd argue the roots of this lost confidence go back a lot further. It was after the Vietnam War that Americans seriously began to question their ability to transform the world. And let's also remember the deaths of American soldiers in Somalia back in 1993, reinforced that sentiment: President Bill Clinton was so shell-shocked that he refused to intervene in Rwanda during that country's genocide.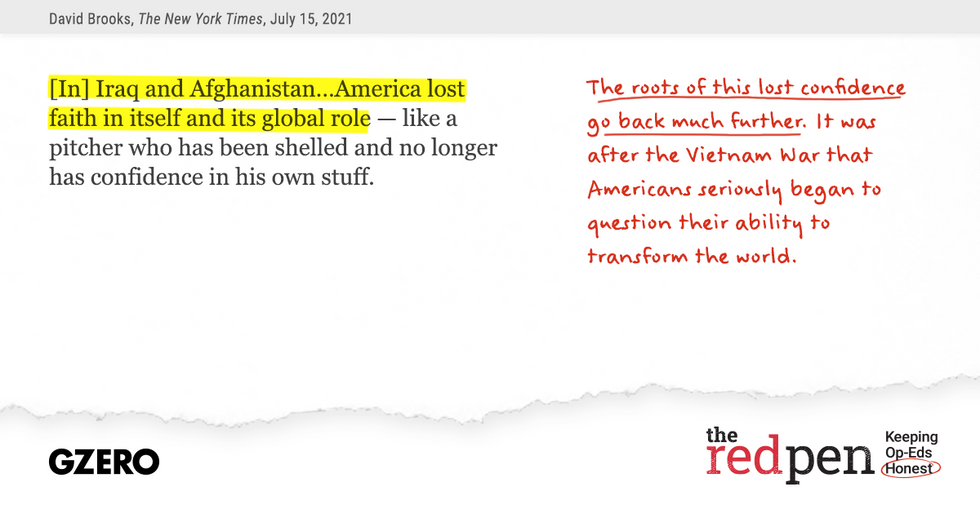 Next, Brooks writes that the "two-decade strategy of taking the fight to the terrorists, in Afghanistan and elsewhere, has meant that global terrorism is no longer seen as a major concern in daily American life."

I'd say it's no longer seen that way because it's no longer a daily concern in terms of actions taken at home. US intelligence and law enforcement officials have spent vast sums over the past 20 years in the United States and on borders to protect the American people. If anything, US interventions abroad have made Americans less safe, not more: Exhibit A, destabilizing Iraq fostered the rise of the Islamic State, which continues to wreak havoc in and beyond the Middle East.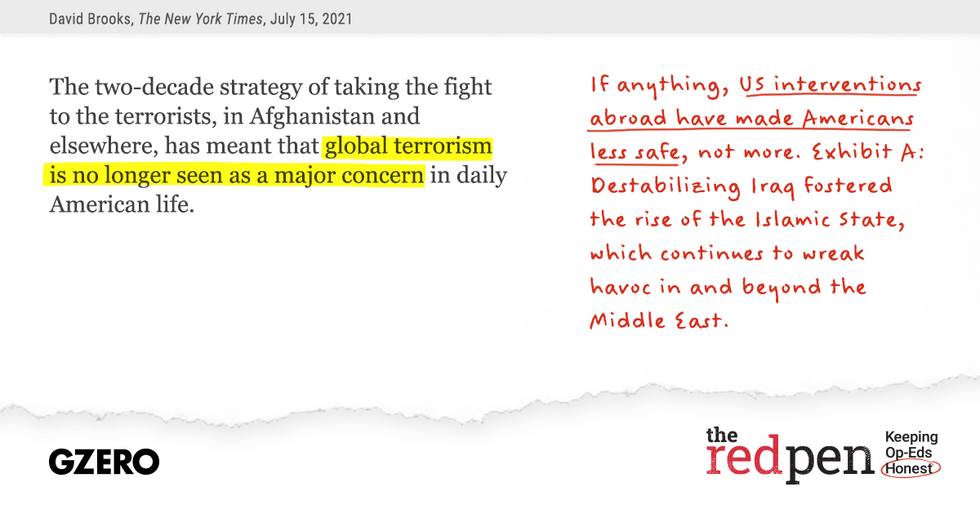 Brooks also writes that there's "a strong possibility" that the US withdraw from Afghanistan "will produce a strategic setback and a humanitarian disaster."

Yes, a humanitarian disaster if the Taliban does take over, and I think that's likely—women and ethnic minorities will suffer. But that was already looking pretty likely—in fact, the Biden policy review expected that the Taliban was likely to take over the course of the Biden administration, absent a troop surge, and nobody thought that that was politically feasible. And a strategic setback for the United States? Well, that's a harder one to argue. I mean, a Taliban-led Afghanistan might be a thorn in Biden's side but it's not going to derail his top foreign policy priority by far, which is managing over surging China. And on that issue, by the way, that's a key reason that Beijing wants the Americans to stay in Afghanistan because the Chinese government knows that they're going to end up supporting the Taliban government while facing blow back from regional warlords in Afghanistan. That doesn't work.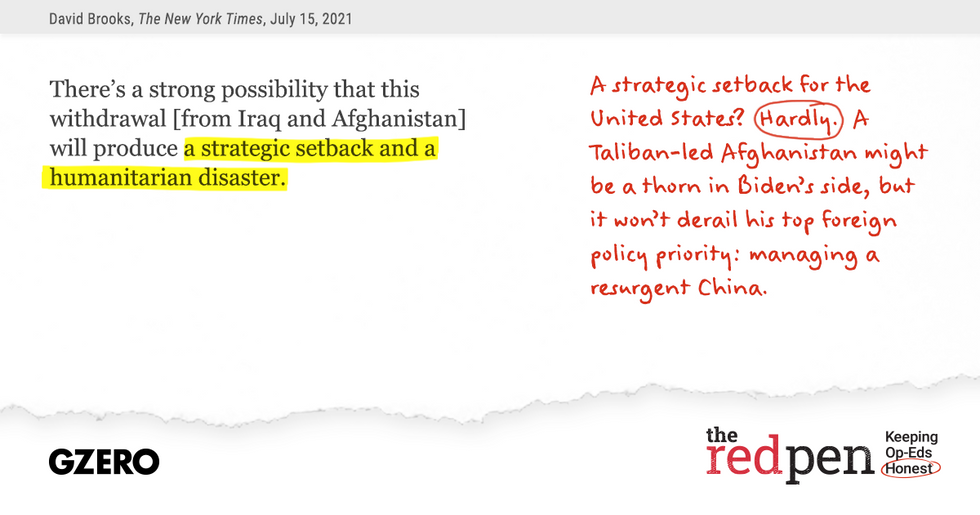 You still with me? I've got a couple more points to go and still have a little red ink. Brooks writes that the United States is competing against countries like China and Russia "in an economic, cultural, intellectual, and political contest all at once—A struggle between the forces of progressive modernity and reaction."

Now, if values are so important to US foreign policy, why is Washington on such good terms with Egypt or Saudi Arabia, whose positions on LGBTQ and women's rights are anything but progressive. Some in the United States do want to advance liberal values the world over, but the US doesn't have either the capacity or the inclination to do so everywhere. Plus, the struggle between the United States and China, and with Russia to a lesser extent, is less about exporting culture than about shaping the global order.
And finally, Brooks says "to fight Trumpian authoritarianism at home, we have to fight the more venomous brands of authoritarianism that thrive around the world. That means staying on the field."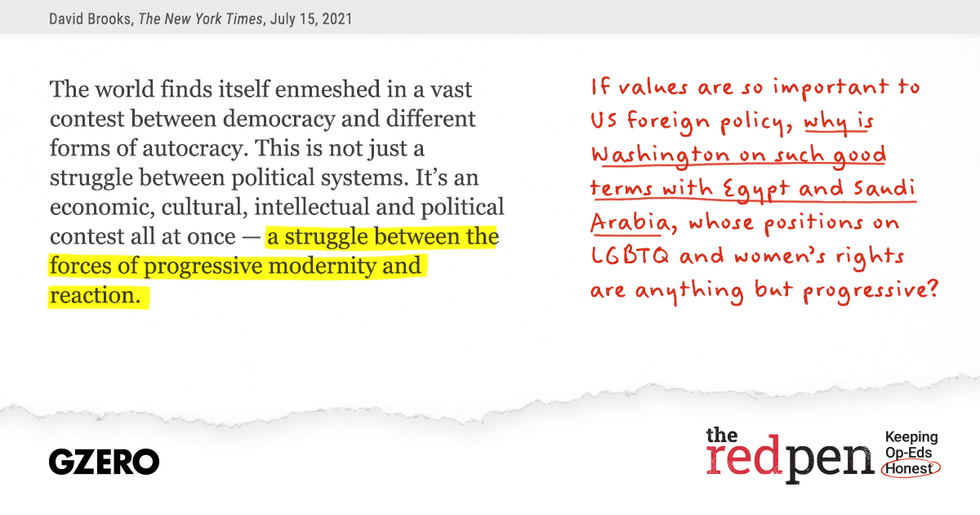 Now the United States should remain an active player in global affairs, I certainly agree with that. But "staying on the field" does not equal military intervention. Should the United States send forces into Myanmar as the country edges closer to becoming a failed state? I mean, how about Haiti, right in American backyard, following the president's assassination in his home. The United States can't afford to use military force whenever something goes wrong all over the world. There are plenty of ways to advance democracy—such as sending humanitarian aid and establishing cultural changes—without becoming the world's sheriff. Given how Afghanistan, Iraq, and other recent US military interventions have turned out, these soft power tools deserve a lot more attention.

So there you have it. That's your Red Pen for today. We'll see you again soon. In the meantime, stay cool in the dog days of summer. Moose told me to let you know that. Be good. Talk to you soon.