GZERO Daily: the newsletter for people who love global politics
Sign up for our free newsletter to keep up with what's going on around the world - and why it matters.
Subscribe
GZERO Daily: the newsletter for people who love global politics
Subscribe Now

We have updated our Privacy Policy and Terms of Use for Eurasia Group and its affiliates, including GZERO Media, to clarify the types of data we collect, how we collect it, how we use data and with whom we share data. By using our website you consent to our Terms and Conditions and Privacy Policy, including the transfer of your personal data to the United States from your country of residence, and our use of cookies described in our Cookie Policy.
Bolsonaro is an incompetent populist, not planning a military coup
The Financial Times says Brazilian President Jair Bolsonaro is a threat to his country's democracy. Not so fast. In this episode of The Red Pen — where we do our best to keep op-eds honest — Ian Bremmer and Eurasia Group's Chris Garman and Filipe Carvalho poke holes in the FT's argument.
---
We're taking a look at Brazil and that nation's controversial president, by way of a recent editorial from the F.T. The Pinks, as they call them. It's titled, "Jair Bolsonaro sparks fears for Brazilian democracy." Now, Brazil has more than its share of troubles, and especially right now, as they are the epicenter of the global coronavirus epidemic. The shameful mishandling of coronavirus, I mean, truly, even worse than what we've seen in the United States, by the president, has led to an explosion of outbreak there. And Bolsonaro was actually even censored on social media. I don't mean just like, a fact check. I mean, absolutely shut down for promoting false information about the virus. And in general, he's been called the tropical Trump. He's lost two of his ministers of health within four weeks of each other because he's been promoting chloroquine as a miracle cure. He's involved in rallies and occasionally not wearing masks while he's with all sorts of mass public on the streets. I mean again, everything that's been driving people crazy in the United States, take that, multiply it by about 50, and you see what president Bolsonaro has been doing in Brazil.
But the premise of the F.T. editorial is not that Bolsonaro is incompetent or that he's doing a bad job. It's rather that he has the ultimate goal of dismantling Brazil's democracy. The democracy they've had since 1988 when a new constitution brought an end to military rule. And on that, I say not so fast.
First, the Financial Times argues the Bolsonaro is at war with the Supreme Court, with Congress and with the press, all in effort to undermine Brazil's democratic institutions. Now, actually, Bolsonaro is much weaker than any of this lets on. It's less that he's trying to destroy other parts of government and certainly not that he'd be successful. Rather, he's responding to pressure to shrink his already comparatively limited power.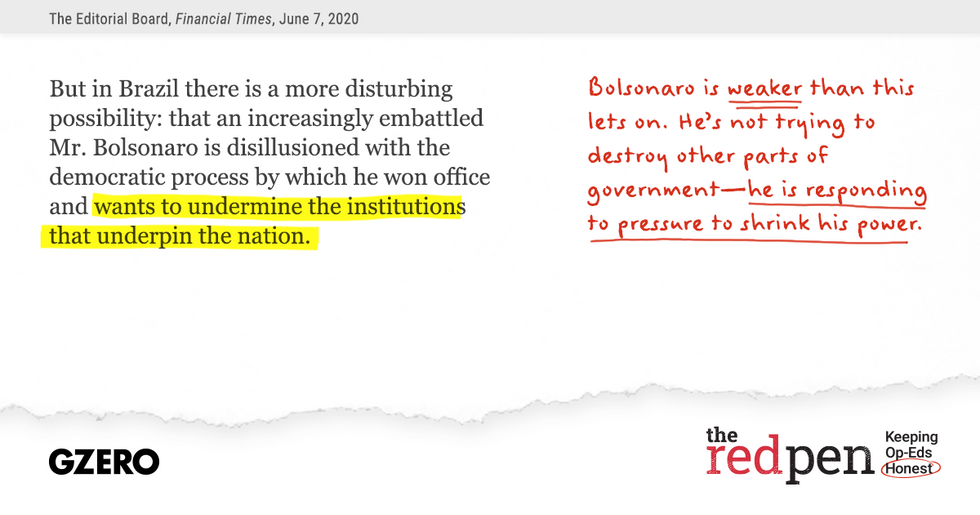 Also, worth noting on that point, the F.T. cites the fact that Bolsonaro has attended rallies where protesters were calling for a shutdown of Congress and the Supreme Court, to return to military rule. But there happens to be record high disenchantment with Brazil's democratic institutions. So, it's no surprise that the president is fanning the flames for political gain. That makes him a populist. That's very different from a would-be dictator.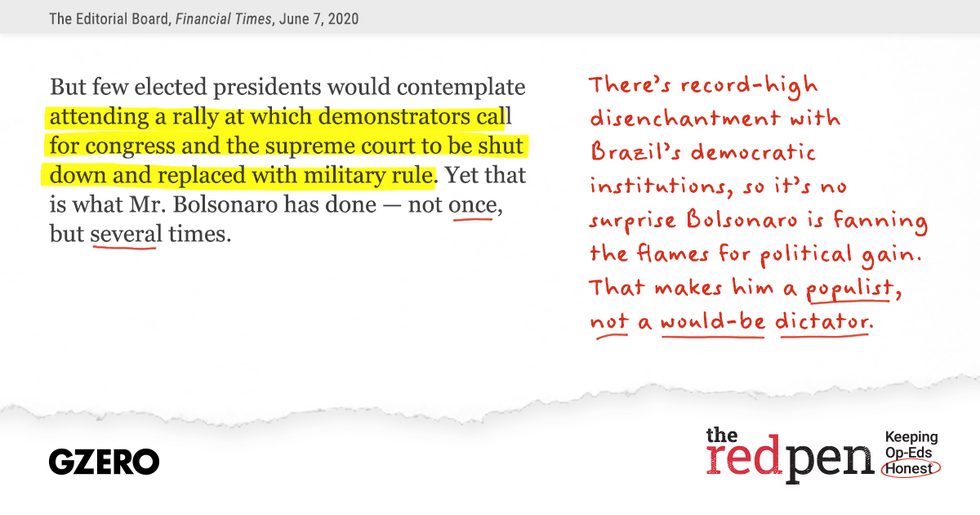 Which brings us to the military, F.T. writes "Mr. Bolsonaro's fondness for military rule goes beyond words and symbols; a former Army captain, he has packed his government with more than 100 serving and retired military officers, including several cabinet ministers and his vice president." That is meant to bolster the argument that the president of Brazil is looking for a military dictatorship. Now, to be clear, Bolsonaro has a military background. And he has stacked his cabinet with generals. That makes a lot of people queasy in a country that recently had military rule. But there is zero support in the military for actually breaking apart Brazil's democracy. The generals see the military as the protector and not the enemy of the Constitution.
Finally, the F.T. argues that Bolsonaro is trying to provoke a crisis of democracy to get reelected as his nation reels from the pandemic. Now has the third highest death toll in the world and a lot lower population than the United States. And his poll numbers continue to sink. The Red Pen is telling you that the drop in Bolsonaro's approval ratings has actually been pretty modest so far, and he isn't using polarizing language to justify military intervention, he's doing it because it mobilizes his base.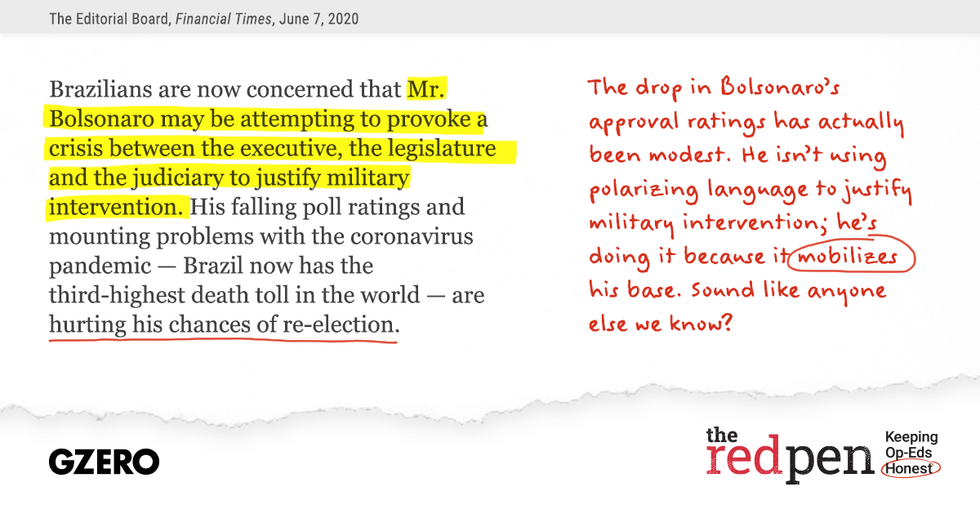 Does that sound like anybody we know? Absolutely. It's exactly what's happening with President Trump in the United States. And the effort of mobilizing the military in the US was, of course, massively constrained by Trump's own generals. The head of the Joint Chiefs writing a memo saying that the generals report to the Constitution. They are loyal to the Constitution, not the United States president. Hundreds of generals, former defense ministers, secretaries of defense and heads of Joint Chief, all saying they feel the president himself is acting in unconstitutional fashion. That doesn't mean the United States on the verge of becoming a dictatorship, but actually shows the United States has much stronger, independent, professionalized military than a lot of people previously believed.

In Brazil, that's the case, too. And so Bolsonaro may need to go. And if it happens, it's going to happen with a democratic election. It's not going to happen on the back of a failed coup attempt and the potential for the military to take over a thriving democracy in the world's largest economy in South America.