Criticisms of US COVID response vs EU are not partisan
The Wall Street Journal says that it's partisan to compare the US pandemic response to Europe. In this episode of The Red Pen — where we do our best to keep op-eds honest — Ian Bremmer and Eurasia Group's Scott Rosenstein point out some flaws in the WSJ's argument.
---
Today we're taking our red pen to a recent piece from the editorial board of the Wall Street Journal. It's titled COVID Comparisons, Europe and the United States, and it argues that those who criticized US pandemic response by comparing it to Europe are guilty of partisan opportunism in an election year.
Four points we really want to dissect in this article. Let's start with the Wall Street Journal's argument that the United States has recorded fewer deaths per 100,000 people than the UK, Spain, Italy, and France. That's true for some European states, but the argument being made by the Wall Street Journal is that you're politicizing if you compare the US to Europe.
And actually, you compare the US to Europe as a whole, which seems the more appropriate point, because some places in Europe do well, some do badly. Some places in the US do well, some do badly. We all found out about coronavirus at the same time.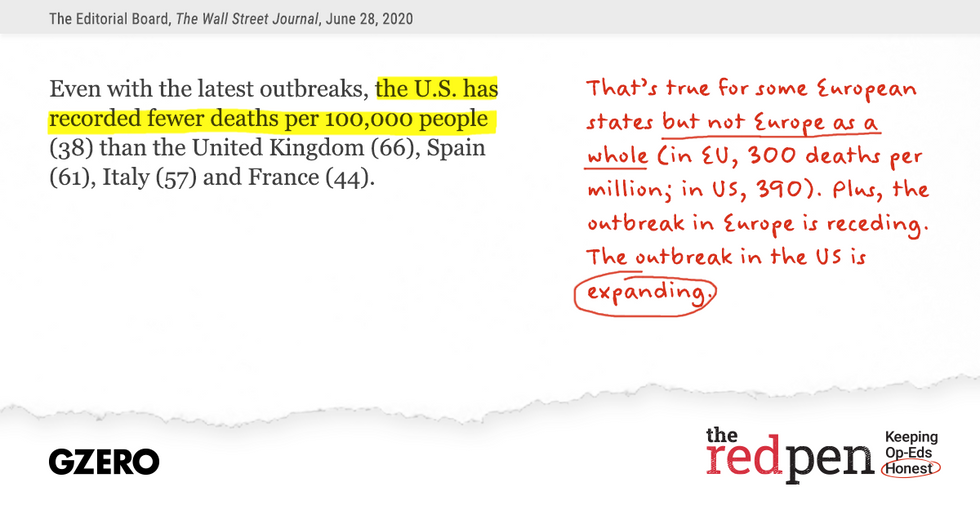 And in fact, since the coronavirus hit Europe, about 10 days earlier and scaled, than it did the United States, you'd expect we'd have more time to learn from those lessons. Especially since we didn't get a month because the Chinese were covering it up for both the Americans and the Europeans.

The EU had 300 deaths per million people. Here in the United States right now, it's 390. And certainly you'd expect, given caseload, that that gap is going to grow and not in America's favor. Also, it's important to note that, of course, overall, the outbreak in Europe is now receding. Again, the United States very dramatically different from that.
Number two, the Journal also claims that Southern states in the US didn't open up too early, that they lifted their lockdowns gradually and at around the same time as most European countries. That's actually deeply misleading. Europe had been closed longer and waited to open until its case count declined consistently. Florida, Texas, and Arizona all opened when daily cases were either steady or rising and with insufficient testing and tracing infrastructure.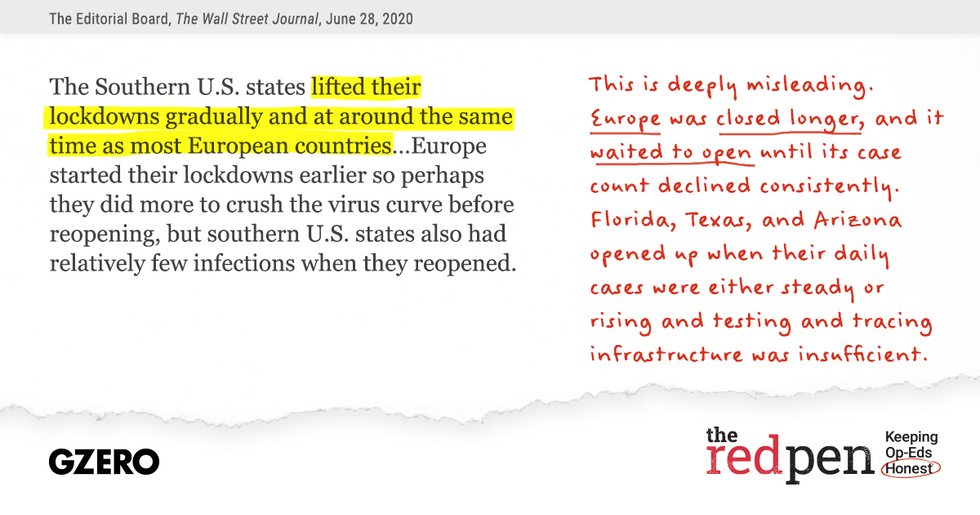 One of the biggest issues that the Centers for Disease Control in the United States actually laid out what the opening guidelines and principles should be. And then a number of US states, including some of the largest American states in population, simply ignored them. And the fact that now you have governors, lieutenant governors, with some of those very same states saying they're going to ignore continued directives from the CDC and from Dr. Fauci, while their cases are exploding, does not make you more optimistic about where the US is going to be versus Europe.

Third, a point about chastising GOP governors for letting wild and crazy youngsters crowd into bars. European countries are struggling to corral their youth too, writes the Wall Street Journal. And this is certainly true, but the issue is how significant the community spread is and whether governments can detect and stop outbreaks. Many European states have that capacity, the United States does not.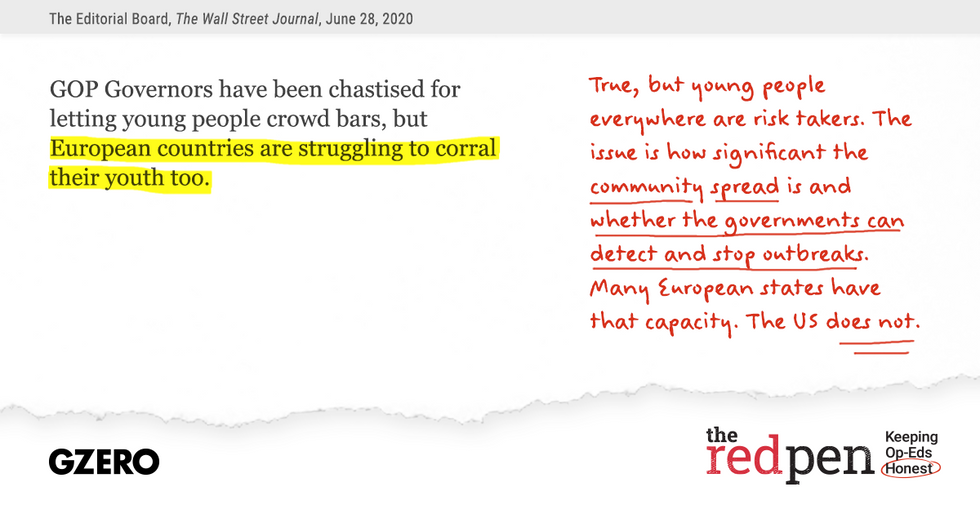 And finally, the Journal's editorial board asserts that a return to strict lockdowns isn't sustainable economically or politically, as even democratic governors admit. This is not a partisan issue. If deaths and hospitalizations continue to skyrocket, we could reach a threshold that makes strict lockdown the only option.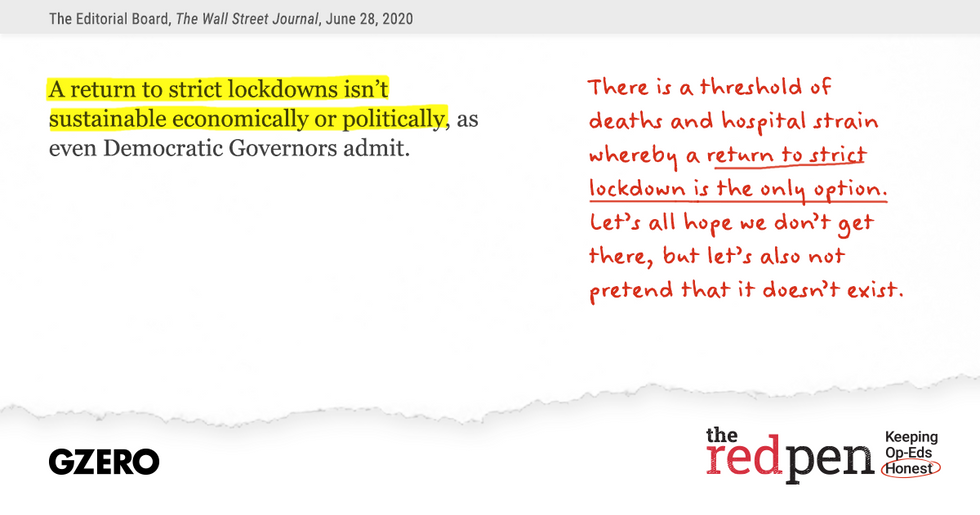 The biggest concern would be if we get to the point that you no longer have adequate ICU beds and healthcare for people that have cases, like you saw in Northern Italy. If we have to triage between patients that can and cannot get healthcare, that's when death rates, not just case rates, would suddenly explode across the United States.

Let's hope we don't get there. Right now, we're not, but it's naive to pretend that that possibility doesn't exist, given where the United States is right now. So there you have it folks. That's our latest edition of the Red Pen.