"Fixing" US foreign policy isn't the real challenge Biden would face
Josh Rogin's Washington Post op-ed argues that Donald Trump's assault on US foreign policy could take decades to repair. But Rogin gives Trump too much credit and misses the real challenge to American global leadership. Ian Bremmer and Eurasia Group analyst Jeffrey Wright use The Red Pen to keep the op-ed honest.
Today, we're taking our red pen to an op-ed from the Washington Post written by Josh Rogin, a columnist for the Global Opinions section.
The piece is called "U.S. foreign policy might be too broken for Biden to fix" it. I mean, we could start with the title--which encapsulates just how much we feel Josh overstates the damage done in the past four years and fails to recognize the resilience of US institutions in general.
---
But let's get specific.
Number one, Rogin writes that President Trump has attacked "the previous bipartisan consensus that the United States has a unique duty to lead a global world order based on the advancement of freedom, human rights and the rule of law."
Hey, Josh—the Iraq War, GITMO, and drone strikes are calling. They want you to know America acted unilaterally long before Trump became President. It's true. President Trump was the first to say "America First" out loud—(I mean, since we tried to stay out of WWII, that is)--but it's far from a new philosophy.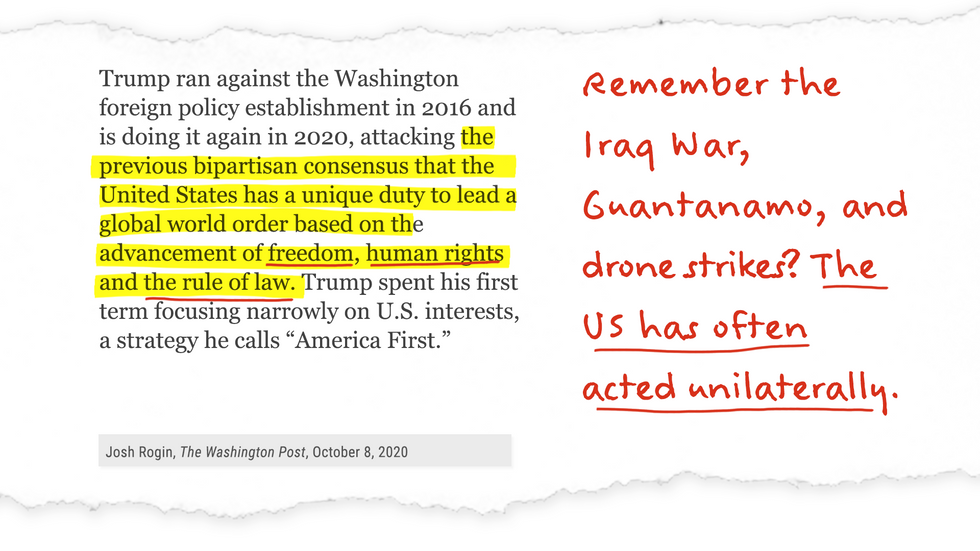 Number two, on the point of Trump potentially having broken the systems critical to diplomacy, he writes, "It could take decades to repair the institutions Trump intentionally damaged…"

Now sure, Trump gutted the State Department and he's clogged up the World Trade Organization, and this is…a bad thing. Though we'd argue the institutions are resilient and it won't take decades for them to bounce back, if we want to actually rebuild them. While others, so far, he's talked a big game, but hasn't done very much—take NATO, the IMF, the United Nations, even the World Health Organization.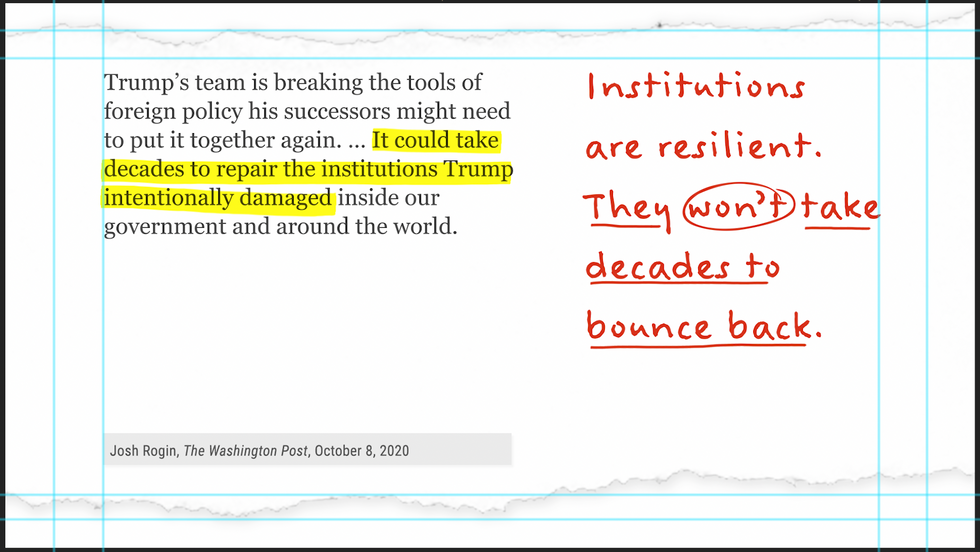 On Iran, Rogin writes "Biden can't return to the Iran deal but won't be able to strike a new one.

Who says? I mean, I'm not saying a new deal with Iran will be easy (the last one wasn't, and it wasn't exactly comprehensive), but Biden is going to resume negotiations (if he becomes president) and will have broad international support for doing so. Plus, Iran is in far more desperate economic shape now than they were four years ago. They're incented.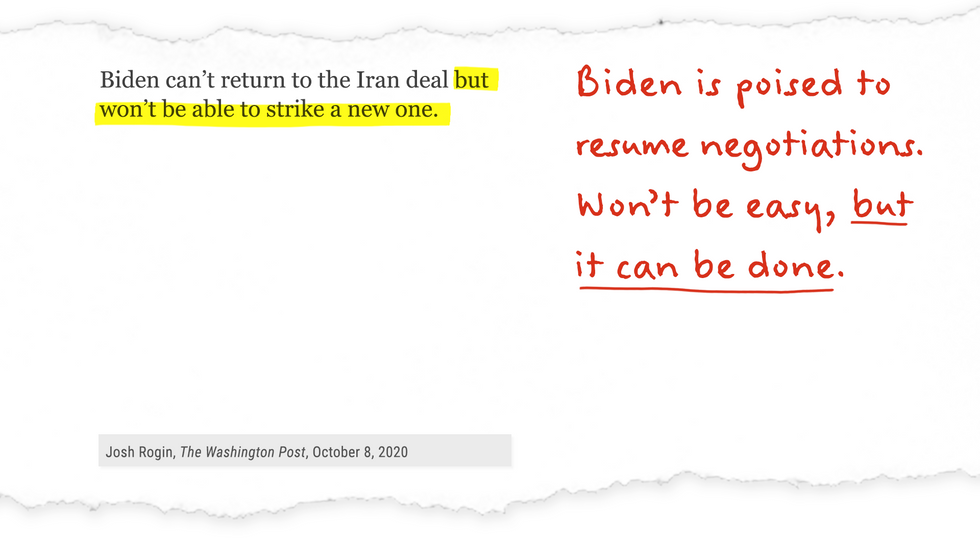 I also think there's a big point about the United States that Rogin's article ignores. The barriers to becoming the world's policeman again aren't just partisanship—or because of Trump's presidency or GOP leadership in Congress. Polls consistently show that Americans are tired of so-called "endless wars" and extensive international engagement. There's also real discontent about US trade policy--which many feel hasn't done much to help everyday Americans.

Joe Biden, should he win on November 3 or later,will face major challenges in restoring global leadership—but they aren't just coming from Republicans or Trump supporters. He would have to overcome domestic political opposition—including from a lot of Democrats—if he wants to set the nation on a different path.