What We're Watching: Israel's mega-protest, Iran-Saudi détente, BBC own goal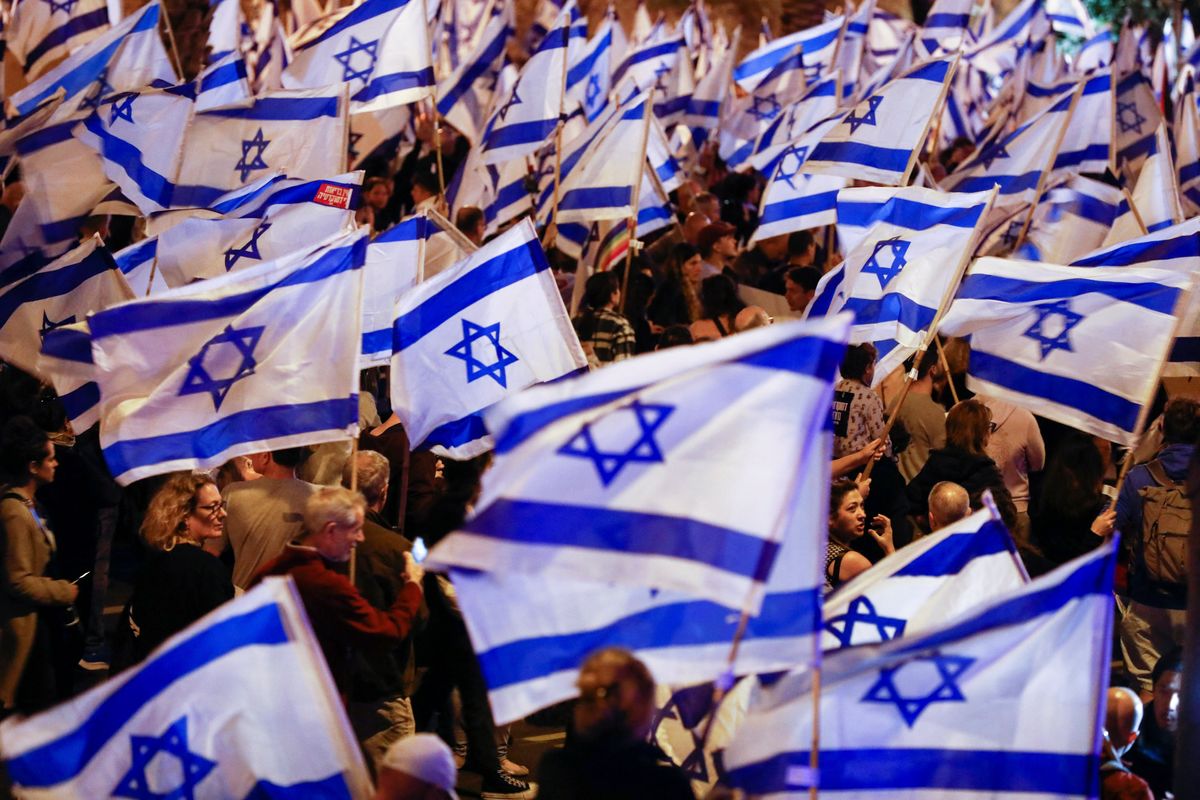 REUTERS/Nir Elias
Israel on the brink

Half a million demonstrators took to the streets Saturday night in what was billed as the biggest protest in Israel's history to blast PM Benjamin "Bibi" Netanyahu's controversial plan to overhaul the judiciary, which many see as a threat to democracy. That was a huge turnout for the 9-million-strong country that has seen 10 weeks of protests, with dismay over the reforms cutting across large segments of Israeli society, from the tech sector to army reservists.
The situation is quickly spiraling for Bibi. The country faces a constitutional crisis if parts of the civil service and security forces refuse to obey government orders. (On Saturday, heads turned when Tel Aviv police chief Amichai Eshed joined the rally in uniform. He's been making waves since National Security Minister Itamar Ben-Gvir fired him for not cracking down hard enough on the protesters, although his dismissal was later overruled by the attorney general.)
All of this is happening as Israel tries to get a handle on a recent spike in violence in the Palestinian territories. The PM's far-right coalition, meanwhile, may not survive a backtrack on the reforms. Can Bibi hold on?
---
Bridging the Gulf?
Bitter rivals Saudi Arabia and Iran agreed to reestablish diplomatic ties on Friday following a breakthrough facilitated by Beijing, a rapprochement that could potentially realign politics in the Middle East.
To be sure, there's still plenty the two countries disagree on, but they also have strong incentives to keep talking. Iran — with growing Chinese help — gets the prospect of some relief from its crippling economic isolation. Meanwhile, the Saudis hope to get concessions in areas of conflict throughout the region and signal to the West that the Kingdom is willing to move closer to China and away from Uncle Sam, its longtime ally. China, for its part, has emerged as the big winner by finally complementing its growing economic and military weight by flexing its diplomatic muscles.
A critical test of the agreement is whether it leads to de-escalation or an end to the civil war in Yemen, where the Iranians and Saudis back different sides amid a devastating humanitarian crisis.
BBC vs. Gary Lineker
The famously impartial BBC has scored an own goal by claiming political bias to justify muzzling one of its own: soccer commentator Gary Lineker.
The former England captain and longtime host of the popular program "Match Day" was abruptly taken off the air Saturday after tweeting that the Conservative government's new language on migrants smacked of 1930s Germany. But the decision soon backfired, with Lineker's co-hosts and possible replacements all boycotting the network. The BBC was ultimately forced to cancel all live soccer programming. Even PM Rishi Sunak — whose Home Secretary Suella Braverman had demanded Lineker be suspended — weighed in by asking both sides to patch things up.
Although the scandal was finally "resolved" early Monday, it feeds right into the Tory narrative that it's time to nix the license fee that all Brits pay to fund the BBC. After all, if enforcing impartiality makes you look biased, perhaps you're not really as impartial as you claim.