What We're Watching: Migrants flood Polish border, Czech Republic's unwieldy coalition, Kuwait's government steps down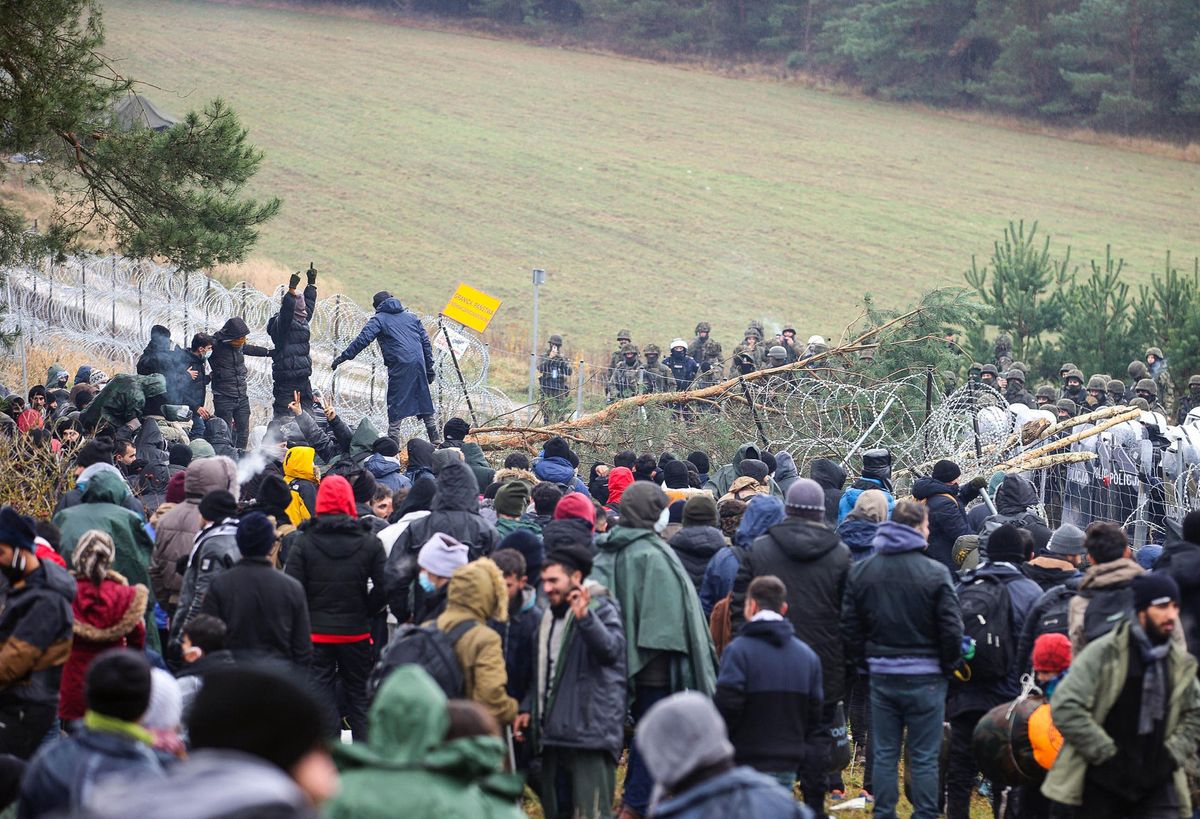 Migrant crisis deepens at Belarusian-Polish border. The deteriorating situation on Poland's border with Belarus intensified Monday, with Warsaw deploying 12,000 troops amid fears that an influx of migrants might storm the border from Belarusian territory. Latvia and Lithuania, fearing a migrant wave, have joined Poland in upping border security at their own frontiers. For months, Poland, an EU country, has accused Belarus' strongman President Alexander Lukashenko of opening his country's border to flood Poland with Middle Eastern and Asian migrants desperate to enter the EU. Lukashenko's move is payback for EU sanctions against Minsk. Poland has even accused Belarusian forces of physically pushing some migrants into Polish territory. Dramatic footage on Monday showed the problem has gotten much worse, with thousands of migrants gathering at the border, some using instruments to try to cut into barbed wire barriers. As a brutal winter descends in Eastern Europe, the situation is becoming more dire for the migrants themselves. Scores of them have died of hypothermia after being expelled from Polish territory and denied food and medical treatment. (Unsurprisingly, Belarus was unwilling to take them back.) Poland says that Belarus recently "escorted" some 1,000 migrants to its border, and that it is bracing for a major security breach. Meanwhile, thousands of desperate migrants, stuck in the intra-European crossfire, are in desperate need of help.
---
Czechmate for outgoing prime minister. It took five parties, arranged in two somewhat unwieldy coalitions, to defeat the Czech Republic's popular populist Prime Minister Andrej Babiš in elections last month, but the deal is now done. The center-right Together coalition and the center-left, Pirate-led coalition on Monday inked an agreement to form a government helmed by Petr Fiala, leader of the Together bloc's ODS party. The move comes after weeks of negotiations and uncertainty about whether the hospitalized President Milos Zeman would flout election results and give his ally Babiš a crack at forming a government first. Fiala's government will face big challenges: digging out of the pandemic, taming rising national debt, and reviewing testy relations with Prague's former imperial masters in Moscow. Relations with the neighbors could get choppier as well — Fiala, in contrast to Babiš, is much more pro-EU than Hungary's Viktor Orban or the PiS government in Poland.
(Ku)Wait for it. For the second time this year, Kuwait's government resigned on Monday in a move that could defuse a political deadlock that has hampered the oil-rich country's ability to sort out its finances. Background: Kuwait has a hybrid political system in which a popularly elected parliament can introduce legislation and exert some oversight over a government still appointed by the Emir, who usually packs it with family members. In recent months, opposition lawmakers have squabbled with Prime Minister Sheikh Sabah al-Khalid al-Sabah about his handling of the pandemic, allegations of corruption, and the fate of political dissidents in exile. His resignation, coupled with a draft proposal on amnesty for those dissidents, could now smooth things over. A bit of harmony can't come quickly enough for Kuwait: although the country has lots of oil, low crude prices in recent years have provoked political conflict over how to balance the budget while continuing to offer expansive cradle-to-grave social benefits. Increased deficit spending is one option, but that requires parliamentary action, something that has been hampered by infighting.