Sign up for GZERO Daily, our free newsletter on global politics
SUBSCRIBE
GZERO Daily: the newsletter for people who love global politics
Sign up for our free newsletter to keep up with what's going on around the world - and why it matters.
Subscribe
GZERO Daily: the newsletter for people who love global politics
Subscribe Now

We have updated our Privacy Policy and Terms of Use for Eurasia Group and its affiliates, including GZERO Media, to clarify the types of data we collect, how we collect it, how we use data and with whom we share data. By using our website you consent to our Terms and Conditions and Privacy Policy, including the transfer of your personal data to the United States from your country of residence, and our use of cookies described in our Cookie Policy.
India is rising fast, but Modi must drive with care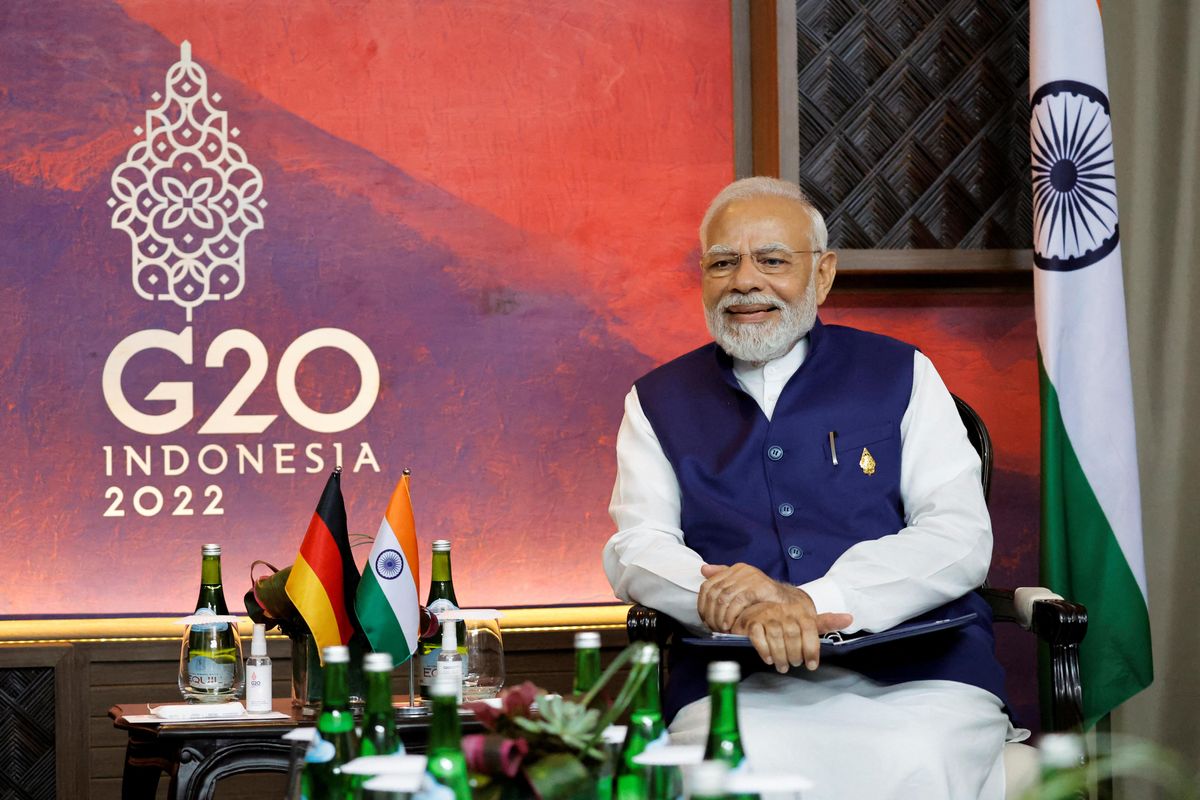 REUTERS/Willy Kurniawan
India's decade is here. According to two recent back-to-back reports by Morgan Stanley and S&P, the world's second-most populous country is set to become the planet's third-largest economy by as early as 2027.
Already the fastest-growing major economy in the world, India's GDP is expected to double from its current $3.5 trillion by 2031. That means that all else being equal, India will be economically neck-and-neck with Japan and Germany by the middle of the next US presidential term.
---
What's driving India's growth? A decade-long effort premised on making aggressive inroads into digitization, pro-manufacturing incentives, and a focus on exports. This has been buoyed by riding the wave of global offshoring and gearing up for an energy transition, which has placed Narendra Modi's administration and its backers in corporate India in an enviable position.
But how will Indians be affected? India's booming GDP will likely change the destiny of many of its billion-plus consumers. New initiatives are already changing the way Indians borrow, consume, and access healthcare. As Indians overtake the Chinese as the world's largest population — perhaps as early as next year — they will likely have more disposable income too. The country's income inequality gap will likely decrease, with consumption expected to more than double from $2 trillion to $4.9 trillion by 2030.
Critically, real income per capita will grow significantly by an average of 5.3%, with Indian households set to become the greatest spenders among the G-20 countries.
Being Indian won't just mean being better off than your neighbors — it will also mean being (more) global. As international outsourcing spending triples to $500 billion by the end of the decade, the number of Indians employed in jobs outside India will triple to more than 11 million. All of India's 660,000 villages are set to be electrified by 2030 as well.
The nature of the Indian worker will change, too. Given that its global exports could also double by the end of the decade, the nation of farmers will transition to more Indians working in industrial jobs as the manufacturing's share of GDP in India could increase from 15.6% currently to 21% by the end of the decade.
Meanwhile, India's growth also has ramifications for many of its neighbors. The likes of Bangladesh, Nepal, and Sri Lanka are all beginning to lag — yet are increasingly dependent on New Delhi for credit and growth, sectors where India is openly competing with China as the region's lender.
India might also step into China's boots as the factory of the world. As zero-COVID, economic decoupling, and Xi Jinping's aggressive foreign and domestic policies continue to force global investors to look for other options, India is standing by with fresh corporate tax cuts, attractive investment incentives, and new infrastructure to attract capital in manufacturing.
But there's a flip side. While India's surge is also expected to increase its standing on the global stage, its economics and its politics will likely run it into direct competition with China.
"As the strategic competition with China heats up, we are going to see India play a critical role in global supply chains that are significantly less dependent on China as the world's factory," said Uzair Younus, director of the Pakistan Initiative at the Atlantic Council. "As additional investments materialize in other manufacturing sectors, we are likely to see a sustained and substantial increase in 'Made in India' products sold in global markets."
But while multinational corporations' interest in investing in India is at an all-time high — indeed, India's current moment is being compared to the growth surge that China was going through from 2007-2012 – there are complications.
India resides in a rough neighborhood. As its troops remain bogged down by China in the Himalayas, its perpetual tensions with Pakistan keep the region's political climate unstable.
After more than a year of normalization, the Indian and Pakistani militaries have started to threaten each other openly after India's hardline defense minister promised to reclaim territory claimed by Pakistan despite an ongoing ceasefire.
This destabilizing hypernationalist streak of the Indian government runs all the way up to the top. On the one hand, PM Narendra Modi can be credited for India's attractive manufacturing policies, his effective public-private partnerships with corporate India, as well as his trade diplomacy that is more focused on bilateral than multilateral deals. Counterproductively, the Hindutva politics of his ruling BJP party often trigger communal and civil tensions, which can have local as well broader regional and economic impacts too.
Right-wing fundamentalism is a part of Modi's bid to retain the strength he has in parliament. However, his enemies aren't just Muslims, whom he targets to buck up his base. Strong trade unions and organized farmers who have strongly opposed his pro-corporate policies equally threaten his alliance with Big Business.
Going forward, if he wants his country to progress, Modi will have to move with caution to curb his party's worst and extremist tendencies. Bulldozing around at home and across the subcontinent with an ideologue's zeal will likely disrupt his utopian vision of this being "one world, one family, and one earth."
This comes to you from the Signal newsletter team of GZERO Media. Sign up today.

Today In 60 Seconds
GZERO
MEDIA
Subscribe to GZERO's daily newsletter
Latest
UN General Assembly: UNGA 78