Telling Taiwan "Biden is your guy" (instead of Trump) doesn't make sense
Would Joe Biden be better for Taiwan than Donald Trump? Global affairs columnist Frida Ghitis says he would be, in an op-ed entitled "Can Taiwan Survive a Second Trump Term?" in Washington Post Opinions and Outlook, but the reality is more complicated. Ian Bremmer and Eurasia Group's Kelsey Broderick explain why in the latest edition of The Red Pen.
---
As you know, there's been a lot of international attention on Hong Kong as Beijing continues to take steps to erode democracy there. They've implemented a new national security law that basically ends the "One State, Two Systems" agreement, they had there. But Taiwan is very different. An island off China's coast that has its own government. Beijing would very much like full control there. Ghitis is arguing that as the United States continues to retreat on the global stage in the Trump presidency, Taiwan will become increasingly vulnerable. And she draws the conclusion that overall a Biden presidency would be much better for Taiwan.

Now, is that true? Well, not to sound like your Facebook relationship status, but it's complicated.
Let's look at the points she makes to support the argument.
First, Ghitis writes that Trump has a long track record of lavishing praise on President Xi, calling him a "friend of mine" and an "incredible guy." And paying little attention to matters other than trade.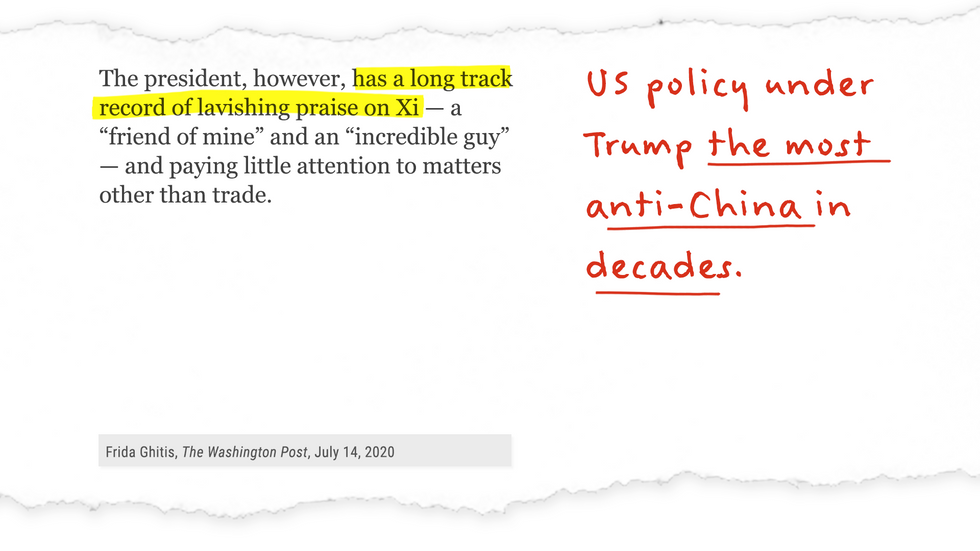 Actually, Trump has said all those things, but the Trump administration has ramped up defense of non-Chinese claims in the South China Sea and they've taken fairly serious economic steps to punish China for their actions in Hong Kong. So, while Trump has praised Xi Jinping personally, he's also driven the most anti-China-US policy in decades. And directly, the Trump administration has flooded Taiwan with arms to defend itself, much more than what we saw under the Obama administration. So, leading international opposition to Chinese policies has arguably been the most successful and most widely supported part of Trump's foreign policy.

Next, Ghitis writes that since China is "increasingly willing to flout international views" on issues ranging from Hong Kong to Xinjiang (where a million ethnic Uighurs, a Muslim minority in China, are being held in essentially concentration camps, they call them "re-education camps"), it might just make a move on Taiwan.
Now these, in my view, really aren't accurate comparisons. China is aggressive, yes. Reckless? No. Hong Kong and Xinjiang are already part of China. The US has a 40+ year commitment to defending Taiwan. Really hard to make that comparison.

Finally, the punchline: "Biden looks like a safer bet than Trump for the survival of Taiwan's independence."
Maybe. But the truth is, no US president would be eager for a war with China, even to defend Taiwan. If anything, Biden is more likely to ease up the pressure a bit on China and take a less militaristic approach to foreign policy. There is no indication that Biden is changing the US's fundamental approach of strategic ambiguity that has guided US foreign policy on this issue. In other words, "Defending Taiwan at all costs" is not going to be one of Biden's talking points.

So, I mean, I understand that a lot of people are really angry at President Trump for a lot of mistakes in domestic and foreign policy, but saying that suddenly "Biden is your guy, Taiwan," that doesn't make an awful lot of sense here. That's your Red Pen for this week.