Sign up for GZERO's free newsletters on global politics
SUBSCRIBE
GZERO Daily: the newsletter for people who love global politics
Sign up for our free newsletter to keep up with what's going on around the world - and why it matters.
Subscribe
GZERO Daily: the newsletter for people who love global politics
Subscribe Now

We have updated our Privacy Policy and Terms of Use for Eurasia Group and its affiliates, including GZERO Media, to clarify the types of data we collect, how we collect it, how we use data and with whom we share data. By using our website you consent to our Terms and Conditions and Privacy Policy, including the transfer of your personal data to the United States from your country of residence, and our use of cookies described in our Cookie Policy.
US-Russia: An all-or-nothing approach leaves US with nothing
An open letter in Politico by a group of foreign policy experts says the US should take a much tougher approach on Russia. In this edition of The Red Pen, Ian Bremmer is joined by Eurasia Group analysts
Alex Brideau
and
Zach Witlin
to point out some reasons why diplomacy and realism are critical in the US approach to Russia.
And today, we're taking our Red Pen to an open letter titled "No, Now Is Not the Time for Another Russia Reset." It was published in Politico and signed by 33 foreign policy experts, including diplomats Bill Taylor and Kurt Volker, who both testified at the impeachment hearings, as well as a bunch of military intelligence and diplomatic figures. And as it turned out, actually, we were Red Penned here, because it's a response to this piece, also in Politico recently, that I cosigned with a different group of Russia experts, including Fiona Hill and Jon Huntsman.
---
Both letters talk about the road ahead for US relations with Russia. The one I signed argued that the US needs to know when there will be opportunities to work with Russia and when Washington has to push back. The central argument in this article is that there's no point in talking to Russia until Putin changes his mind. So, what we have here is an open debate about the issue. Don't get me wrong, there's plenty we agree on and plenty of places where no red ink is required.
We agree that Russia bears plenty of responsibility for the current state of affairs. It occupies territory that belongs to Georgia and Ukraine, two sovereign states. And it interfered in the 2016 US election and continues to do so as we speak. Moscow has also killed dissidents in Europe, assassinated them. So, I mean, you know, no one is trying to justify any of that belligerent behavior. And we also agree that while the United States can fine tune its policy all we want, it actually takes two to tango. Recent talks with the Russians have not been too successful, but since the red pen is here, it is time to highlight some areas of disagreement. So, here they are.
Point one, the authors argue that there's no point in talking to Russia about much of anything until Putin changes his act. They write that "by arguing that it is the United States and not Russia that needs a 'current change of course' the authors of the open letter (that's us) get it exactly backward."
If the US takes an all or nothing approach with Russia, it will end up with nothing. Look, I mean, I certainly expect and understand that we should have a more hawkish line on a bunch of things with the Chinese as well, but that doesn't mean you can't work with these countries on climate change, on space, on a bunch of areas where it's actually really important. These are still large economies. In the case of the Russians, the largest nuclear arsenal in the world along with the United States, and I would argue that leaving the Intermediate Nuclear Forces Agreement was a mistake, leaving the Blue Skies Agreement, the Open Skies Agreement was a mistake. That you have to work even with your antagonists, and that's important. That means that we should be pursuing diplomacy and cooperation where we can while also vigorously defending our own interests where we can't. This strikes me as a fairly obvious baseline understanding of international diplomacy, and I'm always surprised when people push back against it.
Point two, the authors write that the US should "maintain, even enhance sanctions" on Russia unless a long list of demands are met, like withdrawing troops from Ukraine, including Crimea, and ending cyberattacks and election interference.

Nobody is saying we should give in to Russia on any of those issues. The bottom line is that the above list of demands is already US policy. How more sanctions would change Russian behavior? Doesn't make a lot of sense. You need your allies on board for sanctions to work. And sanctions work best when they're calibrated and targeted. When they have clear benchmarks that when met, lead to easing of those sanctions. And when they're paired with diplomacy. Russia's a big nuclear armed country, unlike, say, South Africa. Russia's not going to simply be sanctioned into surrender. Maintain the sanctions but expanding them at this point strikes me as having very little likelihood of return and only marginal increase of sanctions that we could do.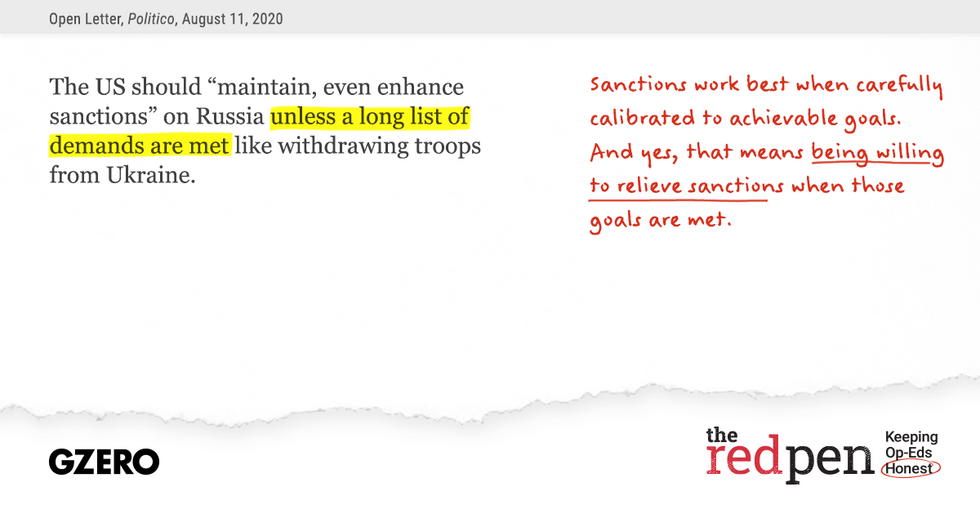 Point three, the authors say that the US should not resign itself to accepting "Russia's repression, kleptocracy and aggression" as that provides no incentive for Putin to change.

Now, we agree. The US cannot accept Russian misbehavior, but we need to be realistic about what we can actually change, like stopping Russian election meddling, and what we can't, like Russia's kleptocracy. We can and should do our part to stop dirty money from coming into the US and Europe but changing Russia's domestic system is another story.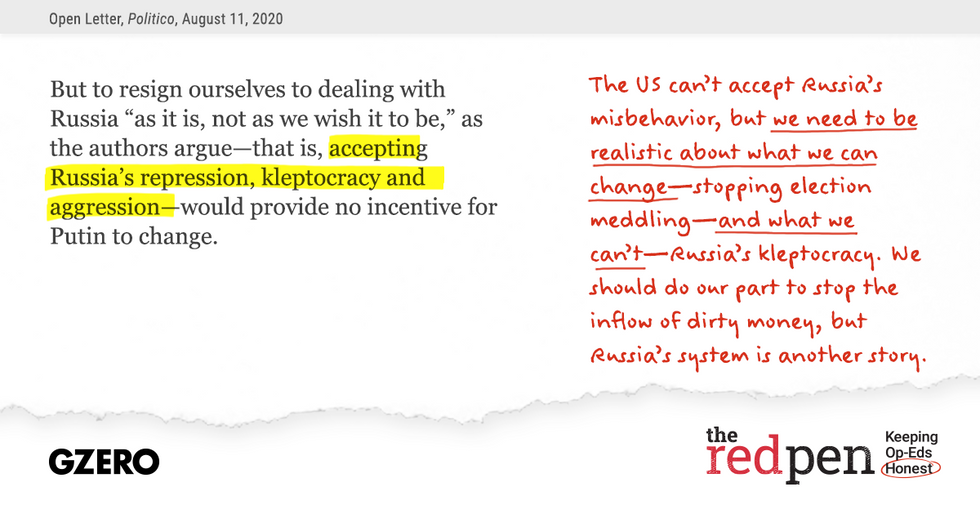 So, in conclusion, the Russians are an antagonist of the United States. Their revisionist power, they're in decline. They are trying to undermine the Americans, the Europeans, and the transatlantic relationship. All true. But I actually think that there are areas where we still need to be working with lots of states that we really don't like and don't trust, and yes, Russia is one of them. By the way, New START, the nuclear arms reduction treaty signed in 2010 by the US and Russia expires in February 2021. Open dialog right now could save it and I think it's worth saving. Let's work on that.