World Cup politics go way beyond Qatar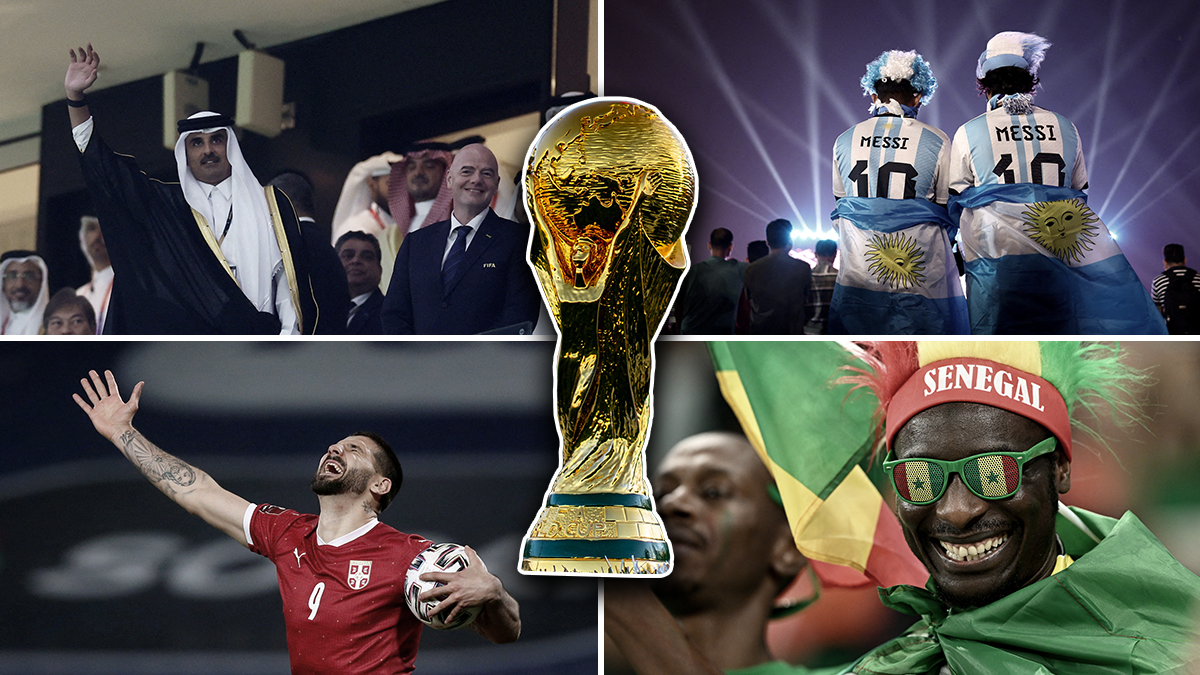 Annie Gugliotta
The 2022 World Cup now underway in Qatar is the most political edition of the tournament in decades. But it's also playing out politically far away from the host country in parts of the globe where fans often pay more attention to the sport than to their elected officials.
For instance, in Brazil, supporters of left-wing President-elect Luiz Inácio Lula da Silva want to reclaim the yellow jersey from the fans of outgoing far-right President Jair Bolsonaro. Brazilian progressives say Bolsonaro's supporters co-opted the color of their five-time winning national side during the recent presidential election campaign.
Let's find more examples from a few Eurasia Group soccer nuts, ahem, experts.
---
South America. Argentina has the best odds to go all the way in Qatar along with Brazil. It also has one of the highest inflation rates in the world, expected to top 100% by the end of the year (and you thought 8% in the US was bad!).
"Naturally, Argentines are not happy about their rapidly declining purchasing power, and they're ready to kick President Alberto Fernández to the curb," says global macro analyst Sebastian Strauss. "Yet instead of fighting tooth and nail to tame inflation and hold onto power, the government is betting the house on a rather more unconventional way to make voters happy: winning the World Cup."
When asked to pick between victory and reining in inflation, Minister of Labor Kelly Olmos did not hesitate. One month won't really matter, and she can get around to inflation later — after the Albiceleste brings home the trophy. But if that happens, Strauss says, "it'll be thanks to Leo Messi and company's heroics in Qatar — not to Fernández and his posse watching in Buenos Aires."
"Alas, they may still be rewarded for it," he adds. (Argentina's next presidential election is in exactly one year.)
Africa. After winning the African Cup of Nations in January for the first time, Senegal was looking good to go far in Qatar. But national optimism has been dampened by Ballon d'Or runner-up and national hero Sadio Mané having to stay home due to a last-minute injury. Still, the team is stacked with stars playing in Europe — especially Chelsea full-back Kalidou Koulibaly and tireless Everton midfielder Idrissa Gueye.
What's more, ahead of the presidential election in 2024, the performance of the Teranga Lions may be of political significance, says Africa analyst Tochi Eni-Kalu.
"The ruling Benno Bokk Yakaar coalition has lost voter support over the last 18 months, so officials are hoping that a deep run in the tournament will indirectly boost domestic perceptions of their stewardship, particularly as President Macky Sall continues to mull an unconstitutional third-term bid," End-Kalu explains. "Unfortunately for Sall, recent history suggests that a potential [approval] rating bump will be short-lived at best."
Indeed, he adds, the wild celebrations in February did not prevent the ruling coalition from losing its parliamentary majority a few months later: "Food for thought."
Europe. If you're a Serbia fan, the last thing you want is for this World Cup to get political again, says Matejic Strahinja from the office of the president. He has bitter memories of Russia 2018: Serbia lost to Switzerland with goals by two players originally from Kosovo who celebrated by flapping the double eagle from the Albanian flag to taunt Serbia, which fought a bitter war in Kosovo and refuses to recognize its independence.
In Qatar 2022, Strahinja looks forward to ditching the bitter Belgrade club rivalry between Red Star and Partizan to support Serbia as one.
"Support for one or the other runs in families, while neighborhoods or entire cities are split across fan club lines. However, one event stops all of that and unites Serbian fans every so often," he adds. "The World Cup is when these divisions turn into collective energy [behind supporting] the national team with the hopes that this time around, the guys might at least advance to the knockout stage."
That is … until striker Alexsandar Mitrović misses a clear opportunity. After all, Strahinja — a Red Star diehard supporter — points out, "he used to play for Partizan."
Middle East & North Africa. "There's a lot of excitement and buzz in the region over the first World Cup hosted by an Arab country, despite human rights issues in Qatar having become a focal point," says MENA analyst Sofia Meranto.
The emirate is using its hosting of the tournament to project regional soft power, with Qatari sports channel BeIN Sports broadcasting all matches for free. More broadly, she adds, the World Cup is "helping cement Qatar's standing" in the region, where less than two years ago it was still under a blockade by four neighboring countries. This week, the opening ceremony was attended by the leaders of Egypt, Jordan, Saudi Arabia, Turkey, and the UAE. And in another first, the Qataris even allowed flights to bring in Israeli fans.
Meranto says to watch out for the Saudis, who "are probably eyeing closely what's happening in Qatar as they're hoping to host the World Cup in 2030, possibly
with Egypt and Greece
."
This article comes to you from the Signal newsletter team of GZERO Media. Sign up today.