As Kenyans protest, their politicians play chicken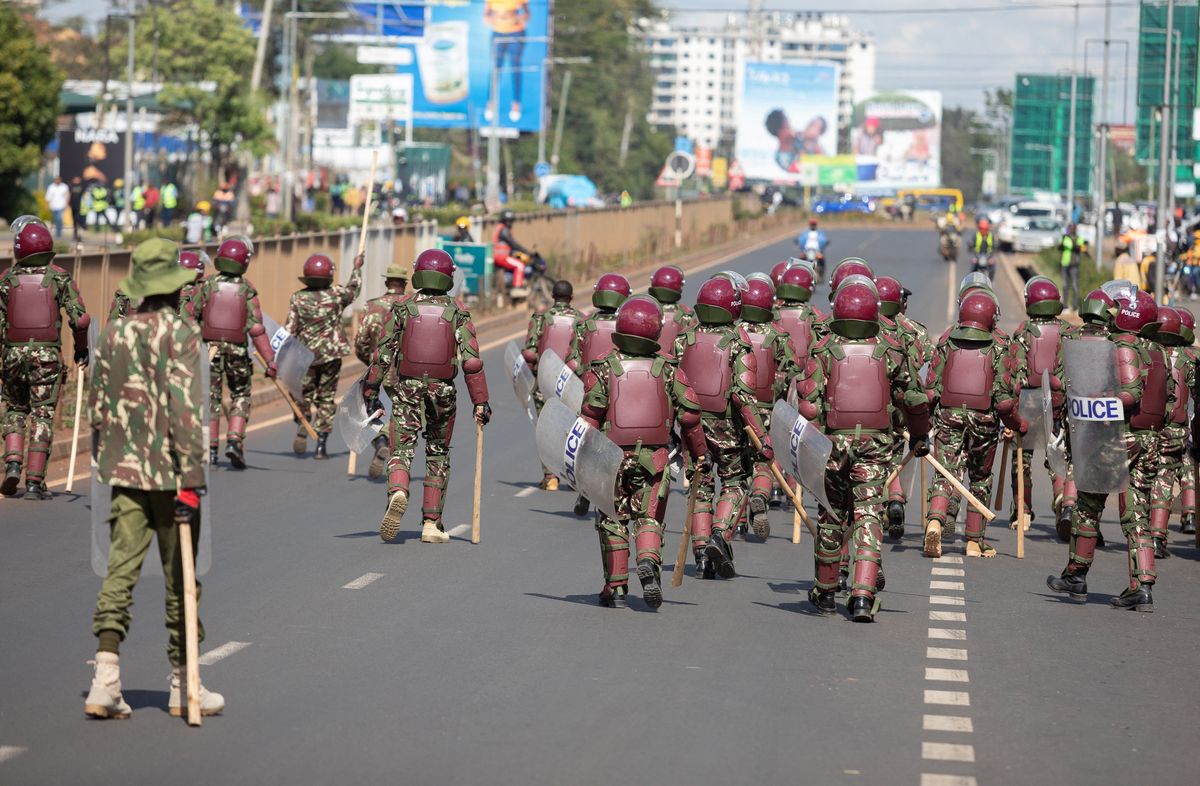 REUTERS/Brian Otieno
For two weeks, Kenya's major cities have been hit by anti-government protests that have since turned violent. Security forces have tear-gassed demonstrators in the capital, Nairobi, while pro-government mobs ransacked former President Uhuru Kenyatta's farm and businesses shut their doors for fear of looting.
With no end in sight, the next round of rallies is scheduled for Thursday.
Despite the institutional gains made over the last decade, the specter of previous episodes of political violence hangs heavy in Kenya. So, what's going on?
---
The flames of unrest are being stoked by two bitter political rivals, opposition leader Raila Odinga and President William Ruto, who squared off in a tight presidential election in 2022. Odinga is contesting his narrow loss to Ruto, the ex-VP of Kenyatta (who endorsed Odinga in the race).
These three political heavyweights have a long history of working together in Kenya, where the separation between elite business and politics is slim to none.
Who's who:
Odinga hails from a political dynasty in Kenya. Despite losing the presidency five times, his political power stems from his ability to mobilize his passionate supporters — who have granted him nicknames like "Father," "Act of God," and most endearingly: "Tractor" — to stir up trouble on the streets.
Ruto claims to be the first president not to come from a political family. He won in 2022 as a champion of the poor, pushing his rags-to-riches story and hustler image.
Kenyatta ruled the country from 2013 to 2022. He's left behind a mixed legacy of massive infrastructure development but also debt and corruption.
The relationship between the three is, to put it mildly, awkward. Ruto wants to take credit for what went right under Kenyatta and distance himself from the pitfalls. Similarly, Kenyatta and Odinga are old political rivals who buried the hatchet in 2018 with a joint statement declaring each other as "brothers."
Officially, the protests are over inflation, which Odinga blames on Ruto and Ruto blames on Kenyatta. But Odinga also wants the president to step down because he claims — without evidence and despite the Supreme Court ruling otherwise — that he was cheated in 2022.
The problem is that Odinga was so sure he'd win that his coalition has struggled to regroup as the opposition, says Eurasia Group analyst Connor Vasey. Meanwhile, Ruto has co-opted many Odinga allies, hampering the ability of his rival to challenge him in parliament.
Odinga is using the cost-of-living narrative as a "lightning rod to ensure turnout" at his protests, Vasey adds. This is dangerous, he explains, because the opposition leader is a master at rallying his supporters to reach his political ends, no matter the risk of instability. (After he lost to Kenyatta in 2017, Odinga spurred violent political protests until he received public recognition of his power – in the form of a firm handshake – from the president.)
So while Odinga is officially trying to overturn Ruto's victory, Vasey believes that what he really wants is a "Handshake 2.0" or public recognition of his political power and influence.
Kenya is thus stuck in a political game of chicken in which Ruto, as president, has the upper hand (and not just because he was once a chicken vendor).
Odinga might be a political force on the streets, but Ruto is consolidating power in parliament and using the security forces to stop the protests from spreading beyond Nairobi and other major cities. The president believes he can wait Odinga out, gambling that if he doesn't get what he wants soon, he'll lose the political momentum.
Meanwhile, Vasey adds, Odinga has no choice but to "escalate in the hope [that] Ruto bites."