As Sunak struggles, Boris watches and waits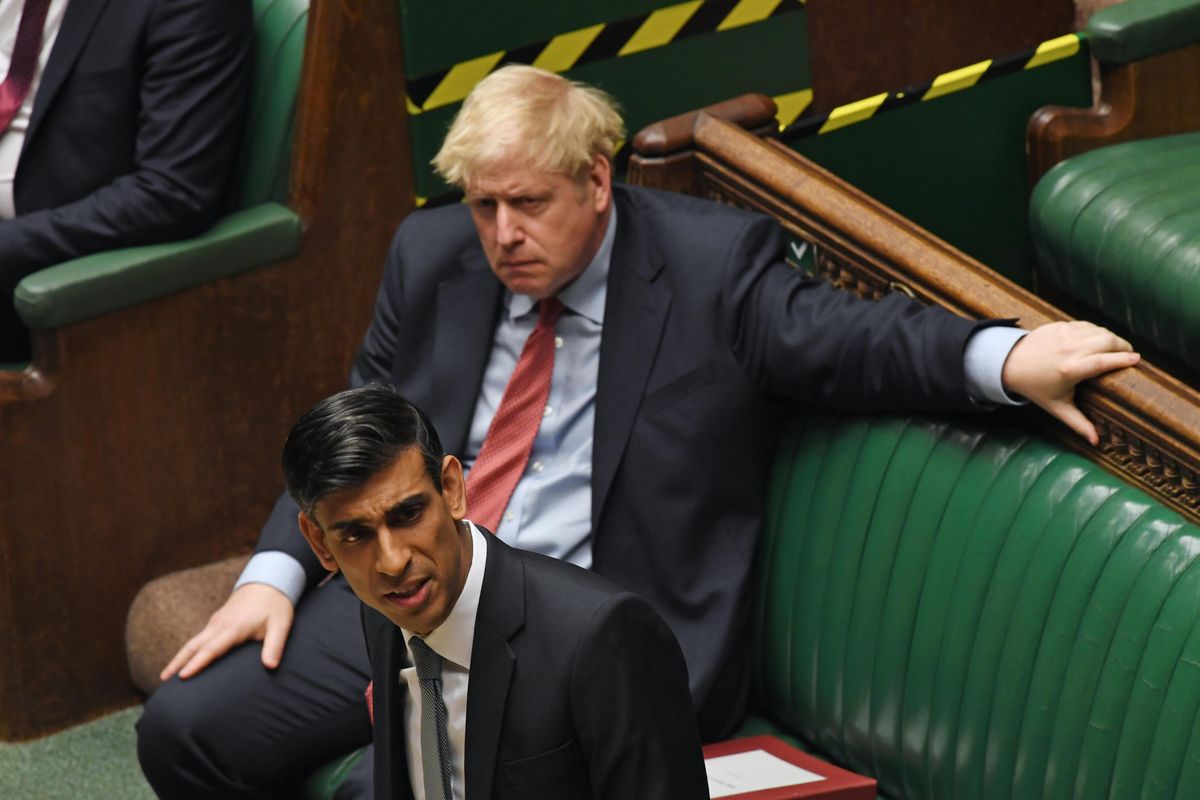 UK Parliament/Jessica Taylor/Handout via REUTERS
Rishi Sunak has walked into the center of a political minefield. Fifteen weeks into his role as UK prime minister, the list of complex problems he faces is almost comically long. He needs to:
---
Kickstart an ailing economy. The International Monetary Fund has predicted the United Kingdom will be the only country in the industrialized world to see its economy shrink in 2023. Sunak inherited an inflation rate of 11.5%, a four-decade high point. Latest indicators suggest his government may have stabilized cost-of-living increases, but his promise to grow Britain's economy this year may come back to bite him.
Improve health care. Britons seeking some medical procedures can find themselves on National Health Service (NHS) waiting lists for up to two years. Real progress on that problem will prove a long-term project. Faced with the higher cost of living, nurses and ambulance drivers have joined hundreds of thousands of teachers and civil servants to strike for better pay, which the government lacks funds to cover without raising taxes to levels Sunak says would further damage an already weak economy.
Manage migration. Last year, 45,728 people reached British shores in small boats. That's a jump of 60% over 2021. Sunak has promised that all who arrive illegally will be "detained and swiftly removed." But intelligently managing the flow of desperate people across the English Channel depends on close cooperation with France. The two countries signed a deal in November that can help at the margins, but the scale of this problem is larger than either country appears willing and able to handle.
Fix the "Northern Ireland protocol." Sunak, who voted for Brexit in 2016, has inherited the complex problem of trade flows and customs checks between Northern Ireland and the rest of the UK. The deal that set post-Brexit trade boundaries between the UK and EU established a maritime border for checks on goods between Northern Ireland and the rest of Britain to avoid the creation of a new hard border between Northern Ireland and the Republic of Ireland, which remains an EU member. This awkward arrangement infuriated unionists in Northern Ireland who feel shunted aside by the UK and trapped inside EU rules. The UK Supreme Court angered them further by ruling this week that the protocol is legal, though that won't solve Sunak's political problem. Any solution looks destined to outrage large numbers of people.
So, how is Sunak doing?
On all these issues, "Sunak's problem," warns Eurasia Group's Mij Rahman, "is that in trying to keep everyone on his backbenches happy, he may end up satisfying no one." Speaking to GZERO Media, Carl Bildt, a former Swedish prime minister, sees some limited progress from the Sunak government, but a new poll suggests British voters are fed up. The main opposition Labour Party now leads by 26 points (!) in voting intentions with local elections scheduled for May and national elections likely next year. A cabinet shuffle earlier this week represents Sunak's admission that things aren't yet going to plan.
And then there's Boris.
Who would want this job? Unfortunately for Sunak, former Prime Minister Boris Johnson appears eager for a comeback. "Johnson's shadow campaign is ready to roll," says Rahman, because he "remains ambitious to take back the role that he believes was unfairly wrested from him" last year following a series of political scandals and embarrassments.
Those upcoming local races this spring will set expectations for national elections in 2024, and if Sunak's Conservatives take a beating this spring, Johnson could call on the party's rank and file to give him another chance to lead the party against Labour. Or Johnson could play a longer game and bid to lead the party in opposition if, as expected, Labour wins next year.
Either way, Sunak faces an enormously complex set of problems at the head of an increasingly unpopular party that's been in power now for 13 years … with Britain's great political scene-stealer now waiting in the wings.