Did the UN accomplish anything in Xinjiang?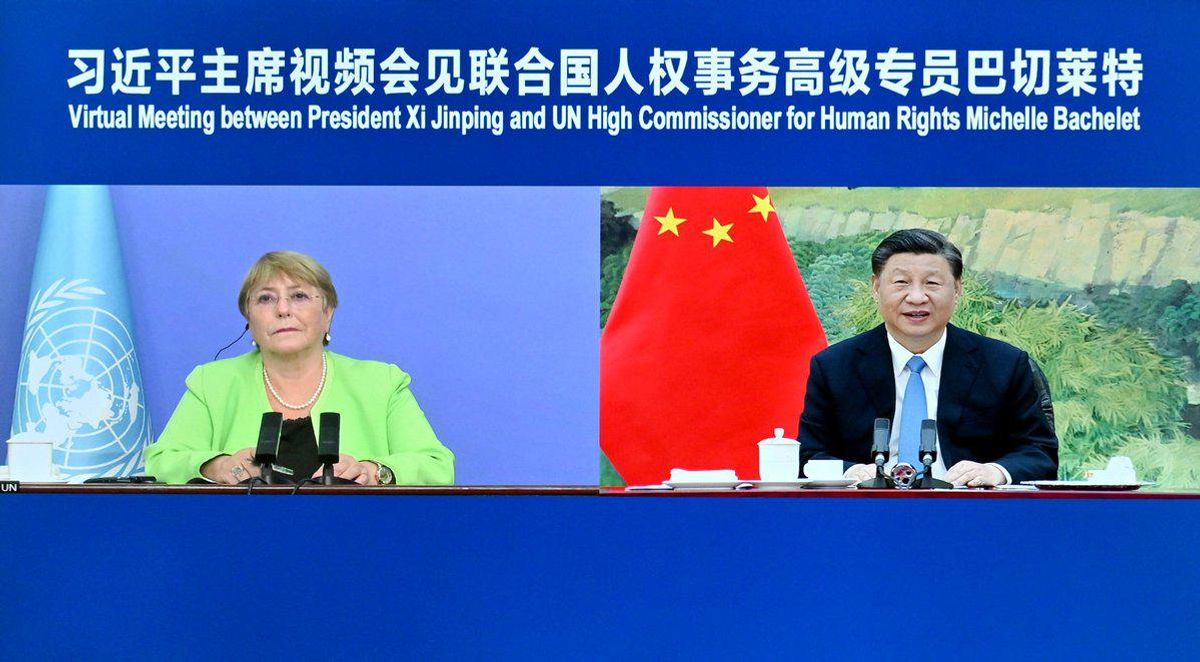 EYEPRESS via Reuters Connect
When human rights are abused around the world, the UN playbook calls for its envoy to visit that country to assess the situation on the ground and then decide whether the allegations merit a full-scale probe. But what if you knew beforehand that you wouldn't see anything you shouldn't and that your trip would likely benefit the authoritarian government allegedly responsible for atrocities?
That's perhaps how UN High Commissioner for Human Rights Michelle Bachelet felt Saturday after wrapping up a much-anticipated visit to China's northwestern Xinjiang region. Beijing has long been accused of subjecting over a million ethnic Uyghurs there to both classic violations, such as warrantless detention, torture, sexual assault, and separation from their families, as well as more Orwellian surveillance, forced labor, and internment in re-education camps.

So why go at all?
---
Beijing, as expected, choreographed Bachelet's tour — the first time a UN human rights chief has been allowed inside China since 2005 — to whitewash China's human-rights record in Xinjiang. Her itinerary was kept under wraps, and she traveled without reporters. Even the build-up to the visit was marred by compromise: Bachelet's office delayed without explanation a major Xinjiang report it was due to release last year, despite announcing it would be "deeply disturbing."
What's more, Bachelet only spent two days out of six on the ground in Xinjiang. There she met top officials, visited a prison, and toured an "experimental" school. Most controversially, and in language echoing China's, she said she checked out a former Vocational Education and Training Center, part of a contentious program in which China has been accused of using forced labor and indoctrination.

Bachelet said that while she couldn't fully assess the notorious program, Beijing had reassured her that it had been shut down (previously, China had denied the existence of the program altogether).
What Bachelet saw in China and how much access she got in Xinjiang has been a major source of controversy. She had called for unfettered access, but her tour was restricted to a "closed loop" within a limited "bubble" due to what Beijing cited as COVID restrictions. Setting the political agenda beforehand, Beijing insisted that the purpose of the visit be "friendly," not investigative.
"This visit was not an investigation," Bachelet admitted Saturday. But she stressed the importance of engaging with senior officials and discussing human rights to pave a road to help China fulfill "its obligations under international human rights law" in the future.
The US, of course, strongly criticized the tour. Even before Bachelet left China, Secretary of State Antony Blinken said that Beijing had managed to "restrict and manipulate" the visit, preventing Bachelet from making an independent assessment of the human rights situation in Xinjiang. He also lamented that she was neither able to garner any information about hundreds of missing Uyghurs nor meet any affected families or anyone who had been through China's alleged labor transfer program.

Human rights groups, for their part, argue that the trip has done wonders for Beijing but accomplished little for anyone else.
Bachelet "could have strengthened her hand by releasing her office's long-awaited report on Xinjiang. She could have postponed the visit rather than accept significant constraints on it," says Sophie Richardson, China director at Human Rights Watch, noting her skepticism that the trip will do anything to end human rights violations in China.
The trip was a wasted opportunity for the UN, says Mehmet Tothi, an activist with the Canada-based Uyghur Rights Advocacy Project.
"There was no unfettered or meaningful access to any places deemed sensitive by China. So it was open for manipulation, and she became a propaganda tool for China," he says. "In a sense, this trip simply woke the Western media up to the stark reality that China is a major power at the UN these days."
The thing is, they already know that in New York and Geneva, where China's influence has been expanding rapidly over the last decade, according to Richard Gowan, UN director at the International Crisis Group.
"It is a bit fanciful to imagine that any UN official, even a human rights official, would now go to Beijing to read Xi Jinping the riot act over his internal security policies," Gowan says. "It is depressing on a moral plane, but politically predictable."
Finally, Bachelet's cautionary approach to China runs contrary to her track record. The former Chilean president, considered a fierce human rights defender, has been remarkably outspoken against abuses — from racism in the US and Russian aggression in Ukraine to the Taliban's rule in Afghanistan and Israel's treatment of the Palestinians — but there's been barely a peep on China since she assumed office in 2018. She called out Beijing's tough policies for Hong Kong but, until recently, never issued an official statement on Xinjiang or even on Tibet.
It's puzzling that someone who was imprisoned by Pinochet and fled Chile in the 1970s — and knows what it means to struggle under a cruel dictatorship — said nothing about Xinjiang in her recent lecture to Chinese students about human rights in Guangzhou. Before last week's trip, Bachelet defended herself, saying that she is a "grown woman" who is "able to read between the lines" and that the priority was to engage directly with China on human rights.
Still, getting Beijing to acknowledge its detention program and discuss its rollback is a win for Bachelet, as is having direct discussions with Chinese officials about stuff they'd rather not talk about — especially with a pesky foreigner.
"It's imperative that the high commissioner be seen to be engaging with the government of China," Philip Alston, a New York University professor and former UN human rights official, told a webinar last Friday. "The mere fact that she had a direct exchange with President Xi Jinping is an accomplishment."
Bejing, for its part, bullishly defended its actions, with Xi telling Bachelet that China's handling of human rights "suits its own national conditions" and that following international institutional norms would be "deviating from reality."
Also, no probe now doesn't mean no probe later. Richardson remains hopeful that Bachelet will still commit to investigating and prosecuting China's alleged crimes: "A failure to do so would reflect Beijing's ability to render international human rights institutions utterly toothless."
But nobody's holding their breath for a full-blown investigation. Many fear that Bachelet — a contender for the top UN job — has put the world body in a tight spot by agreeing to visit Xinjiang on Beijing's terms. This risks damaging the standing of her office and further hurting the reputation of the UN, which has been marred by decades of ineffective diplomacy to fix the world's problems.
While Bachelet's tour was likely doomed before it began, engaging China and securing marginal assurances from Beijing is a start to address the highly sensitive issue of Xinjiang. And diplomacy is a task that the UN is a lot more suited to execute than investigation.
But the UN can only knock on Beijing's door. It's the larger community of powerful international players, such as the G7, who must organize and force a rethink in Beijing.
This comes to you from the Signal newsletter team of GZERO Media. Subscribe for your free daily Signal today.