Dominion Voting v. Fox News: The stakes are higher than you think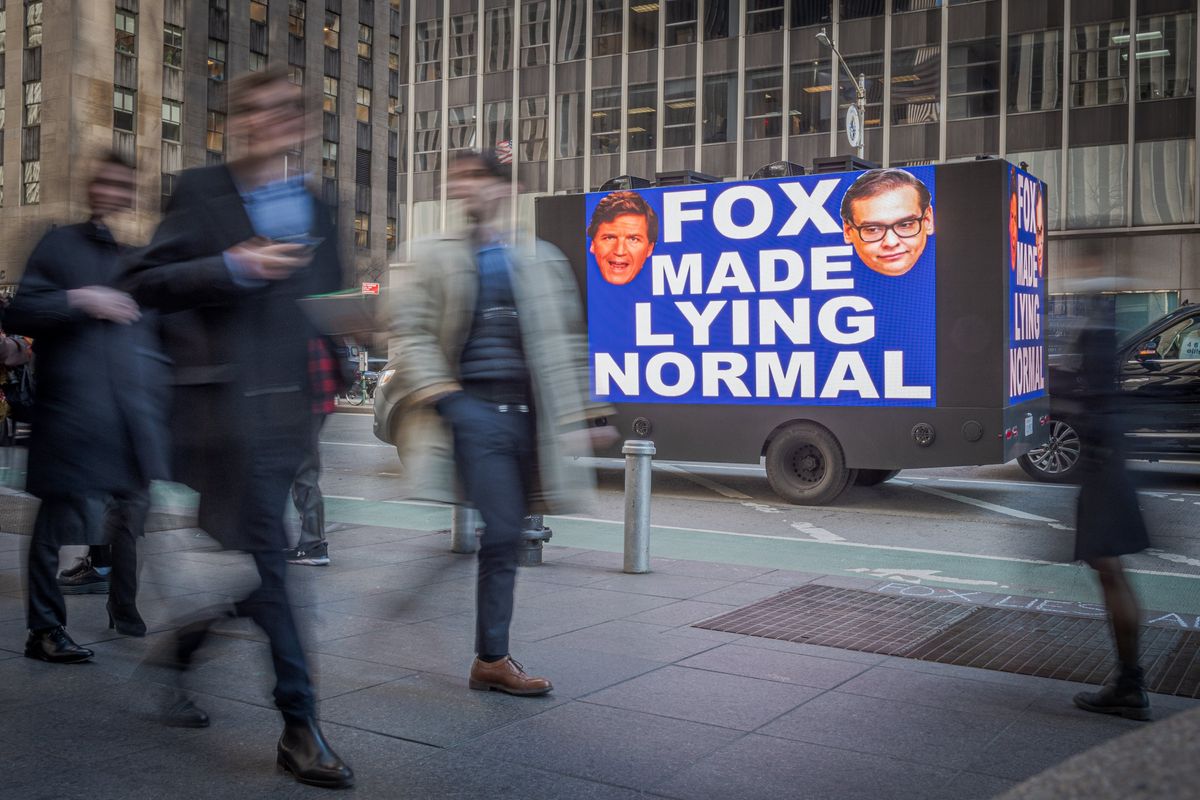 Erik McGregor/Sipa USA via Reuters Connect
Fox News and Dominion Voting Systems, following a one-day delay, are set to square off in court on Tuesday. Dominion is suing for defamation, claiming that Fox's hosts and guests knowingly spread a false narrative that the company's voting systems flipped votes against former President Donald Trump in the 2020 election.
What's at stake?$1.6 billion, the future of the media industry, and the Super Bowl of libel law decisions.
---
The outcome will have implications for both the media and the First Amendment. SinceNew York Times v. Sullivan gave broad protection to the American press in 1964, there have been almost impossibly high standards for suing a media organization for defamation. Prosecutors need to prove "actual malice" or that the outlet knowingly, or with reckless disregard for the truth, published a falsehood.
Dominion says Fox pushed lies about it algorithmically transferring votes to Biden. These lies, Dominion claims, cost it $1.6 billion in reputational damages. Armed with emails and texts, Dominion's legal team reportedly aims to reveal that Fox News execs and hosts did not believe Trump's election fraud claims.
Fox News, meanwhile, is expected to argue that it is protected by the First Amendment and that it was merely covering Trump's narrative about the results. Tucker Carlson, Sean Hannity, and founder Rupert Murdoch are expected to testify.
Why haven't they settled? Slated to begin on Monday, the trail was delayed late Sunday for last-minute settlement discussions. Negotiations are not expected to succeed, as Dominion is fighting to recoup its reputation more than financial losses.
Fox News may be more amenable to settling after being reprimanded for potentially withholding evidence. But any settlement would also include an apology under terms set by Dominion, which would come at a reputational loss for the right-wing media giant.
Dominion's lawyers, who filed requests with the court on Monday that indicate they are ready to proceed, believe they have enough evidence to meet the defamation threshold.
If the jury sides with Dominion, the ruling will upend decades of defamation precedent protecting the media. If Fox prevails, it will send the message that the First Amendment protects outlets even when they spread disinformation. Whatever the decision, the implications of this trial extend far beyond the courtroom.