Farewell to the flip phone: How media has changed since 9/11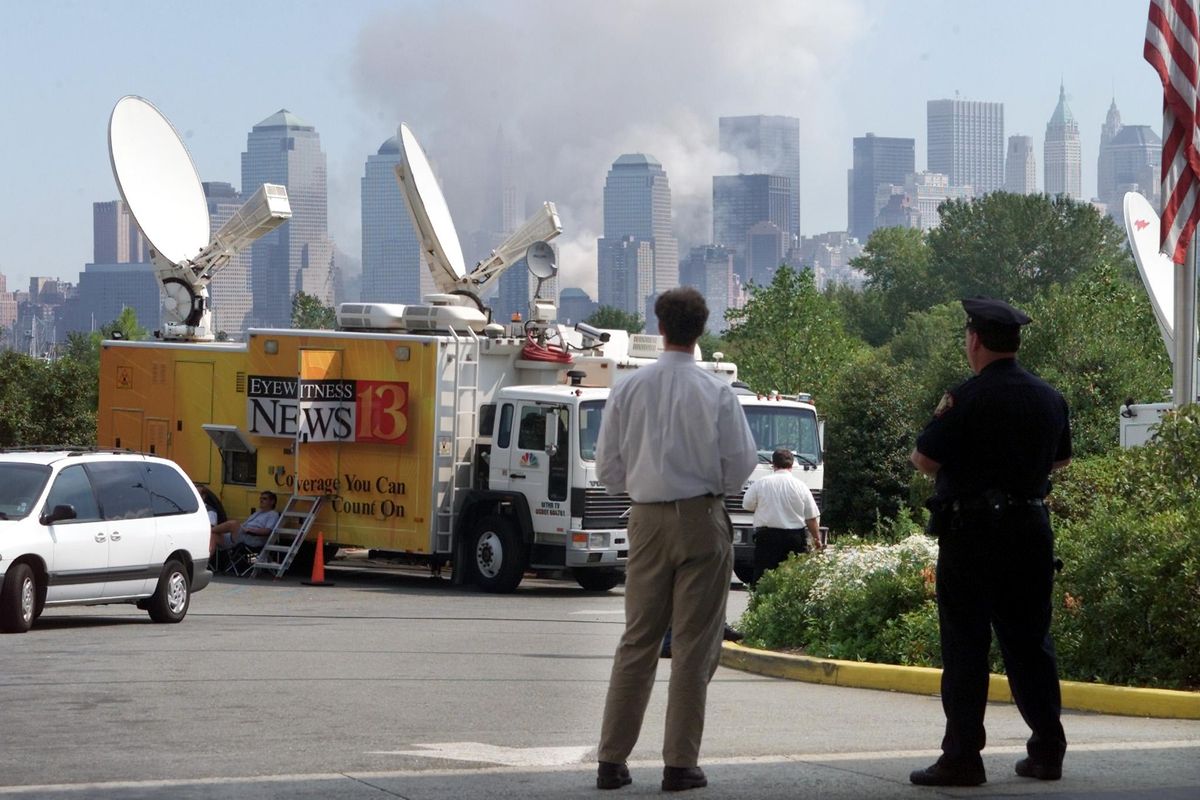 REUTERS/Ray Stubblebine
My Motorola flip phone wasn't working. No signal, just those three piercing tones that indicate something is wrong.
Like everyone else in 2001, I had a landline phone in my New York City apartment and a dial-up modem connected to my laptop. Both proved to be a lifeline to the outside world as I watched the events unfold from inside my apartment.
---
At the time, I was fresh out of graduate school, freelancing as a reporter for an NPR program called On the Media. I contributed profiles of Broadway stars, a piece on the etymology of the word "diva" pegged to a VH1 concert series, and an interview about famous dogs on screen. All were captured on a Marantz cassette recorder that weighed nearly 10 pounds. I recently learned that those devices are described as "vintage" nowadays, should you want to buy one on eBay.
It was the summer of shark attacks and Chandra Levy. "Drops of Jupiter" and "Bootylicious" both played constantly on the Walkman sports radio I strapped to my arm for jogs around Central Park.
On September 10, Defense Secretary Donald Rumsfeld delivered a speech declaring that the greatest threat to US national security was Pentagon bureaucracy.
Less than 24 hours later, the world changed. Words like Kabul, Kandahar, and al-Qaeda would flood the airwaves.
Using that trusty dial-up modem, I blitzed my resume out to every TV station inbox I could find. Within a couple of days, I was working for MSNBC and a part of what was the biggest story of my lifetime.
As I think about the 20 years since, of course I remember first and foremost the people. The people I interviewed, like Paula Berry whose husband died in the South Tower that day; Alice Hoagland, mother of United flight 93 hero Mark Bingham; and also a little girl whose name I don't know, captured in a photo taken downtown after the towers fell. She was completely covered in dust, her tears creating streaks on her ghost-white face.
But I also think about the enormous changes in the media industry I've witnessed since, how technology and tools evolved at a breakneck pace almost immediately.
The goodwill and unity of the days and weeks following the 9/11 attacks faded away in the subsequent months and years as we went to war in Afghanistan and Iraq. There was no shortage of opinions spouted on cable news, but it was the voices emerging online that became increasingly important.
First came the blogs. As controversy and anger swirled around the 2003 invasion of Iraq, CBS News and its flagship anchor Dan Rather had begun an investigation into then President George W. Bush's service in the Texas Air National Guard. The damning piece aired on television just weeks before the 2004 election. Within hours, a few emerging blog platforms (one whose name, I won't forget, was Little Green Footballs) dismantled the work and eventually the career of one of America's most established journalists. The fatal flaw? Rather and his team fell for fraudulent documents typed in a font that didn't exist in 1973.
Next came online video, and whole new world of storytelling. It's hard to believe that YouTube wasn't launched until 2005, and it's a challenge to remember life — or television reporting — without it. With the proliferation of these videos came an explosion of camera phones that captured broadcast quality images.
After I'd moved to CBS, as a producer for Evening News anchor Katie Couric, I covered the death of activist Neda Agha-Soltan, who was shot in the streets of Tehran amid violent protests following the 2009 election in Iran. Neda's death was captured on cell phone video and shared throughout social media. Time magazine called it "probably the most widely witnessed death in human history," and the amateur images went on to win a prestigious journalism award.
By then social media itself, Twitter and Facebook primarily, were also in full bloom and became an ever-more important reporting tool. After launching a Twitter account for Katie Couric, one of the first US TV news anchors to have a presence there, I was accosted in the halls of CBS by Paul Friedman, then vice president of the venerated news division.
"It's beneath the anchor of the CBS Evening News to be on the Twitter," he said.
Katie felt otherwise, and apparently so did the rest of the world. Now it's a primary place for sharing and gathering information — for better or worse.
The uses of social media as both a tool and a weapon are obvious. It fueled the Arab Spring, but also became a recruiting ground for ISIS. Today, disinformation abounds — promulgated by state actors and individuals alike for personal or political gain. In this pandemic we've seen every conspiracy theory imaginable about vaccines, microchips, and even livestock medicine.
We've also seen videos of New Yorkers banging pots and pans at 7pm to cheer on healthcare workers, arias sung on a balcony in Florence as Italy confronted unimaginable suffering, and people pressing their noses against nursing home windows to come as close as was safe and feasible to their loved ones.
There was no social media on September 11, 2001, at least not as we now know it. Millions of us all watched together as Tom Brokaw, Peter Jennings and, yes, Dan Rather walked us though the stages of collective heartbreak.
If I had a Twitter account then, I would have shown you pictures from Ground Zero and clips of people I met as I roamed the streets booking guests for cable news. Maybe I'd become emotional after working a 14-hour day and quote a poem or show you a poster I found on 7th Avenue, a photo of a man with the words "Have you seen me?" written above.
But I'm glad we had only the tools we did on that day. Instead, I walked out into the street and hugged my friend Lea. My friends and neighbors all stood together on a pier in Riverside Park looking south. We gathered together in bars, often in silence, listening to the news.
The only blue light flickering was from the television screen, and all eyes were on it.
Tony Maciulis is Chief Content Officer at GZERO Media.