WATCH : Global Stage @ the UN: Reimagining Tomorrow: Breakthroughs in Data and AI
WATCH
GZERO Daily: the newsletter for people who love global politics
Sign up for our free newsletter to keep up with what's going on around the world - and why it matters.
Subscribe
GZERO Daily: the newsletter for people who love global politics
Subscribe Now

We have updated our Privacy Policy and Terms of Use for Eurasia Group and its affiliates, including GZERO Media, to clarify the types of data we collect, how we collect it, how we use data and with whom we share data. By using our website you consent to our Terms and Conditions and Privacy Policy, including the transfer of your personal data to the United States from your country of residence, and our use of cookies described in our Cookie Policy.
Operation Cleanup: Pakistan's new general has an old assignment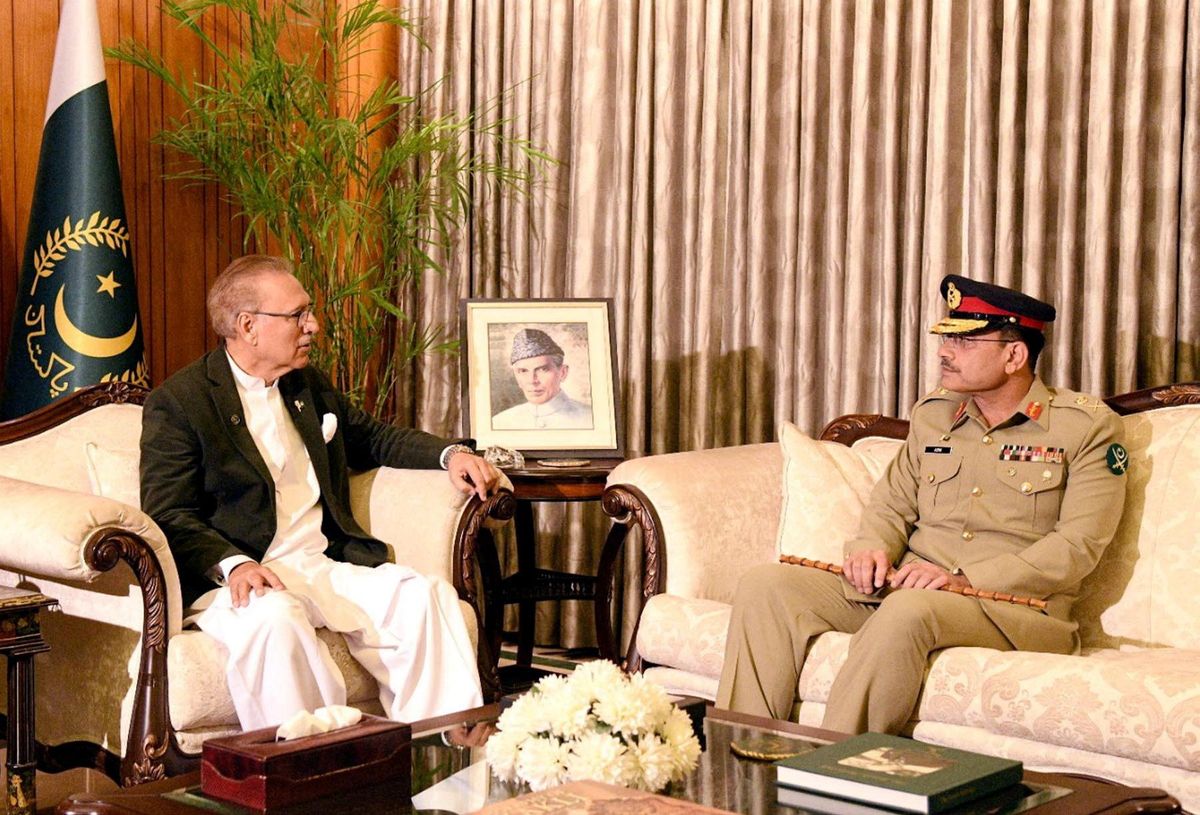 Press Information Department/Handout via REUTERS
After months of drama and debate, Pakistan finally has a new army chief, ostensibly the most powerful man in the land. While Gen. Asim Munir inherits a country in the midst of political chaos and economic disaster, he is also confronted by a crisis of confidence in Pakistan's most powerful and organized institution.
---
Since independence, the Pakistani military has earned many titles: "a state within a state," a "rogue" organization, or a "praetorian" force, which is an "army with a country" (and not the other way around).
The monikers stem in part from the army's tainted legacy of political interventionism. Since independence in 1947, the military has ruled Pakistan directly for three decades and pulled the strings from behind the throne by propping up allies, eliminating challengers, dissolving parliaments, forcing elections, and even installing and firing entire administrations for almost half a century.
The army also has an outsize presence in the day-to-day management of Pakistan. The generals manage the cricket team, battle polio, run electricity grids, fight COVID, build roads, organize bicycle races, make cereal, and produce movies.
Abroad, the army practices its version of statecraft by conducting "military diplomacy," driving the economic agenda, deliberating in think tanks, and carrying out peacekeeping missions. Pakistani soldiers are currently providing security at the FIFA World Cup in Qatar.
The numbers only add to the military's power. With over 600,000 active-duty troops, Pakistan's is the world's sixth-largest fighting force, with an advanced nuclear arsenal that is fast-growing. While the country's missiles can hit Israel and eastern Europe, its men have even more bandwidth: immersed in the British colonial tradition, Pakistan's bilingual military officers train at the world's finest military academies and even head international military coalitions.
The rough neighborhood the country resides in makes the case for a strong army. To the East, a right-wing India is beefing up its own military and constantly threatening to acquire Pakistani territory. To the West, a disintegrating Afghanistan is triggering humanitarian and terrorism concerns. And to the South is an unstable Iran that is both interventionist and sectarian.
Yet, these unfriendly neighbors — compounded by the army's suppressive policies to deal with domestic political resentment — only add to Pakistan's own homegrown security threats: separatism, terrorism and sectarianism that are the Frankensteinian blowback of decades spent fomenting international jihadists and guerillas to fight across the world.
Consequently, as Pakistan's military is its greatest strength, it's also its most cancerous ailment. Thus, Munir has his work cut out for him when his three-year-term starts Tuesday.
The last four military commanders outstayed their welcome: they ruled for a total of 23 years, hanging on by constitutional "extensions" and extraconstitutional emergencies. They mired Pakistan in international conflict, terrorism, and economic mismanagement. And they interfered, either directly or through the army's feared intelligence apparatus, with the country's political machine by installing, removing, exiling, and trying 10 sitting and former prime ministers.
In 75 years of independence, none of Pakistan's 23 PMs has ever completed his or her term in office, while only one of 16 army chiefs — four of whom ruled by decree — resigned voluntarily. This grim statistic indicates a civil-military schism that seems both irreconcilable and irreparable.
Munir faces a hydra of challenges that spans beyond the conundrum of sharing power with his civilian counterparts. At the top of the list is what to do about Imran Khan, the rambunctious former PM.
Having survived an assassination attempt earlier this month, Khan is scaling new heights of popularity in a protest movement that is openly confronting the political and military establishment. He blames the incumbent ruling coalition, headed by current PM Shehbaz Sharif, as well as the army for engineering his ouster last spring. While he is demanding snap elections, the powers that be haven't budged.
But on Saturday, just 48 hours after Munir's appointment, Khan — a former cricket superstar and global jetsetter before he became a born-again Muslim populist — decided his party will quit all federal and provincial assemblies. This is likely to create a legislative vacuum that could become a constitutional crisis if elections aren't held. Yet, the government is continuing to head down a confrontational path, arresting Khan's top deputy over the weekend.
The pressure on Munir is as political as it is reputational. As premier, Khan sacked Munir as chief of the feared ISI spy agency. Moreover, his predecessor, the outgoing military commander and Khan's nemesis, Gen. Qamar Javed Bajwa, has come under intense scrutiny due to recently disclosed allegations of corruption. Critically, as the top brass scramble to take cover from the constant public onslaught, Khan enjoys great sympathy both on the Pakistani street as well as from within the military rank and file.
The general will have to hit the ground running. He needs to repair the broken civil-military compact immediately. But he also has to clean house and do damage control within the army, which might lead to a purge or even an investigation against his former boss. However, he certainly wants to avoid being further targeted by Khan's unbridled populist fury, both for himself and his army.
"If Gen. Munir continues on the current path of cracking down against Khan, it will work in favor of Khan," says Kamran Bokhari, director of the New Lines Institute in Washington, DC. "The more the army reacts with the usual coercive means, the more outrage it will generate."
On the other hand, Munir can take advantage of the fact that he doesn't have the baggage of his predecessors.
"His calculus in adopting a more restrained approach towards the criticism coming from Khan could help him manage the Khanists in and around the ranks," Bokhari explains. But such a stance, he warns, could backfire if it's not coupled with political compromise — like elections — because it'll embolden Khan to further bash the military.
If he doesn't act decisively, Munir might look weak to an army that is used to privilege, power, and total domination, and is unwilling to accept this emerging brave new world of investigations, criticism, and vitriol that Khan's protest movement has unleashed.
"Civil-military relations will be going through a very messy phase until an equilibrium of sorts is reached, and a new norm of criticizing the holy cows, like the military, is established," Bokhari adds. "And that will not be anytime soon."
For now, Pakistan may have a new general, but the assignment is still the old one:
clean up the mess and try not to conduct a coup while you're at it. So far, most of his predecessors have failed. Will Munir, the first army chief with the distinction of having led both of the military's premier intelligence agencies, succeed?