WATCH : Global Stage @ the UN: Reimagining Tomorrow: Breakthroughs in Data and AI
WATCH
GZERO Daily: the newsletter for people who love global politics
Sign up for our free newsletter to keep up with what's going on around the world - and why it matters.
Subscribe
GZERO Daily: the newsletter for people who love global politics
Subscribe Now

We have updated our Privacy Policy and Terms of Use for Eurasia Group and its affiliates, including GZERO Media, to clarify the types of data we collect, how we collect it, how we use data and with whom we share data. By using our website you consent to our Terms and Conditions and Privacy Policy, including the transfer of your personal data to the United States from your country of residence, and our use of cookies described in our Cookie Policy.
Can Sharif succeed despite Khan's fiery exit?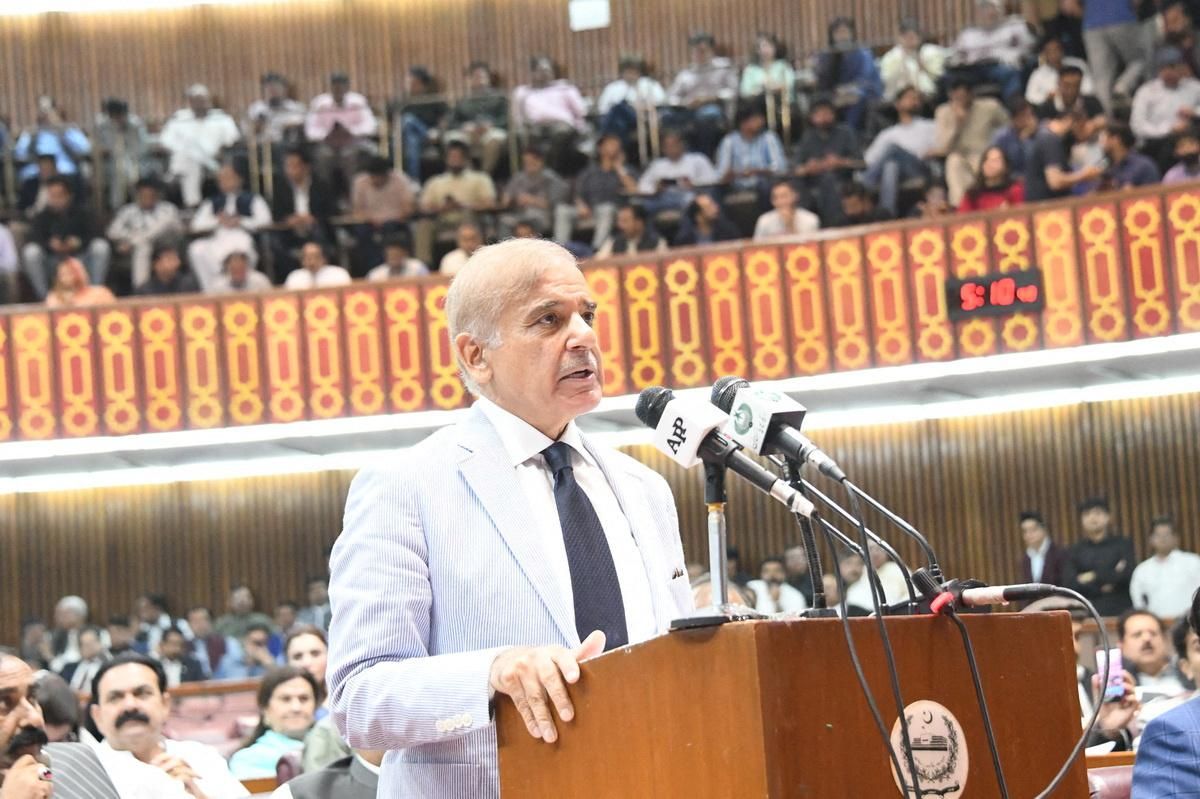 Reuters
As Pakistani PM Imran Khan saw his tenure draw to a close in recent weeks, the former cricket star began pointing fingers at the West, blaming the push for regime change in Pakistan on a US conspiracy. While it didn't help him stay in the red zone, it did mean Khan was already plotting his return.

Claiming it was "an establishment stitch-up," says Peter Mumford, head of Eurasia Group's South and Southeast Asia desk, "was not so much about trying to cling to power … as it was sowing the seeds for the election campaign to come."
Following Khan's ouster on Saturday, the parliament elected Shehbaz Sharif on Monday. This prompted the resignation of much of Khan's Tehreek-e-Insaf Party from the National Assembly, setting the stage for by-elections to fill those seats.
---
Sharif faces an unenviable task
Khan was ousted because he lost the military's support after the two clashed over military appointments and Khan's anti-US streak. But the main concern was Khan's mismanagement of the economy.
Pakistan's budget deficit is at a historic high, and its external debt has risen by 20% in the past year. Now, with inflation at 13%, Pakistan is "in dire economic straits," says Aqil Shah, a visiting scholar in the South Asia Program at the Carnegie Endowment for International Peace. While Khan used populist measures to soften the blow of rising fuel prices, the economy's gone from bad to worse on his watch.
To get Pakistan's deal with the IMF back on track (now frozen), Sharif will have to implement tougher measures, which won't be popular. "To some extent, [Sharif's] taking over a poisoned chalice," says Mumford.
So can Sharif pull it off?
While he's never been tested at the national level, the younger brother to three-time PM Nawaz Sharif has "proved himself to be quite an effective chief administrator in Pakistan's second-largest province," says Shah. Sharif knows he must inject confidence back into the market while providing some relief amid staggering inflation, and he has to do it all by generating support across a disparate coalition.
In his first speech on Monday, Sharif made it clear that addressing the economic crisis is his priority. He announced a higher minimum wage and boosted pensions for some retirees. This struck the right chord for many, given the painful effects of higher prices. "The problem is that it falls in contradiction from what the IMF expects, so it'll be a tough balancing act" to boost the economy, Shah adds.
Mumford agrees and says Pakistan will need to tighten its belt, and soon, in order to get the $3 billion from the IMF before the September deadline.
Will Pakistan's foreign policy change?
Sharif, with the support of the military, is expected to try and improve ties with Washington. Pakistan's military relies upon equipment from the US, which is one of the reasons the generals chaffed at Khan's aggressive anti-Washington stance. Moreover, the US is a huge export market for Pakistan. But Washington has shown less interest in Pakistan in recent years. To balance that out, it makes sense that the country would seek to bolster ties with traditional allies, China and Saudi Arabia, and even Russia, as it did under Khan, as a result.
Sharif is expected to focus on Saudi Arabia and China, and he's already announced plans to expedite the China-Pakistan Economic Corridor project. The Sharif brothers are also known for being more conciliatory toward India. But the main difference could be with Russia. "The military leaders have signaled that under new management Pakistan will be more critical of Russia's invasion of Ukraine," Mumford says.
Meanwhile, in the streets, Khan has mobilized supporters and claimed to have garnered the biggest protest crowds in Pakistan ever. Sound familiar?
Protests aimed at delegitimizing the Sharif government are likely to continue. "[Khan] stayed on the streets for months [in 2013 to protest election results]," says Ayesha Jalal, a history professor at Tufts University. She foresees the same tactics now, and both she and Mumford fear that greater unrest looms.
Pundits believe Sharif will push for electoral reforms to ensure a free and fair election can be held within the next 12 to 18 months in a bid to gain a fresh mandate for the Pakistan Muslim League-Nawaz Party to rule alone. Currently, it's the Pakistan People's Party and the PLM-N that have a majority in parliament, along with dissidents from Khan's PTI who may vote for Sharif. Holding on until an election can be held won't be easy for Sharif.
Whether his government can function remains a question mark, says Jalal. While he may cobble together a broad-based coalition government, "I don't think it's going to be a very long-lived government," she says.
Can Khan give Sharif a run for his money? He'll certainly try in the next election.
Street protests seem to favor Khan at the moment, and he's very popular on social media. "But I'm not sure that translates into broad-based popularity for Khan in the country. Sharif is popular in certain areas, including in Punjab," says Mumford. Besides, the PML-N can also whip up support in the streets too. Protests don't amount to votes, and Jalal, for one, believes Khan is "in for a real challenge in Punjab."
However, the biggest concern, she adds, is that unrest and greater economic instability may force the military's hand. "The thing that worries us all in Pakistan is a military takeover," she says.
To avoid popular unrest and stay in power, Sharif, who currently has the military's backing and its pledge to remain neutral in any upcoming election, must tackle the fiscal crisis and maintain public peace.
It won't be an easy job. Shah, for one, says he "wouldn't wish [his] enemy to have to govern Pakistan right now."