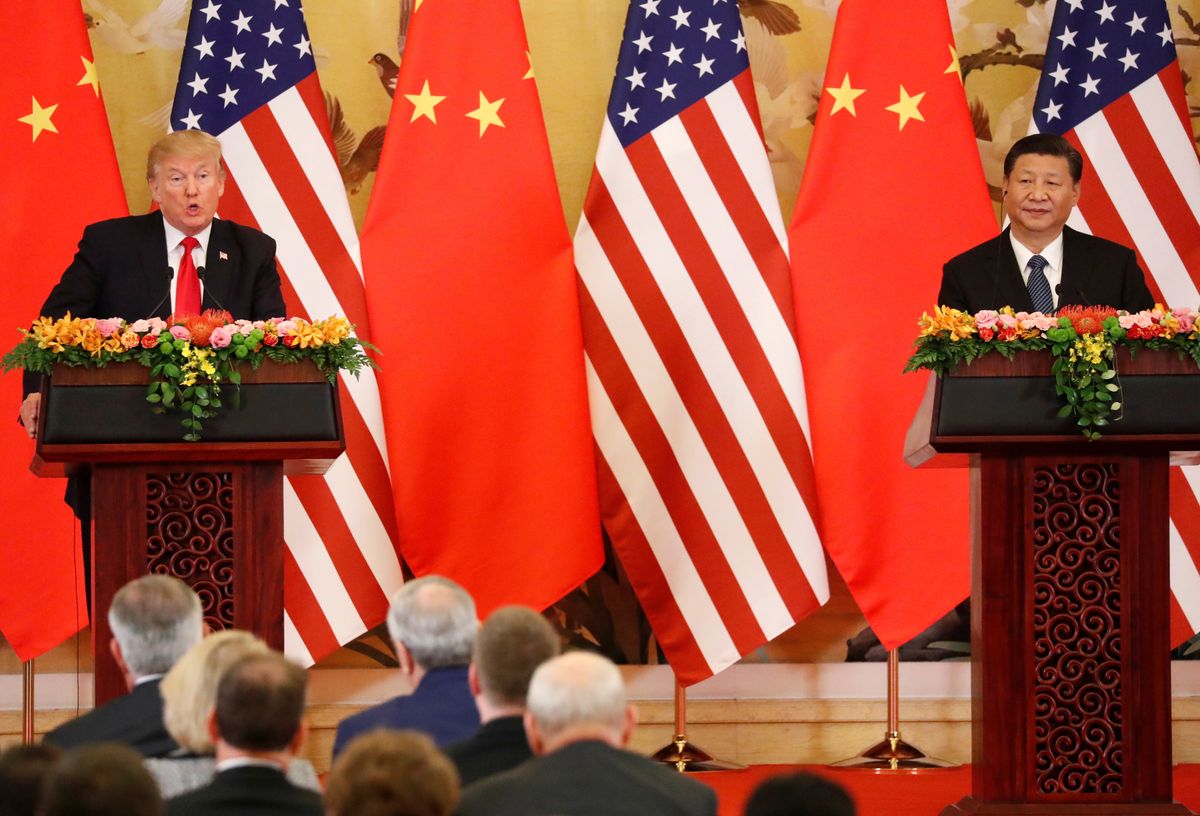 As the US and China face off on trade, a growing diplomatic tit-for-tat is brewing in the background. Last month, El Salvador cut ties with Taiwan, leaving it with just 17 diplomatic allies. The Trump administration expressed disappointment.
---
This week, Washington dialed things up a few notches by recalling its envoys to El Salvador, the Dominican Republic, and Panama to protest their decisions to end relations with Taiwan, despite the fact that the US closed its own embassy there nearly 40 years ago.
What if Trump's next move it to reopen that embassy? Unthinkable? Might Trump make this threat precisely to increase his leverage in US-China trade negotiations?
How'd we get here? In 1979, the United States entered into one of the most awkward diplomatic arrangements of the past half century. To open relations with China, President Jimmy Carter decided to acknowledge China's so-called "One China" principle, which states that Taiwan is part of China, but without endorsing it. The US agreed that China considers Taiwan a breakaway province, and China agreed to ignore the fact that the US does not explicitly agree.
Next steps illustrate the contradiction on the US side. Washington withdrew diplomatic recognition of Taiwan and closed its embassy in Taipei, but Congress also passed the "Taiwan Relations Act," which commits the US to "provide Taiwan with arms of a defensive character" and to defend Taiwan against attack.
By opening political and economic relations between the United States and China, this much-criticized arrangement helped the US win the Cold War, China rise from poverty to prosperity, and Taiwan benefit from China's boom.
Over the years, China has pressured numerous governments to cut ties with Taiwan. China has repeatedly warned the US and others not to interfere in this diplomatic offensive.
Fast forward to 2016. After he was elected president in November, Trump warned he would revisit foreign policies he felt deserved a second look. In December, he held a 10-minute phone conversation with Taiwan's President Tsai Ing-wen, the first call between US and Taiwanese heads of state since 1979. China responded with fury.
In January 2017, Trump upped the stakes by insisting that "Everything is under negotiation, including One China." Then in February, he backtracked and eased tensions by expressing support for the policy during a call with China's Xi Jinping.
Today, the Trump administration is waging trade war on China, even as President Trump has made a notable effort to keep warm personal relations with Xi. But as I've written in the past, Taiwan has again become a flashpoint in relations between the US and China.
What's to stop Trump from reopening—or threatening to reopen—relations with Taiwan?
Xi has made China's reintegration of Taiwan a long-term strategic and personal priority. His credibility is on the line with China's people and with the leaders of its armed forces, the People's Liberation Army. But would Xi Jinping really launch a military strike in response to Trump's decision to reopen an embassy?
Given the stakes, and Trump's penchant for unpredictability, these are questions we should consider.