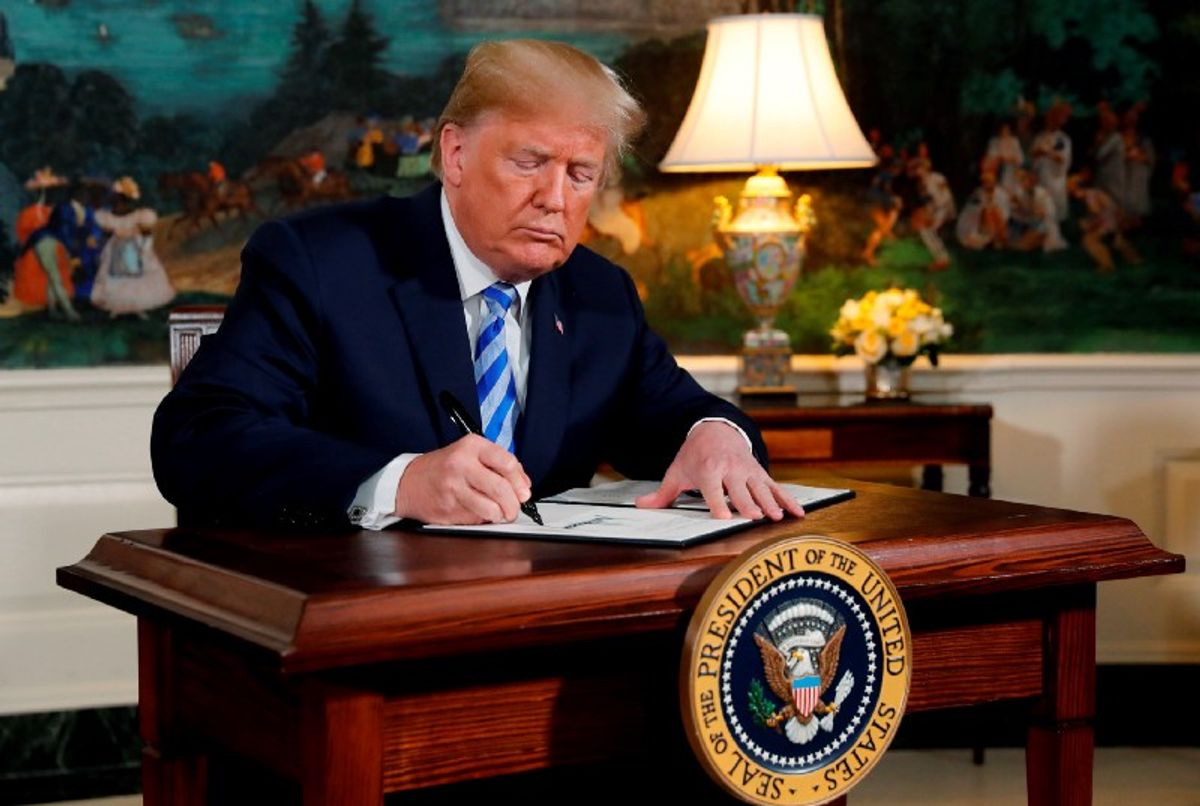 Yesterday, President Trump made the most consequential foreign policy decision of his presidency to date — refusing to recertify Iran's compliance with the 2015 nuclear deal, and reimposing a slew of US sanctions on the country.
---
America First or America Alone? The coming days will prove crucial in understanding whether this momentous decision boosts or diminishes the position of the US around the world.
In the immediate aftermath, here's how the crucial players see things:
Trump: This was a horrible, one-sided deal that should have never, ever been made. It makes no sense to allow Iran to develop long-range missiles. Restrictions on Iran's nuclear program should be permanent, not temporary. And with Iran making dangerous trouble in Syria, Yemen, Lebanon, and Iraq — and with its constant threats against our ally Israel — why should we allow Iran to make money it can spend on these projects? Fix all these problems, and maybe we can make a new deal that I'll respect.
Iran: We had a deal. Weapons inspectors, the UN, and the EU all said we kept our end of the bargain. It's the US that has gone back on its word by restricting our ability to trade and continuing to block our development — at a time when our economy is already struggling mightily. Trump is playing a domestic political game that has nothing to do with us. It makes us wonder why we even bothered engaging. With President Rouhani's hopes crushed, and hardliners emboldened, expect more mischief-making in the Middle East.
Europe: We did everything we could to find a solution to this problem that everyone could live with. Now European companies doing business in Iran will have to get out or face the prospect of sanctions. Between the Paris Accord, tariffs on steel and aluminum, complaints about NATO spending, and the Iran deal, President Trump has now rebuffed us four times. Time to find new friends?
Russia and China: The more Trump's decisions cause the US to lose credibility, the more likely America's spurned allies may eventually turn to us. That said, we both have interests in the Middle East beyond Iran and want nothing less than for a nuclear arms race to break out. If a new deal is eventually hammered out, we would support it.
Kim Jong-un: Trump says that the US "no longer makes empty threats" and that when he makes promises, he keeps them. But how can he expect me to agree to give up my nuclear weapons if he won't live up to his end of a bargain that outside observers agreed Iran was abiding by? I'm waiting for your answer, Secretary Pompeo.
Bottom line: The Iran deal isn't dead, but it's on life support and the prognosis looks grim. While it could be saved if the US's European allies can find a fix that Trump can accept and Iran will tolerate, global risks have gone up bigly.