South Africa: Rule of law or cult of personality?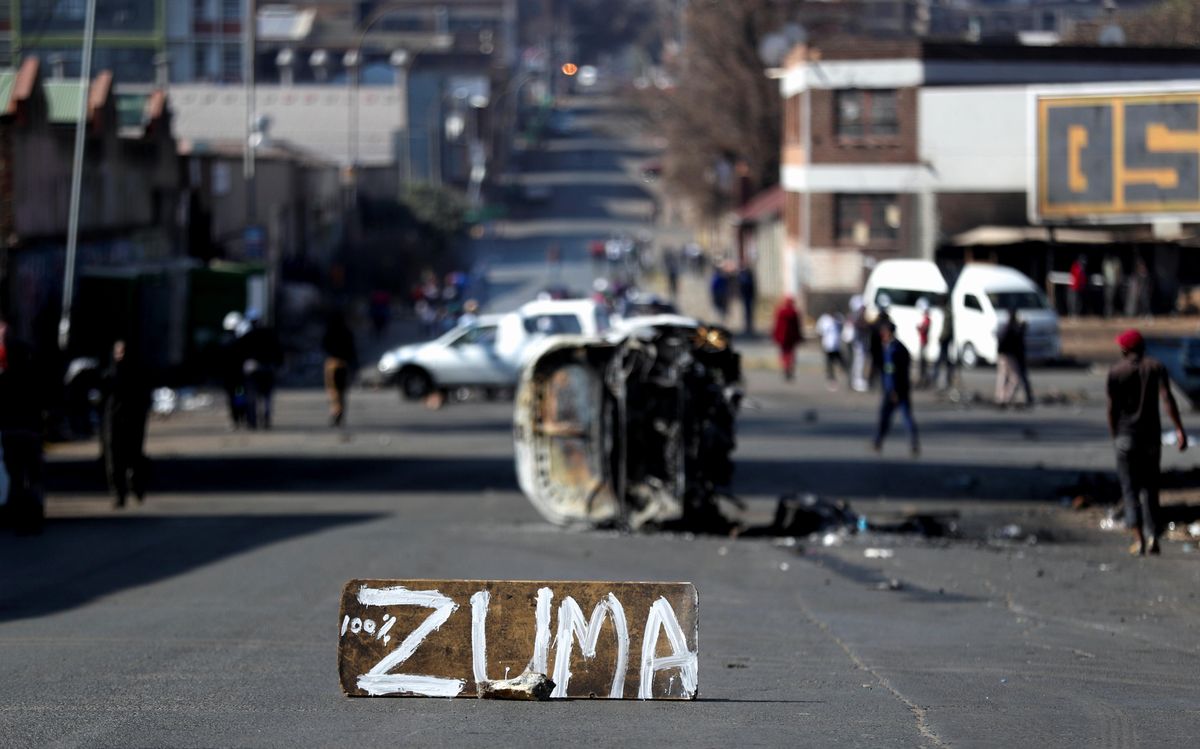 Imagine for a moment that you have been elected president of a major country because of your promises to root out corruption and kickstart the economy. Now imagine that the moment you arrest the most corrupt person in your country's history, the streets explode in a destructive orgy of riots and looting in response.
This is the situation currently facing South Africa's president, Cyril Ramaphosa. In recent days, he has deployed the army to control the worst upheaval the country has seen in decades. Malls and warehouses have been ransacked and torched. Dozens have been reported killed. Hundreds have been arrested.
---
How'd we get here and what comes next for Africa's most advanced economy?
The backstory. Last week, South Africa's supreme court sentenced former president Jacob Zuma to 15 months in prison for failing to appear at a hearing on allegations of corruption during his presidency, which lasted from 2009 to 2018. Zuma also stands accused in a multibillion-dollar graft scheme linked to an 1999 arms deal negotiated when he was deputy president. After initially rebuffing the court order, he turned himself in. That's when the trouble started.
Zuma is a complicated figure. A wildly charismatic hero of the struggle against apartheid who was once jailed alongside Nelson Mandela, he rose to lead the African National Congress, South Africa's most powerful political party, and was elected president in 2008. But his political legacy is tainted by corruption scandals and other improprieties.

After widespread discontent over corruption cost the ANC in local elections in 2016, party moderates sidelined Zuma, paving the way for Ramaphosa, a union-boss-turned-tycoon, to take over with promises to tackle corruption and boost economic growth. The ANC made him party leader in 2018 and he won a popular vote a year later.
The trouble for Ramaphosa is that Zuma is still very, very popular, in particular within his home province of KwaZulu-Natal, as well as among more radical, leftwing elements of the ANC suspicious of Ramaphosa's enthusiasm for market-oriented economic reforms. Zuma's own foundation warned on Twitter that there would be no "peace and stability" until the 79-year old Zuma is released from prison. They were right.
But Zuma's arrest is only part of the story these days. The crafty — and grafty — old politician's jailing may have lit the fuse for protests, but the dynamite was laid by other issues.

First, South Africa is still reeling from the pandemic. The country has already recorded the highest death rate per 100,000 people in Africa, and the tenth highest in the world. As a third wave of infections swells, fresh lockdowns are in place. Barely 2 percent of the country's 60 million people have been vaccinated as South Africa, like the rest of the continent, struggles to get access to jabs that have been bought up by wealthier countries.
That comes on top of an already dire socio-economic situation. The unemployment rate tops 30 percent overall, but nearly half of people under 35 are jobless. Racial divides are still deep — more than a quarter of a century since the end of apartheid, two thirds of Black South Africans live in poverty. And in 2019, the World Bank called South Africa the most economically unequal country in the world.
Part of the reason things are so bad is...corruption. The country ranks 69th out of 180 countries in Transparency International's latest Corruption Perceptions Index, and has actually fallen five spots over the past decade. Graft saps resources and opportunities from everyone in South Africa, but particularly those less well-off.
Which brings us back to the protests and riots of the past few days. Holding a powerful former leader to account for corruption sends a strong signal. But with the streets on fire for doing just that, South Africa faces a critical question: what will prevail, the new president's rule of law or the old one's cult of personality?