US election seen from South Africa: "An implosion"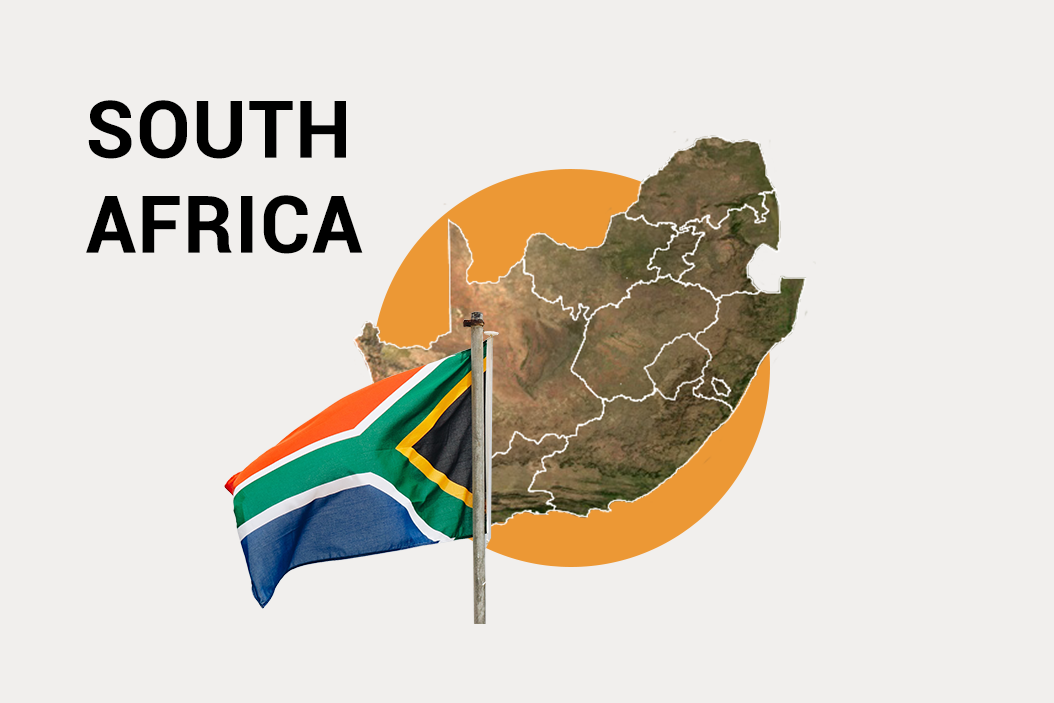 Ron Derby is an editor and columnist at Fin24, a division of News24, belonging to South Africa's Naspers group. Our conversation has been edited for length and clarity.
Willis Sparks: From a South African point of view, does the outcome of this election between President Trump and his challenger, Joe Biden, matter?
RD: Yes, it matters. I'd say, let's say first, it's almost like voyeurism, right? There's a huge level of interest in general in US politics. It's always been the case. Donald Trump, since his election [in] 2016, feeds this sentiment. His election, Brexit, the swing to right-leaning politics across Europe. This give[s] a negative feel [to] the global economy.
And post-COVID, as well, there have been issues of inequality globally, [and] South Africa being the center of that. And [in] the US, the Black Lives Matter [movement] does play a huge role in shaping sentiment [here]. Economically, you could argue that China is far more important to South Africa, and to the continent as a whole. But America plays a significant enough role [in] where the world is going.
WS: Tell me about how Black Lives Matter and what's happening in the United States is being perceived in South Africa.
RD: South Africa faces the same issues [as] black Americans, but our positions are different. [Here], the majority is black South African. But South Africa's economy is still dominated by the minority. It's part of our history.
The structural racism that exists in the US is pretty much prevalent in South Africa. As much as people will talk about 26 years ago, Nelson Mandela being freed, economic power [is] still pretty much in white hands. So, there's an immediate affinity [here] to the struggles in the US. Even though black South Africans are the majority here, it's a shared experience, it really is.
WS: Does that mean that Donald Trump is unpopular there and that people are hoping Joe Biden wins?
RD: Joe Biden was [Barack Obama's] deputy, right? South Africans know exactly who Biden is. Everyone is looking at who's going to take down this bombastic Donald Trump who represents everything that, I guess anyone who is in any sense a progressive, Trump is everything that is against that. We [are] all invested in this election in some form or other. [South Africa] is very much invested in what goes on in US elections.
WS: Switching gears a bit, the US and China are on a collision course these days. How does the US-China rivalry play out in South Africa?
RD: What goes on in China, we don't have a close affinity to. And there's lots of suspicion about Chinese investment on the continent. Even though our politicians found a great source of loans, there is a level of suspicion about China's motivations.
If you go to Botswana — I have family in Botswana — it's the same. Everyone [outside Africa] thinks that the African continent embrace[s] all that China's doing. Admittedly, they are a source of loans that no one else is affording the continent, but [there is] large scale suspicion [here].
Having good relations with the US for South Africa as a whole is always considered prime. I think we need to develop our Eastern strategy as a country. That's where the growth is going to come from, right?
WS: How do South Africans view the US in a general sense?
RD: The cultural influence of the US in the day-to-day lives of South Africa, you can't just discard that. It's massive. I guess it's a global thing, but particularly in South Africa. When the US decides to elect a president like Donald Trump, it quite clearly represents everything that's wrong with the world in truth. It shapes our sentiment of how the world is, just how fair the world is, and how it operates.
I remember when Barack [Obama] was elected in 2008. I was still working at Bloomberg in Johannesburg, and I went out to the streets, and there was a joyous mood in the streets about a president being elected 12,000 kilometers away.
If Trump is reelected, it will [have] an impact and feed into just the low confidence already that exists in South Africa. It would feed into the national mood of this country.
We all grew up with this ultimate superpower, right? The world's policeman. The US under Trump just totally goes off the leadership stage. No one quite understands what the US is going to be.
And then you have the rise [of] China. We know economically we are tied to it, but no one quite understands China's ultimate goal. [For] the first time since maybe World War II, you have an absent US. There's an implosion happening in the US. By leaving the stage, the US adds to anxiety, uncertainty, about everyone's standing in the world.
And if Trump wins again, then it's like, okay, the implosion continues. If Biden wins, what changes can be brought about in the US? As I say, there's always, we know, South Africa knows, the continent knows that there is the China alternative, but we're still very unclear about what China's ultimate motives are. It's almost like, better the devil you know, right?
In Trump's misbehavior... Not misbehavior, just his maladministration, his running of the country literally like a king… It encourages the worst of the rest of the world's leaders, right? It gives them license to do as they please, man. It literally is, so who can police anyone in this climate where you have Donald Trump behaving and running the country the way he's running [it]? And that's what the US doesn't understand. [W]hen they step away from that fold, then it's open season.
WS: Tell me what's going on in South Africa at the moment, what South African people are worrying about and reading in their newspapers every day.
RD: At the moment, going into the COVID period, March, it was quite impressive that you had this national effort to deal with COVID, combat it, lock down the economy. And it was actually this national agreement. And touch wood, [it's] not as bad as we initially thought. But as the lockdown [went] on, frustrations grew, of course with the economy, which was already struggling. Then you started hearing the rumblings from the business sector and noise about potential job losses. You can see the tension rise in the country.
There have been mistakes in the management of this lockdown. Then there were some stories of corruption, of people close to leadership in the party benefiting. Last year's elections were supposed to be a move away from that and a return to proper governance.
The state is suffering a real crisis of confidence right now. The longer this lockdown continues, [that problem] grows.
[With COVID] there was good conversation about reimagining the South Africa economy. [But] the state lost a lot of that goodwill in recent weeks [with] the age-old question mark about corruption. That's feeding into the general mood of the country.
This interview is part of the GZERO project Global voices on the US election, which you can find in full here.