Catch up on GZERO's coverage of the UN General Assembly (UNGA 78)
WATCH
GZERO Daily: the newsletter for people who love global politics
Sign up for our free newsletter to keep up with what's going on around the world - and why it matters.
Subscribe
GZERO Daily: the newsletter for people who love global politics
Subscribe Now

We have updated our Privacy Policy and Terms of Use for Eurasia Group and its affiliates, including GZERO Media, to clarify the types of data we collect, how we collect it, how we use data and with whom we share data. By using our website you consent to our Terms and Conditions and Privacy Policy, including the transfer of your personal data to the United States from your country of residence, and our use of cookies described in our Cookie Policy.
"A referendum for the whole world": Global voices on the US election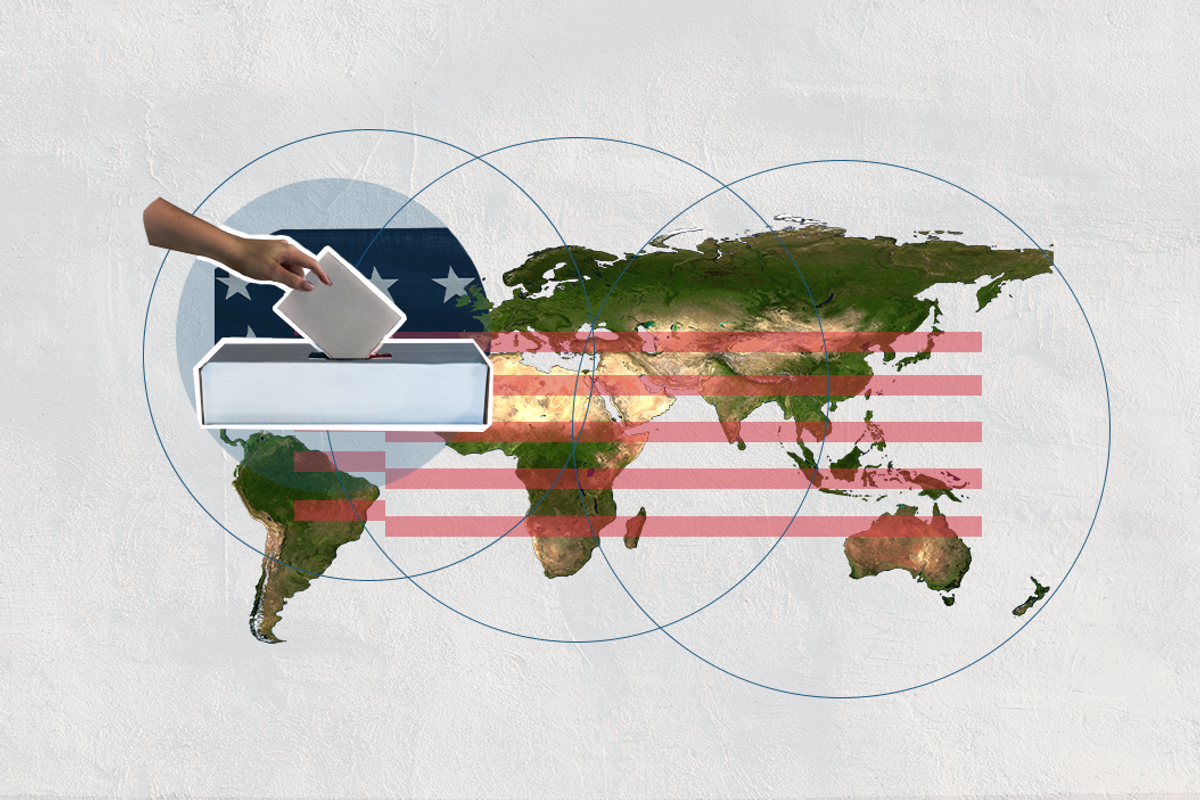 We heard voices from global heavyweights like Russia, China, Germany, Brazil, and India, as well as countries like El Salvador, the Philippines, Iraq, Colombia, and Ethiopia that are often caught in the riptides of great power rivalry.
To be clear, this project isn't an academic study or a poll. It's simply a series of interesting (and sometimes surprising) conversations with thoughtful people from around the globe about the US election and what comes next. None of them tried to represent the totality of views in their countries, but together they gave us a mosaic of opinions and ideas about how this pivotal American vote may echo abroad — in terms of policy but also in perceptions of America's moral authority and broader role in the world.
Here are a few things that jumped out at us:
US allies and adversaries both have a lot at stake. Major US economic partners like Canada and Mexico are watching to see if US trade policy stays on its current protectionist track (or not). Meanwhile, countries like India, Ethiopia, or El Salvador, the birthplace of large numbers of US immigrants, are watching to see if a change of power undoes Trump's more restrictive US border and visa policies.
Traditional security allies like Germany, the UK, and Japan are trying to understand whether the past four years of upheaval and uncertainty in their ties with the US will become permanent, or if there is room for repair under a Biden administration that is both more familiar and more invested in America's alliances.
China, increasingly locked in a global rivalry with the US, is watching all of these questions at once. And from Iran we heard concerns about whether a second Trump term would further embolden that country's hardliners, or whether a Biden administration could help strengthen its political moderates, reopening direct dialogue between the two countries.
Trump effect: right-wingers on the ropes if he loses. Brazil's Jair Bolsonaro, Poland's Andrzej Duda, Israel's Benjamin Netanyahu, and Turkey's Recep Tayyip Erdogan have a lot riding on good relations with Trump (who is popular in all four countries) and stand to suffer at home if he loses in November.
People aren't reading about the US election every day. While it clearly matters beyond US borders, the vote is hardly the most important news item in any of the countries we heard from. Almost everywhere, the chief concerns are the coronavirus pandemic and its crippling economic fallout.
We also heard worries about local issues like water security in Egypt, low oil prices in Iraq, the post-Brexit future in the UK, or the likely return of the mass social protests that rocked parts of South America last year.
US-China will get worse — but how fast? Many we heard from were sure that the US-China rivalry will get worse in the coming years, in part because of a keen understanding that there is now bipartisan support in the US for a tough line against Beijing.

But in most countries, including China, there is a belief that a Biden administration would manage those tensions in a more predictable and diplomatic way. That's not necessarily seen as a good thing everywhere: in India, Trump's unprecedented willingness to "break the Chinese" has been welcomed as a refreshing change from the more timid approach of administrations past.
The US needs to do "less lecturing and more partnering." Some of our most interesting conversations about the US-China rivalry were with journalists from Africa, where China's commercial influence has expanded massively in recent years as the US has pulled back. In Nigeria, for example, where Chinese investment is widespread, we learned that locals still suspect Beijing's motives, and there is a "desire for the US to do more" but with "less lecturing and more partnering."
November 3 as a moment of clarity. "For the first time since World War Two," South African journalist Ron Derby told us, "you have a US that is absent, imploding on itself...and no one is quite sure what it stands for."
On November 3, many around the world will be watching the vote to understand what Americans themselves -- deeply polarized and increasingly inward-looking -- think about their country's role in the world: has the US become a fundamentally more protectionist, nationalistic country? Or were the past four years an aberration?

"People are beginning to see it as a referendum," Ethiopian journalist Samuel Getachew said. "Not just for the interest of the US but for the interest of the whole world."
In a few weeks, voters in the United States will go to the polls in an election that could reshape American life for years to come.
But in the stark choice between President Donald Trump and Democratic nominee Joe Biden, Americans will also be choosing the person who will oversee the world's biggest economy, command its most powerful military, and govern a country that still has unparalleled global reach in commerce and culture.
In short, the impact of the election result will reverberate far beyond American shores.
In August, GZERO writers asked local journalists and commentators in 24 countries how the US election drama is playing out where they live, how the most unconventional presidency in modern American history has affected their countries, and what they expect to come next.
---
You can find all 24 interviews below. A podcast featuring highlights of the conversations can be found here.
This project was developed and edited by Alex Kliment and written/produced by Gabrielle Debinski, Carlos Santamaria, and Willis Sparks. Art by Annie Gugliotta. Web production by Melianthe Kines.