US green subsidies pushback to dominate Biden's Canada trip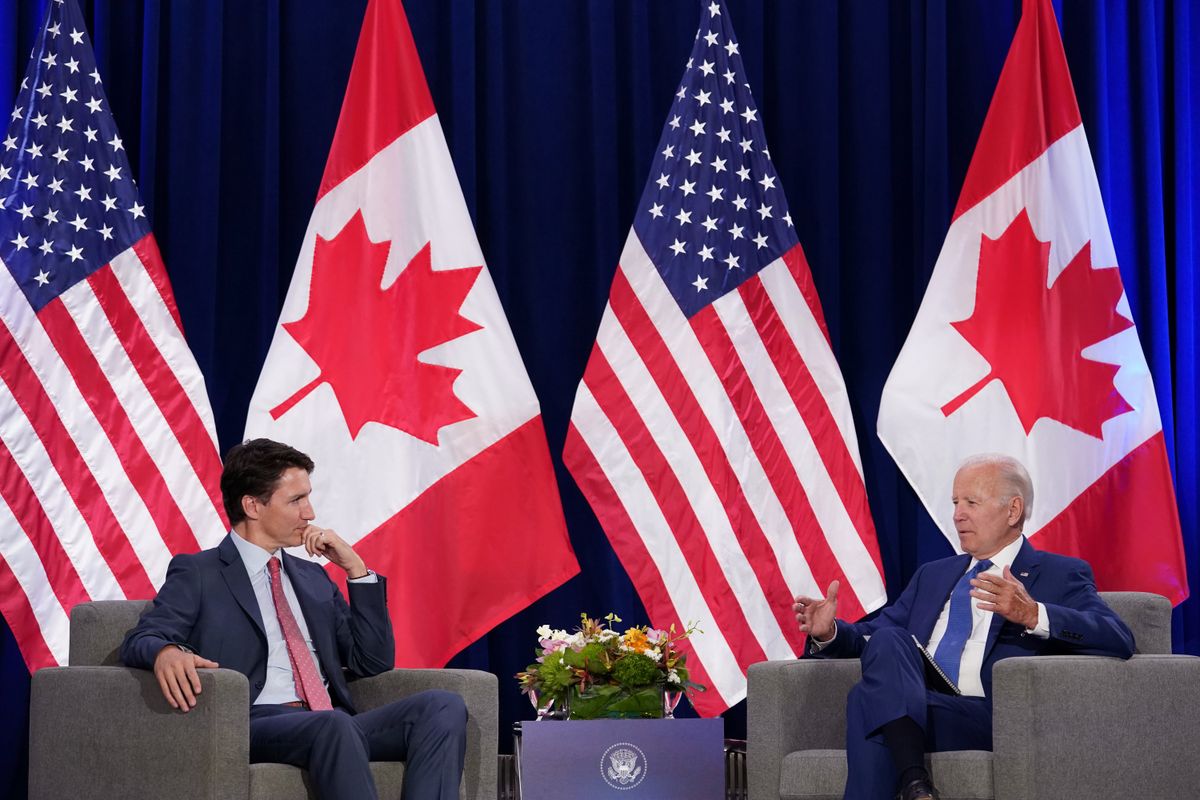 REUTERS/Kevin Lamarque
As Ottawa prepares for a two-day visit by President Joe Biden starting Thursday, Canadians have been speculating about whether he will do something to stop the northward flow of border crossings by undocumented migrants at Roxham Road, Quebec.
That problem is grabbing headlines, but it is nothing next to the border challenges the Americans face, and the Canadians likely have more important requests for Biden. Behind the scenes, the government is focused on getting Americans to help mitigate the impact of the Inflation Reduction Act, the largest climate spending package in US history, which could lead to the loss of capital and jobs from Canada.
---
The $350 billion IRA stimulus package is a challenge to both Canada and Europe, with subsidies and open-ended tax credits that offer huge savings to clean-technology companies that shift their operations to the United States. It is expected to be a game-changer for emission reductions, but also a threat to allied countries who can't match the Americans' spending power.
European Commission President Ursula von der Leyen was in Washington this month to try to come to terms with the Americans over the nature of the threat, and the EU appears poised to match American incentives. That will come too late to save a Volkswagen battery plant that had been planned for Eastern Europe.
Not coincidentally, the German auto giant just announced plans to build a battery plant in St. Thomas, Ontario, where it can benefit from American subsidies because the auto industry is covered by the United States-Mexico-Canada Agreement. That looks like a big win for Canada, but … other sectors do not enjoy the same protection, which means that companies – Canadian and foreign firms in Canada in the manufacturing, green energy, and petroleum sectors – may be tempted to move south of the border to take advantage of generous tax credits.
Canada can't afford to woo these businesses in the same way, so it needs to match US subsidies in key sectors while also asking the Americans, very politely, to play nice.
"The IRA is the biggest piece of industrial policy coming out of the United States for a very long time, and everybody else is now adjusting to that, and [Canadians] are distinctly exposed," says Graeme Thompson, a Eurasia Group senior analyst. "All gears are firing in Ottawa to manage the challenge that poses to competitiveness so that the US doesn't just suck up all of the investments that we'd otherwise be after."
That task is front of mind for Canadian Finance Minister Chrystia Freeland, who will present her third budget four days after Biden leaves. Prime Minister Justin Trudeau's government likely sees the two events as a one-two punch, an opportunity to wrest control of the headlines for a few days.
Biden's visit gives Trudeau an opportunity for positive messaging. For Gerald Butts, vice chairman of Eurasia Group and former principal secretary to Trudeau, the government likely hopes to change the channel from the China election interference story, which has dominated the news in Canada for weeks.
"They've clearly got a bunch of stuff lined up where they want to make some announcements there and then run into the budget," he says. "I think what they're hoping to do, obviously, is get control back of the communications agenda from this crazy China stuff."
So it's clear what Biden can do to help Canada. But what can Canada do for him?
Freeland has previously promoted US Treasury Secretary Janet Yellen's notion of "friendshoring," building supply chains in allied economies. Her exact plans remain unknown, but Canada can offer the Americans access to critical minerals vital to green energy — like lithium and copper — and take steps to streamline approval for mining projects, although Indigenous land rights may make it impossible to go as quickly as industry would like.
Biden is also seeking more help in Ukraine and Haiti. The US wants Ottawa to play a lead role in planning for Ukraine's reconstruction, which is reasonable. But nobody thinks Canada will do what Biden wants and put peacekeepers on the ground in Haiti, where gangs have turned the national capital into a hellscape. On the other hand, a lack of action will likely lead to even more desperate migrants heading north – a political problem for both governments, which brings us full circle to migration.
Trudeau wants the US to renegotiate the terms of the Safe Third Country Agreement, which requires that asylum-seekers who cross select parts of the US-Canada 5,525-mile border be sent back to the country where they first entered. Trouble is, this encourages migrants to enter at irregular crossings, such as Roxham Road, and once they're in Canada, they can legally make asylum claims. The Americans have been noncommittal, and they point to uncontrolled irregular crossings in the other direction: Mexicans who can fly into Canada without a visa and then make a short river crossing to the United States.
From the US perspective, Canada is not doing its part, says Christopher Sands, director of the Wilson Center's Canada Institute.
"We have problems on both our borders," he says. "You think your border's better, but we both have illegal crossers and we are just as mad about all of them. You're not any better than the Mexicans. We should get better co-operation from you. It's been one of those debates."
Biden isn't likely to renegotiate the STCA unless Canada agrees to do more to control the traffic going the other way, and maybe agrees to take more migrants from Central America.
"I think it's gonna be very tough for the president to do much when he's in Canada," Sands says.
On the other hand, Trudeau and Biden are progressive political allies, and both are struggling with lackluster approval ratings, so they may want to make some deals and show progress on issues that matter on the ground to voters in both countries.
Fun fact: Biden is the first president to spend a night in Ottawa since George W. Bush came north to thank Canada for its help after 9/11. He's likely not spending so much time — a precious commodity for the world's most powerful man — without intending to do something that matters.
_________
In a world of increasing chaos, the US-Canada relationship is more crucial than ever, from trade and migration to defense, culture, and technology. To meet the moment, we're launching GZERO North, a new weekly newsletter offering you an insider's guide to the very latest political, economic, and cultural news shaping both countries.
Subscribe today
!