As US-China rivalry intensifies, Biden looks to Southeast Asia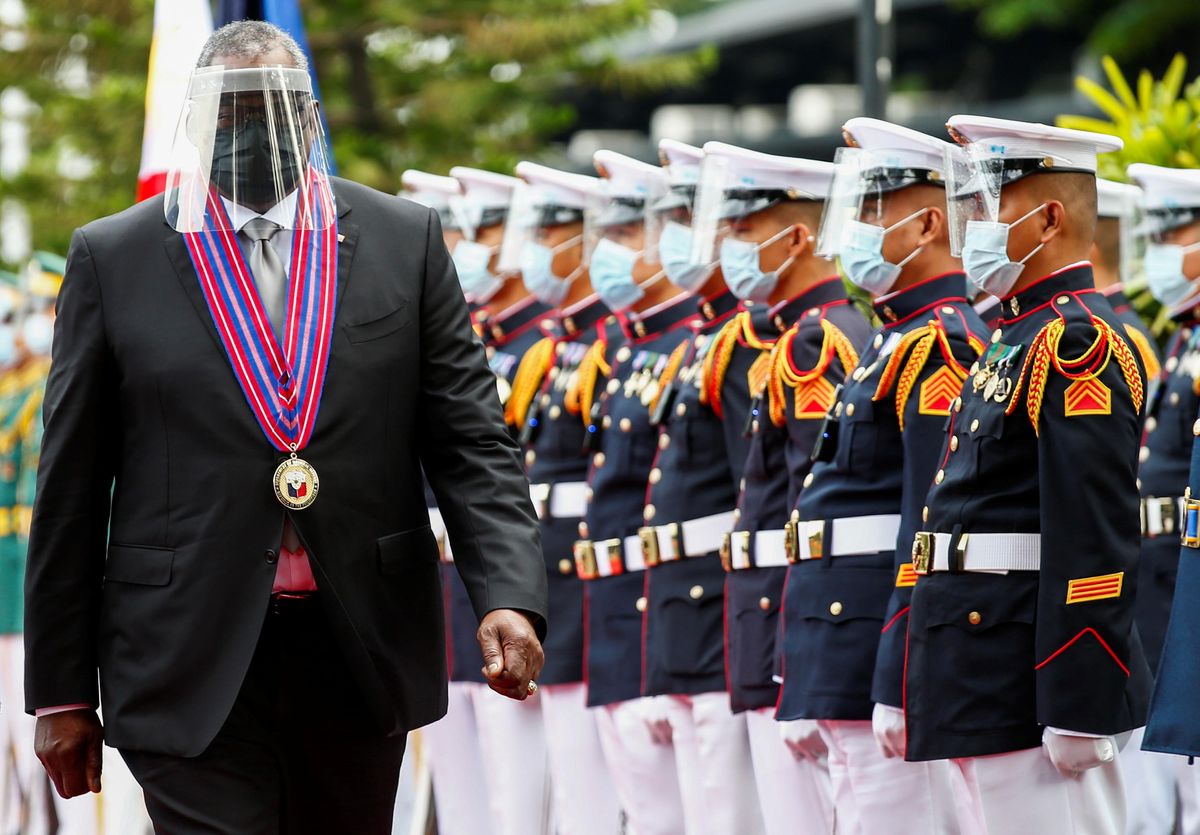 Rolex Dela Pena/Pool via REUTERS
The Biden administration is finally devoting more attention to Southeast Asia. Last week US Secretary of Defense Lloyd Austin traveled to Singapore, Vietnam, and the Philippines, marking the first regional visit by a Biden cabinet official. A trip by Vice President Kamala Harris is already in the works as well, and this week Secretary of State Tony Blinken will meet (virtually) with ASEAN counterparts.
The flurry of activity comes after earlier concerns that President Joe Biden was neglecting Southeast Asia, the region where US-China rivalry is the most intense. To understand better what Austin's visit meant, and what comes next, Eurasia Group's lead Southeast Asia analyst Peter Mumford spoke to us from Singapore.
---
Did anything noteworthy come out of the visits?
Well, the fact that the visit occurred at all was noteworthy. For the first six months in office, the Biden administration has spent very little time engaging with Southeast Asia. Now that appears to be changing, although the region will never be the top global priority for the US.
But specifically, while in Singapore, Austin set out the Biden administration's commitment to a free and open Indo-Pacific and reassured ASEAN — a group of 10 Southeast Asian nations — that the US sees it playing a central role in regional security and prosperity. Throughout his trip, Austin reaffirmed the US treaty commitment to protect the Philippines if it is attacked, including in the South China Sea. And in a cheeky swipe at Beijing, Austin noted that some US alliances in the region actually predate the existence of the People's Republic of China altogether.
In Hanoi, Austin confirmed the US intention to further strengthen ties with Vietnam. Those ties have deepened in recent years, though he nuanced this with calls for more progress on human rights issues in what is still a one-party communist state. In Manila, Austin secured President Rodrigo Duterte's agreement to renew/retain the Visiting Forces Agreement, a key bilateral security pact that provides the framework for the US military to operate in the Philippines; this was the most tangible outcome of the trip. Duterte had previously sought to terminate the pact, but has flip-flopped since, largely because of increased Chinese assertiveness in disputed waters in the South China Sea.
Overall, Austin very effectively blended US hard and soft power during his visit, which will have gone a significant way toward reassuring allies and partners that despite the somewhat slow start from the Biden administration, Washington is, in fact, committed to the region.
Why is the US suddenly devoting all this attention to region?
During the first six months of the Biden administration there were growing worries in Southeast Asia that Washington was neglecting the region. That's in part because much of the Biden's administration's early attention to Asia was focused chiefly on the Quadrilateral Security Dialogue ("Quad") partners — Japan, India, and Australia — as well as South Korea, another key US ally. The pandemic was also a factor (an earlier planned visit by Austin in June was cancelled due to COVID).
The Quad is likely to remain the top US priority in the Indo-Pacific, but Austin's visit was meant to reassure the US's regional partners and allies, and to tighten up key bilateral relations. Blinken is holding a series of video conferences with his counterparts in ASEAN this week and Harris plans to visit Vietnam and Singapore soon, building on this momentum. Biden himself plans to attend ASEAN and related summits in the region in November.
That said, Biden has yet to speak in person/on the phone with a single Southeast Asian leader, and his administration still has not fleshed out its strategy for engagement in the region. It also remains unclear when there will be cabinet-level (or above) visits to other key countries in the region including Indonesia, longstanding US treaty ally Thailand, and Malaysia.
What does the region want from the US?
First and foremost, Southeast Asian countries want to know the region remains strategically important to Washington — even if it's not the top priority — and for senior US officials to show up/engage regularly. ASEAN also wants the US, and other major players such as Japan, to counterbalance China's growing influence in the region. Austin's visit provides some belated reassurance in this regard.
But more specifically, Southeast Asian nations are currently in desperate need of vaccine supplies. Inoculation rates remain low and COVID is ravaging the region, driven by the more contagious delta variant. Although the US has committed millions of doses to the region via the multilateral COVAX facility, these supplies — while welcome — only meet a tiny fraction of the region's needs.
A key question remains what the US economic offer is to Southeast Asia, given Beijing's Belt and Road Initiative and China's central role in deepening trade integration in Asia. Many countries in the region would like to see the US pursue regional trade deals, after four years of protectionism and punitive trade actions under Trump. However, it's unlikely the US will rejoin the Comprehensive and Progressive Agreement for Trans-Pacific Partnership and/or pursue new bilateral free trade agreements for the foreseeable future.
That's because of US domestic political pressure against new bilateral free trade deals — along with the expiration of the Trade Promotion Authority, which made it easier for the president to negotiate trade deals with minimal congressional oversight. That said, the US is pushing for the Quad to do more on infrastructure financing and is reportedly pondering a new digital trade deal for the Indo-Pacific that would likely be much less contentious in Washington.
What does the region most certainly NOT want from the US?
There is perennial fear and grumbling in Southeast Asian countries that when they do receive attention from Washington, it takes the form of punitive trade or currency actions, or pressure on democracy and human rights issues. The Biden administration will likely focus less on the economic policy issues than Trump did, but will be more assertive on the human rights front.
This shift has been most apparent on Vietnam. Longstanding US concerns about Vietnam's currency were recently resolved through bilateral discussions, but Washington is now placing more emphasis on human rights concerns there. This will be a tricky balance for the Biden team to strike going forward: Vietnam is one of the most important countries in the region when it comes to countering China's influence, as it is a key rival maritime claimant in the South China Sea and has long had tricky relations with Beijing. At the same time, dealing with an authoritarian state is problematic for Biden's democracy and human rights values agenda, especially within the Democratic Party.
Is the US-China rivalry a good or bad thing for the region?
It depends. US-China competition is broadly beneficial for Southeast Asia whereas confrontation is not. Southeast Asian countries certainly benefit from a dynamic in which the US, China, and other major players compete to shower them with affection and investment.
To some extent, ASEAN countries want to have their cake and eat it too. They want a robust US security posture in the region that acts as a bulwark against China's influence and the South China Sea turning into a "Chinese lake." But they do not want Washington to provoke Beijing in ways that could cause instability — on either security or trade — or damage their expansive commercial relations with China. After all, China is by far ASEAN's largest trading partner (though not its largest source of foreign direct investment, which more recently has been the EU).
Southeast Asian countries also fear being forced to pick sides between Beijing and Washington, though neither is asking them to do this — a point repeatedly stressed on the US side by Austin this week.
Heightened trade tensions between the US and China have been negative overall for Southeast Asia in recent years, due to the resulting global economic/trade headwinds. That said, some countries, especially Vietnam, but also to lesser extents Thailand, Indonesia, and Malaysia, are benefiting from US and other companies moving supply chains out of China and into ASEAN countries — a shift driven in no small part by the US-China dynamic.