Nigeria struggles to curb oil theft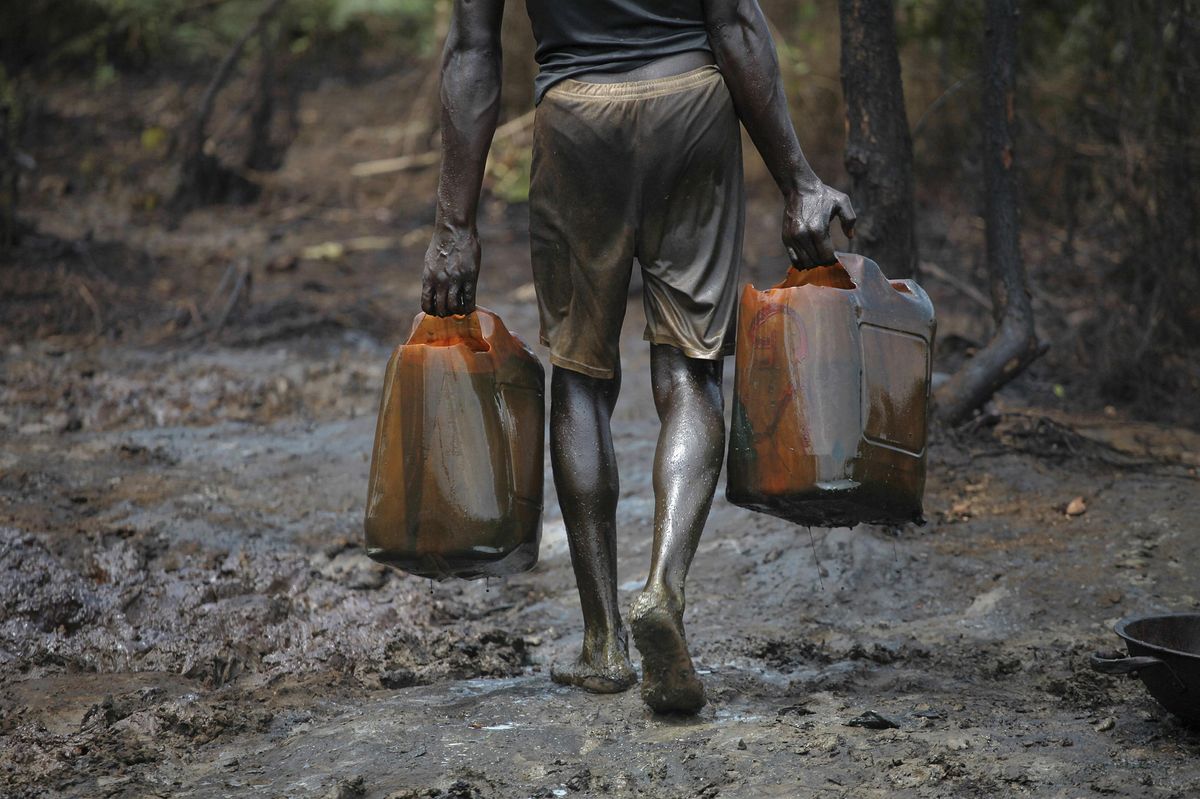 REUTERS/Akintunde Akinleye
Nigeria's official oil output recently slumped to a two-decade low of less than 1 million barrels per day, spotlighting a longstanding problem with oil theft in Africa's largest country. Mele Kyari, head of the Nigerian National Petroleum Corp. Ltd, sparked debate locally when he provided an estimate of the magnitude of the problem: Thieves are stealing about 200,000 barrels per day.
These losses are particularly galling at a time when many oil-producing countries around the world are reaping the benefits of high prices. Nigeria, conversely, earlier this year said weak oil income had caused federal revenue to fall below its debt service obligations in the first quarter.
So, what's going on? We asked Eurasia Group expert Tochi Eni-Kalu to explain.
---
Is the country really losing this much oil to theft? Who is responsible?
Though it's getting more attention now, oil theft or illegal bunkering is a problem dating back several decades in Nigeria. Yet the scale and mechanics of the problem are poorly understood. Estimates of theft vary widely: Some studies suggest that as much as 724,000 bpd were stolen in the 2000s. If Kyari is right and current losses are about 200,000 bpd, that would translate into about $7.3 billion in forgone revenue for the state, assuming an average oil price of $100 per barrel. That amount is equal to a little less than 2% of GDP, or about 2.7 times more than total government expenditure on gasoline subsidies in 2021.
However, the government does not systematically track crude losses, so these figures are difficult to substantiate. In fact, the Nigerian navy disputes Kyari's estimates, arguing that illegal bunkering on that scale would struggle to evade detection by security agencies. Then again, security agencies — alongside political figures, local communities, and energy sector employees among others — are alleged to be complicit in oil theft, which is often carried out by criminal gangs of varying levels of sophistication. Once crude is pilfered from pipelines or wells, it can be transferred to vessels bound for other countries or refined at illegal makeshift refineries where deadly accidents are common.
Is theft the main reason for the output decline or are there other factors at work?
There are other contributing factors, most importantly a history of underinvestment in active oil blocks, leading to delayed maintenance and declining productivity. Why? International oil companies have been steadily divesting from the oil-rich Niger Delta over the past decade, with a focus on offloading less cost-efficient onshore and shallow water oil blocks. Regulatory hurdles, an inability to ensure the security of employees and critical infrastructure, and fraught relations with Niger Delta communities have accelerated this trend.
These complaints also explain why Nigeria has struggled to attract investment in developing new oil blocks, further depressing production levels. The country accounted for only 4% of capital expenditure on oil and gas projects in Africa that reached a final investment decision between 2015 and 2019 despite holding about 40% of Africa's proven reserves.
What are authorities doing to combat oil theft?
They have largely focused their efforts on protecting critical oil infrastructure, particularly pipelines. In late August, the national oil company awarded new pipeline security contracts to five private contractors to complement patrols led by security agencies. One of those contracts was given to Government Ekpemupolo (also known as Tompolo), who led attacks against oil installations prior to a government amnesty in 2009. This is not the first time that Tompolo has been contracted to protect oil infrastructure — he was one of the ex-militant leaders paid to secure pipelines under the terms of the 2009 amnesty.
That may well help rein in acts of vandalization and theft, but it also risks angering other militant groups that are not benefitting from government contracts. Still, dialogue among the government, Niger Delta community leaders, and militant commanders will likely prevent a resurgence in attacks ahead of the Feb. 2023 general elections.
Will it be a campaign issue?
Yes. Leading opposition challengers Atiku Abubakar and Peter Obi have pledged to solve the problem if they're elected president. However, their proposals are light on specifics. For instance, Atiku promised to declare a deadline to put an end to oil theft, but only after completing consultations with government agencies about the issue once elected.
On the other hand, ruling party candidate Bola Tinubu has yet to comment, but his proposals are unlikely to diverge substantially from current government policy. Still, while it reflects dissatisfaction with the status quo, oil theft won't be a pivotal issue in this election cycle. Voters are likely to assign more weight to insecurity, unemployment, and the rising cost of living.