What We're Watching: A poisoning in Russia, new weapons for the UAE, China vs food influencers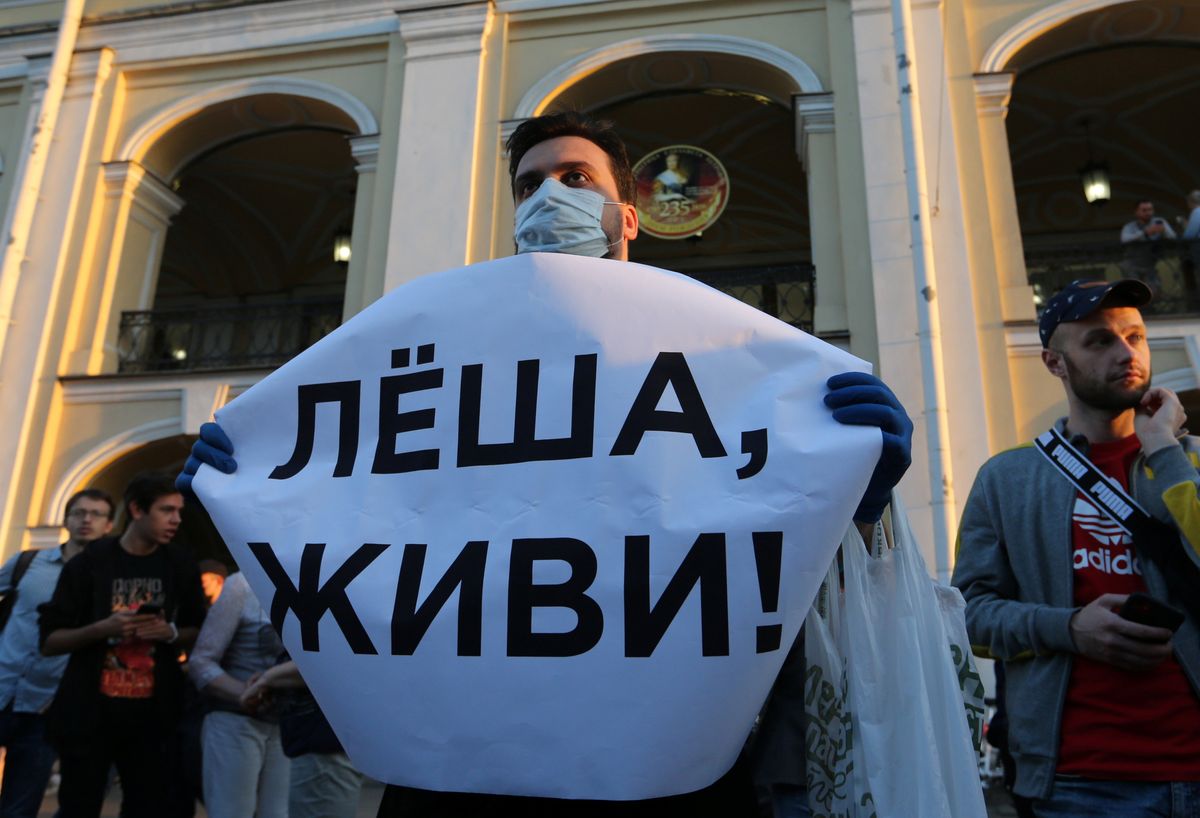 A poisoning in Russia? Russian opposition leader Alexei Navalny remains in critical condition after falling ill in what his aides say is a poisoning. Navalny, a vocal anti corruption activist, is the most prominent opponent of President Vladimir Putin. A history of high-profile poisonings of Putin nemeses has led to suspicion that the Kremlin might have had a hand in the alleged attack, but there is no evidence to support that as of now. More immediately, the incident may put Putin in a tricky spot: Navalny enjoys substantial popularity — he was one of the leaders of the mass protest movement of 2011. In 2018, the Kremlin flimsily disqualified him from running in the presidential election, rather than facing him outright. His demise could well provoke a new wave of unrest at a sensitive moment for Putin: although the Russian president recently secured the right to rule until 2036, his approval ratings are touching all time lows, protests against him have recently erupted in Russia's Far East, and hundreds of thousands protesting next door in Belarus sets an example he surely doesn't want Russians to follow. We are keeping an eye on Navalny's condition, Russia's streets, and how Western countries will react if a deliberate poisoning is in fact traced back to someone in the Russian government.
---
New weapons for the UAE? There has been much fanfare recently over the historic agreement between the United Arab Emirates and Israel, brokered by the Trump administration. United in their mutual enmity towards Iran, it's the first time that a Gulf Arab state has normalized ties with Israel. But in recent days, widespread optimism has been clouded by reports that the Trump administration used its bargaining power to negotiate the sale of sophisticated F35 fighter jets to the Emirates — a contract the UAE has been trying to lock down for years. Israeli Prime Minister Benjamin Netanyahu is not happy about the reported side deal, to which he was not privy. Why? Since the 1970s, America has committed to ensuring Israel maintains a "qualitative military edge" over its Arab neighbors (this policy was reflected in a 2008 US law). As a result, successive US administrations have refused to sell Arab states that are hostile to Israel some sophisticated weaponry (rousing the ire of allies in the Gulf). Now, with reports that the Trump administration is pushing for the arms sale — which would include stealth F35 fighter jets and advanced drones — Israel is worried about how this will affect the sensitive balance of power in the region. But at the end of the day, neither the Trump administration nor PM Netanyahu will have the final say because only the US Congress can certify such weapons sales. Stay tuned.
China's crackdown on... food influencers: The Chinese Communist Party's crackdown on ethnic minorities and dissenters is well established. But now, it's setting its sights on a new demographic: food influencers. Food shortage in China — exacerbated by the deepening trade war with Washington — is a massive problem that President Xi Jinping is trying to address through his "Clean Plate" campaign, aimed at shining a light on food wastage — a value at odds with food influencers who often peck at over-the-top meals prepared for the digital gaze. Now, food influencers within the popular Korean digital scene known as Mukbang (loosely translated in Korean as "eating broadcast," where people tune in to watch their favorite stars... eat) are having their videos blurred out on Chinese platforms. Meanwhile, Chinese people searching relevant terms are also being served warning notices by the government to stop engaging with the content. "I don't eat much in my videos and try to eat healthy food," one Korean influencer recently said in response to the latest act of Chinese censorship.