Brazil smackdown: Lula vs. Bolsonaro, final round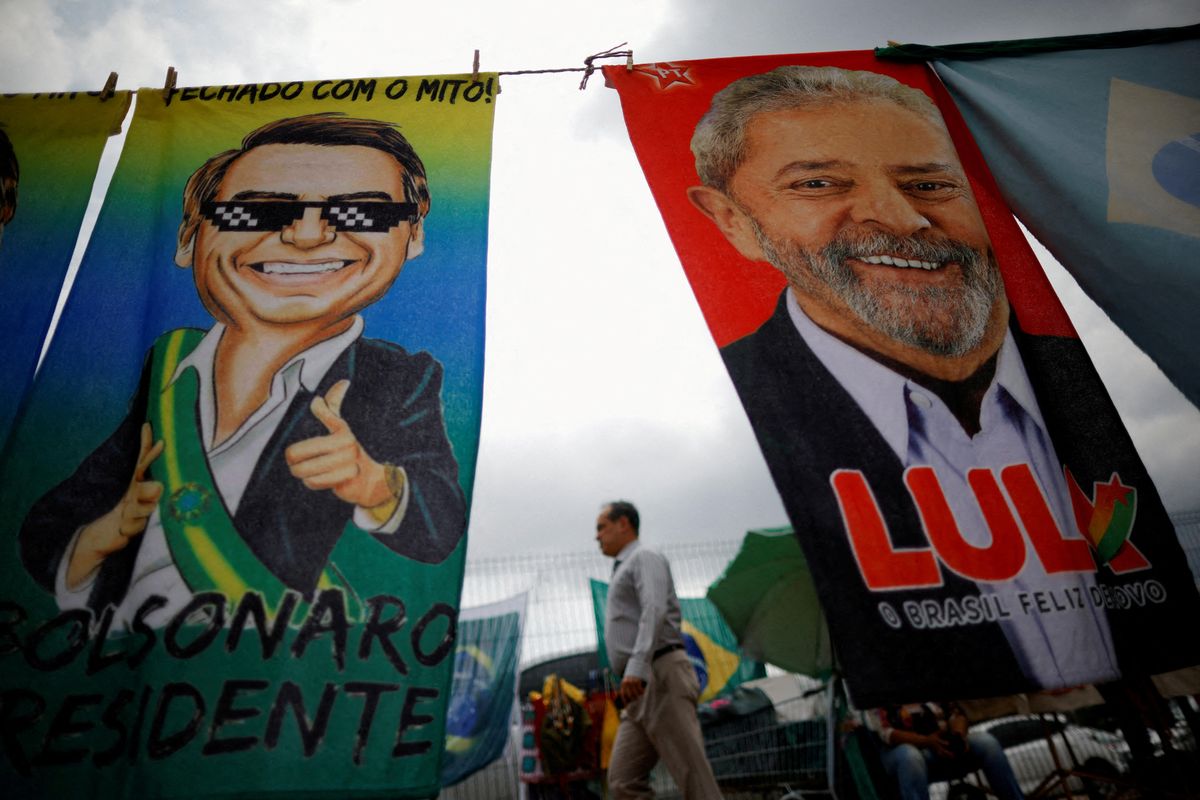 REUTERS/Adriano Machado
It's a presidential election between two bitter rivals, each with tens of millions of supporters who see the other as a threat to democracy itself. Sound familiar? It's not the 2024 US election just yet. No, it's this Sunday's presidential smackdown – er, runoff – in Brazil.
---
The contenders: Brazil's far-right incumbent President Jair Bolsonaro faces his political nemesis, left-wing former President Luiz Inácio Lula da Silva, known as "Lula."
What the polls say. Lula has an average lead of about 3.5 points, with some polls showing as much as 6 points. But pollsters' failure to predict Bolsonaro's strong showing in the first round suggests this race could still be more of a toss-up than it seems. Undecideds make up about 4% of the electorate.
This is Brazil's most polarized election since its return to democracy in the 1980s, says Guga Chacra, a prominent political commentator for Brazil's GloboNews.
"These are two candidates that people really love and really hate," he says. "Supporters of Bolsonaro or Lula see them as gods, and they see the other guy as the worst thing that could ever happen."
So, what's this election really about?

For some, it's about the survival of Brazil's democracy. Bolsonaro, who has railed against the press and the courts throughout his term, has spent months casting doubt on the credibility of Brazil's electronic voting systems. That's pushed many of Lula's former rivals into supporting him for the sake of the country's institutions. Here's center-left ex-President Fernando Enrique Cardoso endorsing Lula, a man he beat twice in elections himself.
But Bolsonaro supporters have their own gripes about the fairness of the electoral institutions, says Chris Garman, Brazil director at Eurasia Group. They point to the appointment of an anti-Bolsonaro supreme court justice as an unaccountable fake news ombudsman, as well as a raid on the homes of several pro-Bolsonaro businessmen who simply expressed support for a coup in a WhatsApp chat. Electoral authorities have pressured local TV stations over drawing attention to Lula's (now vacated) corruption convictions.
"It's a death trap," says Garman. "Each side views the other as a threat to the democratic order."
For others: é a economia, estúpido.For most voters, though, the economy is the top issue. Bolsonaro's pitch is that he's cleaned up corruption, reduced crime, and got the country on a path to economic recovery after years of recession and the devastation of the pandemic. Unemployment is now at its lowest level in 6 years, inflation is high but falling, and the economy is growing again, if slowly. He also commands strong support among social ultra-conservatives and Brazil's rapidly growing Evangelical population.

But with incomes still way below pre-pandemic levels, Lula's pledges of more social spending, along with his track record of lifting tens of millions of Brazilians out of poverty when he was president in the 2000s, are likely what is giving him the edge in polls.
"The joke is that Lula is actually the Trump candidate," Garman says, "because his pitch is "Let's make Brazil Great Again."
What comes after? If the polls are right, and Lula wins, a Brazilian 6 de Janeiro is a real possibility, though Garman says concerns about a coup by Bolsonaro's supporters in the military are overblown. "The military doesn't want that kind of disorder," he says.
Still, he points out, Lula would have a hard time governing, with half the country convinced that his election was illegitimate, and with Bolsonaro-allied forces now strongly positioned in Congress after a surge in the first round of the election.
The stakes for the world? Just breathe. A Lula presidency, if it happens, would add to the recent "pink tide" in Latin America, and would also ease relations between Brazil and its partners in the US and Europe, which were strained under the populist nationalist Bolsonaro.

But the most important Brazilian election impact for the rest of the world would be in the air, literally. Brazil is home to most of the Amazon rainforest, known as "the lungs of the world." Although deforestation was ongoing during Lula's years in power, he has pledged greater measures to protect it than Bolsonaro, whose support for the regions's small farmers led to some of the largest deforestation numbers in years.