Can the US keep Europe together?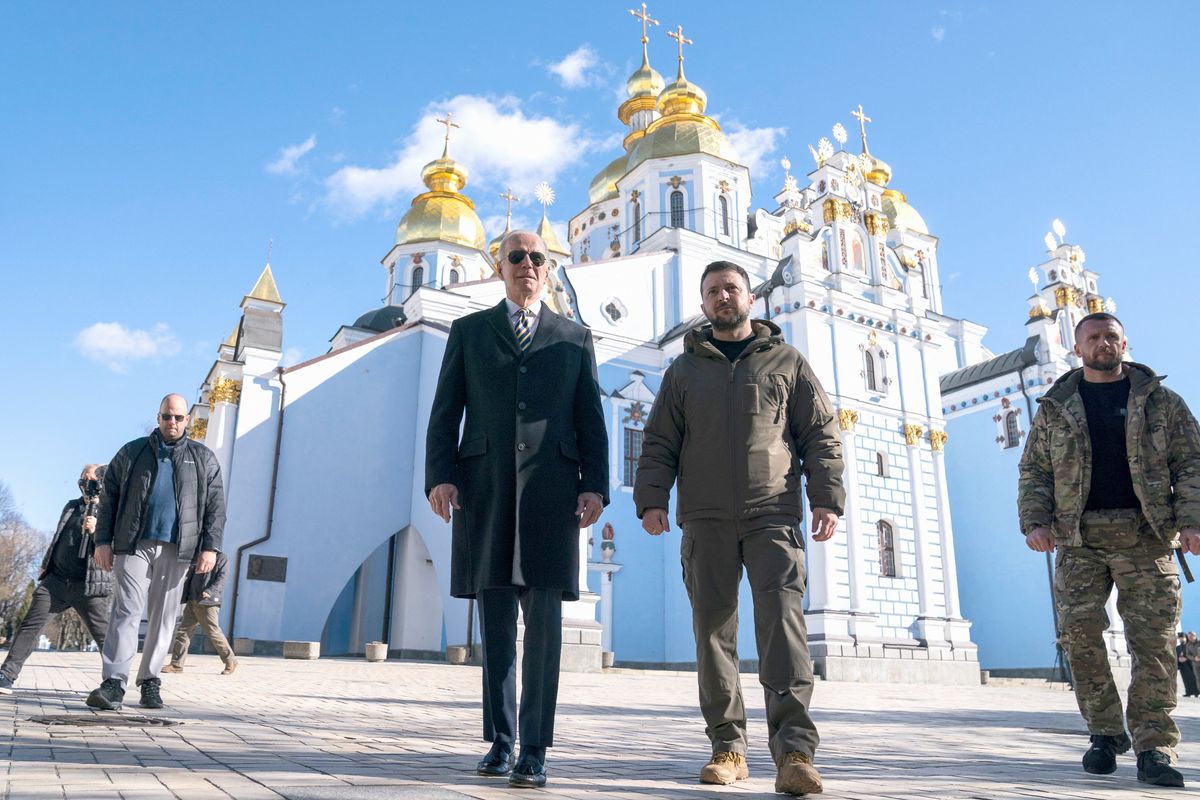 Reuters
Just days out from the one-year anniversary of Russia's invasion of Ukraine, US President Joe Biden is making a splash in Europe. After a surprise stop in Kyiv on Monday, Biden is now in Poland, where he is expected to give a formal address at the Royal Castle gardens in Warsaw on the global state of democracy. He's also set to meet a group of nine eastern European leaders.

Biden's trip comes amid growing fears in the region of both an imminent military escalation in Ukraine and concern for how long European cohesion on supporting Kyiv will last. This view was reinforced when Poland's Prime Minister Mateusz Morawiecki recently said: "We must admit that it will be a big challenge to keep the EU member countries enthusiastic."
Over the past year, there's been much attention on how a united Europe has served as a crucial punitive force against Russia. But as the war lingers, anxiety is growing about whether deviating interests within Europe could, over time, splinter its war response.
---
First, what are the differing views within the European camp? Post-Soviet states, like the three Baltic nations, as well as fearful neighbors – like the Scandinavian and Balkan countries – have adopted a hawkish Russia stance. They know what it's like to live under the fist of an oppressive Soviet state or to be bullied by an expansionist Russia. Crucially, Poland, which has emerged as an anchor for Eastern European unity, recalls all too well how the country was carved up in 1939 between Nazi Germany and the Soviet Union. Fearful of Russia's imperialist aspirations, Warsaw has been channeling its fears by upping its defense budget.
But the view is very different from much of Central and Western Europe — particularly Germany, which, in the post-Cold War years intertwined its economy with Russia's. The same is true for other EU countries, including Italy and Austria. This economic interdependence has at times slowed some states from adopting the same full-throttled anti-Russia stance as those who feel more directly threatened by Moscow.
"There are many cleavages between Eastern European countries, the Baltic states, and Western European countries," says Engjellushe Morina, a senior policy fellow at the European Council on Foreign Relations. "Eastern Europeans and Baltics have different expectations of European unity because they live right next door to Russia."
As the war in Ukraine metastasizes, there's increasing fear among Eastern European states that the rest of Europe, reeling from inflation and other domestic crises (the French right now … ils sont malheureux!), will lose patience with the West's maximum pressure campaign.
But this would appear to counter a dominant view that Eastern Europe's clout has grown since the war broke out: "Our voice is now louder and more heard," Romania's foreign minister said recently. What's more, some analysts have credited the bloc's powerful advocacy with having pushed the Biden administration – followed by European heavyweights – to give Ukraine heavier military equipment.
A divided East. But while Eastern European leaders may have played a more prominent role in leading the charge in recent months – compared, for instance, to 2014, when Russia annexed Crimea – varying priorities impede the bloc from presenting a united front.
Consider that Poland, for its part, abhors the Kremlin and has taken in more Ukrainian refugees than any other country, while Hungary's PM Viktor Orban, long cozy with Moscow, said this week that he would not break ties with Russia. Serbia is closely aligned with the Kremlin and has not joined NATO, choosing to maintain a neutral defense posture, while Albania, Montenegro, and North Macedonia are NATO members. Meanwhile, NATO Secretary General Jens Stoltenberg has warned that Bosnia and Herzegovina and Moldova are vulnerable to Russian interference.
Another limiting factor is that the Eastern Europeans don't have the goods. Estonian PM Kaja Kallas acknowledged this recently when she said, "it's very easy for me to say … 'Of course, give fighter jets [to Ukraine] but — I don't have them." Likewise, while Poland has called for NATO members to send Kyiv fighter jets, it said that its stockpiles are limited and it needs Washington to lead the way. And even when they do have the goods, Europe's eastern flank often can't send them to third parties without getting the go-ahead from the heavyweights that produced them. This dynamic was highlighted in recent months when Ukraine pushed for the US, the UK, and Germany to send advanced battle tanks, paving the way for other European allies to do the same.
America's job. As the war passes the one-year mark, the endurance of a united Europe on Ukraine will continue to depend on how well the US can keep the group in check. Why? Because no Europeans seem up to the task.
"There are no European leaders to maintain this unity," Morina says, adding, "we don't see any powerful European countries like France or Germany taking the lead."