WATCH LIVE: Global Stage @ the UN: Hearing the Christchurch Call
WATCH
GZERO Daily: the newsletter for people who love global politics
Sign up for our free newsletter to keep up with what's going on around the world - and why it matters.
Subscribe
GZERO Daily: the newsletter for people who love global politics
Subscribe Now

We have updated our Privacy Policy and Terms of Use for Eurasia Group and its affiliates, including GZERO Media, to clarify the types of data we collect, how we collect it, how we use data and with whom we share data. By using our website you consent to our Terms and Conditions and Privacy Policy, including the transfer of your personal data to the United States from your country of residence, and our use of cookies described in our Cookie Policy.
Canadian companies green with envy over US cleantech push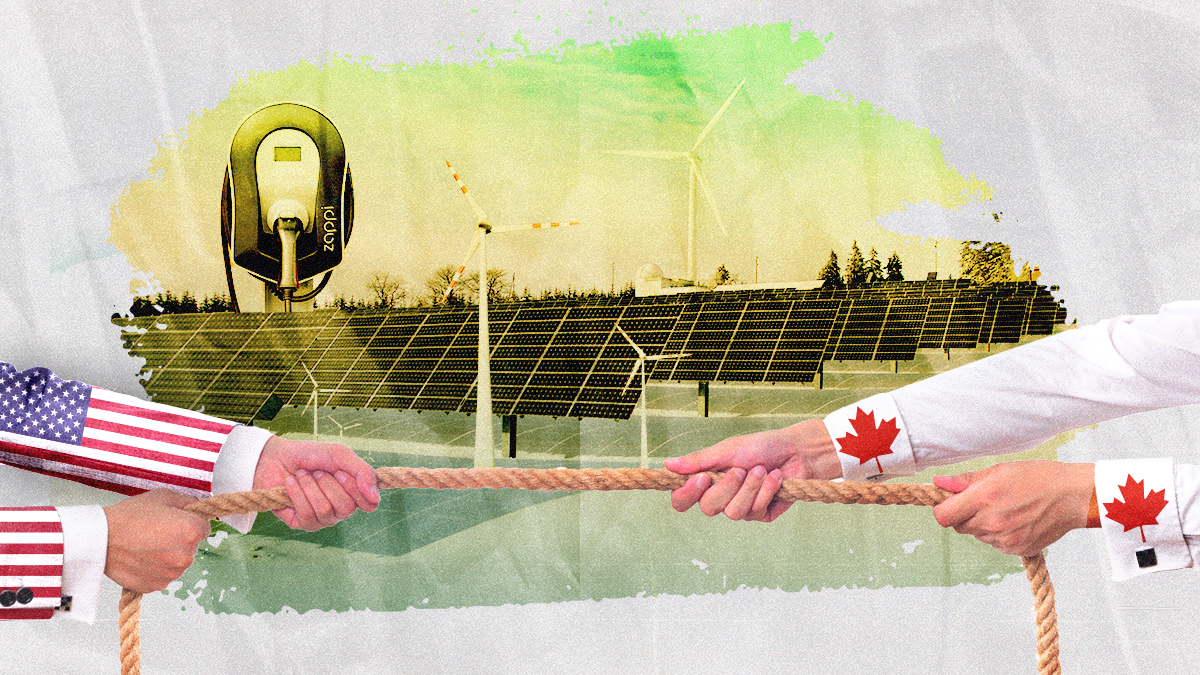 Luisa Vieira
Canada has been wringing its hands over brain drain for decades. The appeal of a bigger market and higher wages in the United States has long wooed educated Canadians to move south. It's also drawn the attention of policymakers concerned by those ditching their homeland and taking their businesses with them.
---
Today, it's not just human capital flight but also industry flight that's keeping Canadian leaders up at night. While neither country is keen to come out and say it – you know, as best friends and neighbors – Canada and the US are locked in a zero-sum subsidies battle over cleantech and other green industry growth. And the US is winning.
The Biden administration is pumping hundreds of billions in corporate subsidies into the economy just as the US market is warming to the green industry. With Canada facing a severe housing and healthcare crisis, both human capital and the companies employing those humans will increasingly look south.
Earlier this week, the CBC highlighted the story of Kanin Energy, a cleantech company based in Calgary that recently opened a Texas office to "double down and grow" in the US. The company's CEO, Janice Tran, said that without more support from Ottawa, she'd be shifting operations and projects to the US. Some biofuel producers are threatening to do the same, with one, Parkland, having already made the move.
What's in Canada's arsenal?
Canada has a suite of green tax credits that include tax breaks for electricity investment, cleantech manufacturing, hydrogen investment, carbon capture and storage investment, and cleantech investment. Introduced in the March 2023 budget, the tax breaks are worth about CA$80 billion over the course of a decade. But this trails far behind the US, where the IRA is worth roughly US$370 billion (CA$480 billion). And if the shortfall wasn't bad enough, now the Canadian Manufacturers and Exporters group says the Liberal government is moving too slow on getting the promised cash flowing. This increases the likelihood that businesses will chase IRA bucks south of the border.
An April report by TD Bank says Canada's financial support for clean energy is "yielding positive results" and has "established a competitive position relative to the US." It estimates that the government has spent "5% of nominal GDP" – or CA$139 billion – since 2021 on clean and green tech. This is a higher percentage of GDP than the US Inflation Reduction Act, which is 1.5% of the US economy. But the bank also notes – surprise, surprise – that the Canadian government must keep spending the big bucks to stay competitive with US subsidies.
Lest anyone think the capital cash funnel only runs from Canada to the US, Europe is facing a similar challenge. With an eye on a more generous and coherent subsidy regime, European green companies are moving to the US to chase IRA funding. Some are coming to Canada, too. Volkswagen took nearly CA$14 billion in subsidies to open an EV battery plant in St. Thomas, Ontario. In March 2022, multinational conglomerate automaker Stellantis struck a deal with the feds to build a plant in Windsor, Ontario – but it stopped construction in the wake of the VW package and is fighting for even more money that it's likely to get. Canadian Finance Minister Chrystia Freeland says a new deal "is coming." Stellantis was able to leverage both the IRA and the VW deal to extract more money from the federal government and the province of Ontario.
What's not in Canada's arsenal?
There's more to all of this than the IRA and recent subsidy plays. Canada's innovation and industry growth strategies are plagued – across sectors – by a handful of persistent shortcomings, experts say. Government departments are risk averse, the private sector is light on investment capital, bureaucracy is impossible to navigate, and the country is bad at procurement, especially when it comes to buying from and supporting its own domestic companies.
For decades, Canada has deployed a branch plant strategy that relies on luring foreign multinational corporations, particularly from the US, to set up shop in Canada. When Canada does try to invest in value-added industry, it's late to the market – as it was with EV batteries, leaving the government without leverage and held hostage by established companies who extracted billions in subsidies, such as VW and Stellantis.
When companies do finally arrive, it's foreign operators who gobble up all the tax credit and grant money while Canadian startups wither on the vine. The government doesn't bet on its own companies, leaving workers and businesses to choose to either fight with big foreign entities, to fold, or to flee.
That third option, leaving, seems to be increasingly appealing – so Canada faces massive pressure to preserve and grow its nascent cleantech industry. For its part, the US is keen to lean into growing its domestic producers, and to lure others away from Canada and Europe.
Mike Andrade, CEO of Toronto-based Morgan Solar, says Canada has a "risk-averse energy sector" that is addicted to, indeed captured by, the oil and gas industry and preferentially supported by provincial regulatory regimes that hamper cleantech development and implementation.
"Both countries north and south of the border are saying 'We're going to spend money on cleantech' but north of the border, ours looks like more status quo continuation, and south of the border I see more disruptive things happening," he says.
While the US is combining a more open attitude to cleantech development with a friendly market environment, Canada lags behind the US and other OECD countries in its approach to green energy projects.
"What Canada can't keep up with is a regulatory structure that encourages innovation in energy combined with manufacturing subsidies to locate manufacturing plants in the states, all reinforced with preferential treatment for things made in the states for customers to buy," Andrade says.
Canada needs to support its industries early and as they scale up, experts say. It could choose to go all-in on cleantech — solar, wind, batteries, or all of the above – but it would have to loosen its grip on oil and gas and the provincial regulatory regimes that keep the country reliant on it.
"Canada is exceptionally good at creating intellectual property and terrible at commercializing it," Andrade notes. "And I think that's where the focus of the money needs to be. How do we help these companies at the crossroads scale up and stay in Canada now that they've created the intellectual property?"