WATCH : Global Stage @ the UN: Reimagining Tomorrow: Breakthroughs in Data and AI
WATCH
GZERO Daily: the newsletter for people who love global politics
Sign up for our free newsletter to keep up with what's going on around the world - and why it matters.
Subscribe
GZERO Daily: the newsletter for people who love global politics
Subscribe Now

We have updated our Privacy Policy and Terms of Use for Eurasia Group and its affiliates, including GZERO Media, to clarify the types of data we collect, how we collect it, how we use data and with whom we share data. By using our website you consent to our Terms and Conditions and Privacy Policy, including the transfer of your personal data to the United States from your country of residence, and our use of cookies described in our Cookie Policy.
A lot of ink has been spilled trying to understand why Russia invaded Ukraine, but who'd have thought that soup had anything to do with it?
---
And yet earlier this month, Maria Zakharova, spokeswoman of the Russian foreign ministry, had this to say about why the Kremlin is so furious with Ukraine: "They couldn't share their borscht!"
"It had to belong to just one people, just one nationality," she continued, slurring and swaying in a way that suggested she'd had something a little stronger than borscht for lunch herself.

"This is exactly what we are talking about, xenophobia, Nazism, extremism in all forms!"
It wasn't lost on one prominent Russia watcher that, in an unwitting nod to Seinfeld, Zakharova had just called the Ukrainians actual "soup Nazis."
Alex Kliment explores borscht for an episode of GZERO World with Ian Bremmer. Watch the video above.
This isn't Russia and Ukraine's first beef over borscht. In 2019, the Russian government tweaked the Ukrainians by claiming borscht was "one of Russia's most famous and beloved dishes." One typical response read: "You stole the Crimea and you try to steal borscht!"

But it's not just Moscow's menus that Kyiv is worried about when it comes to borscht. For several years now, Kyiv has been on a broader mission to make sure the world knows that the soup is Ukrainian.

In 2020, Ukraine's government lobbied the famed Michelin restaurant guide to remove a reference to borscht from its first-ever writeup of Moscow's restaurant scene. Kyiv also launched a formal campaign for UNESCO to recognize the soup as a uniquely Ukrainian contribution to human civilization, alongside Neapolitan pizzaiuolo, Belgian beer, and Korean kimchi.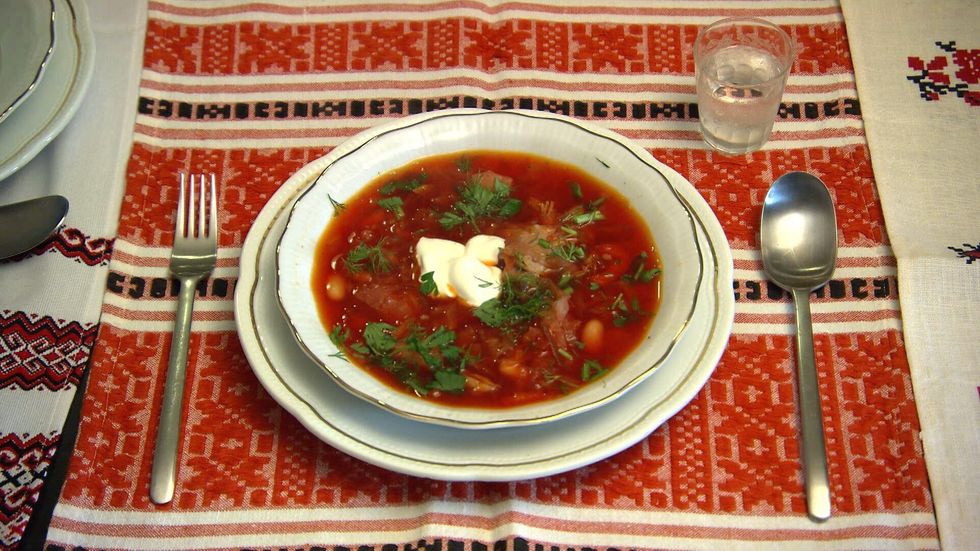 A bowl of borscht. Credit: GZERO Media
So what's the borscht backstory? Most of the available evidence suggests that the beetroot-based soup was invented in what is today Ukraine, according to Marianna Dushar, a Ukrainian food historian currently based in Poland. It has its origins in the peasant villages that dot the Dnieper river basin, an area world famous for its rich, "black earth" soil.
But during the Tsarist and Soviet periods, the hearty soup recipe spread far and wide, becoming a staple at dinner tables across Eastern Europe and in the former Soviet Union. Jews from the Pale of Settlement played a major role in borscht's spread throughout the region and, ultimately, to the United States as well, says Dushar.

By the 1930s, when Stalin commissioned a Soviet cookbook, it listed more than a dozen kinds of borscht, the classic recipes being from Ukraine.
All nations are attached to their cuisines, of course, but food plays an outsized role in Ukraine's identity, says Johanna Mendelson-Forman, a scholar at American University in Washington, DC, who has developed a curriculum focusing on what she calls "Conflict Cuisine."

Ukraine, she points out, is itself one of the largest food producers in the world — as a major wheat exporter, it's long been seen as "the breadbasket of Europe." But the experience of Soviet-forced famines in the 1930s, which killed millions of Ukrainians, is still a grim touchstone of national identity too.
Now Russia's invasion has thrust that past into the present again. As Ukrainians struggle against an aggressor who openly denies their right to exist as an independent nation, borscht has boiled up into something bigger — a symbol of survival and perseverance.
"They launched the war to erase our history," says Ievgen Klopotenko, a celebrated Ukrainian chef who currently runs soup kitchens for refugees in western Ukraine. The charismatic 34-year-old — who looks uncannily like a young Sean Penn — posts regularly about Ukrainian food to his 700,000 followers on Instagram. And for him, borscht is everything.
"It's part of our identity. It's in the cells of our bodies," he says urgently. "If they take our food, they'll take half of us, and then they'll take half of our language, and then our religion." After that, he warns, "they can take our lives and then there will be no such nation as Ukraine any more."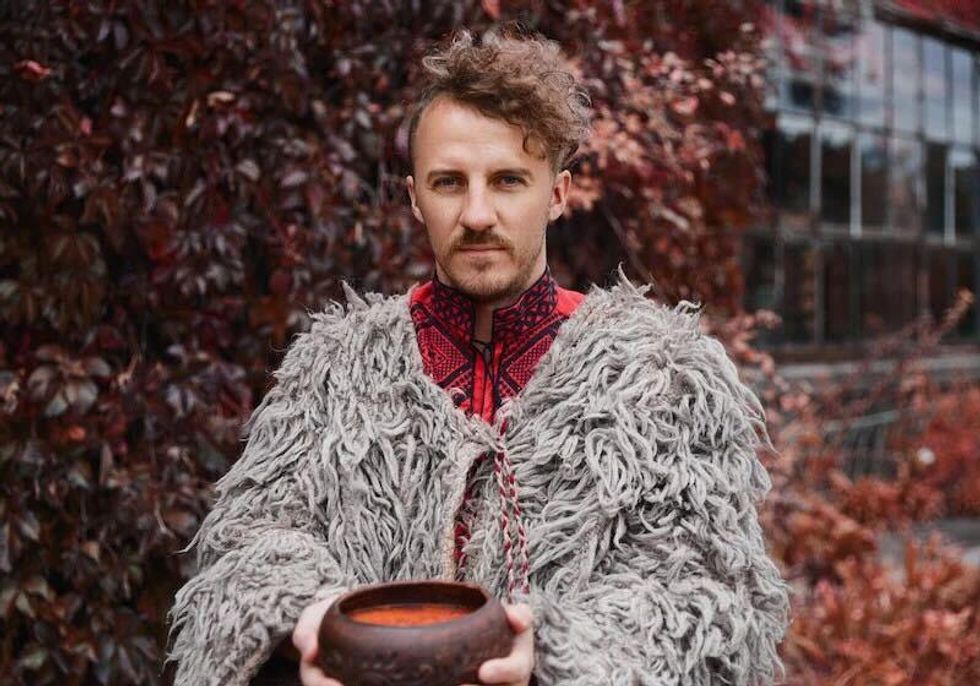 Ievgen Klopotenko. Credit: Vlad Nagorniy
But borscht isn't all high politics. It's also home cooking. To get a sense of what that means for Ukrainians far from their homeland, I dropped by the apartment of Mikhail and Sophia Turovsky, who live in Brooklyn, NY.

The Turovskys came to New York from Kyiv in the late 1970s as part of a mass exodus of Soviet Jews that began when the Kremlin relaxed its emigration rules.
It's hard to overstate how important borscht is to the Turovsky household.
"Borscht is life!" exclaims Mikhail, 88, a celebrated painter and writer.

A trim, energetic, man with an Amish-style beard and a Shakespearean shock of hair, Mikhail's eyes sparkle constantly with the makings of a good joke or aphorism. "It is a philosophy!" he says, while Sophia, who worked for decades as an engineer to support the family here in America, stirs a bubbling pot of the soup. "It's the collective wisdom of a nation!"
Even after nearly half a century in the United States, both Mikhail and Sophia still feel close to Ukraine. "It's the land that gave us life, after all," Sophia says. It's where they studied, where they met, and where they lived until they emigrated in their 40s with their two children, Mikhail's aunt, and Sophia's mother. Mikhail is even officially recognized as a People's Artist of Ukraine, the highest honor an artist can receive there.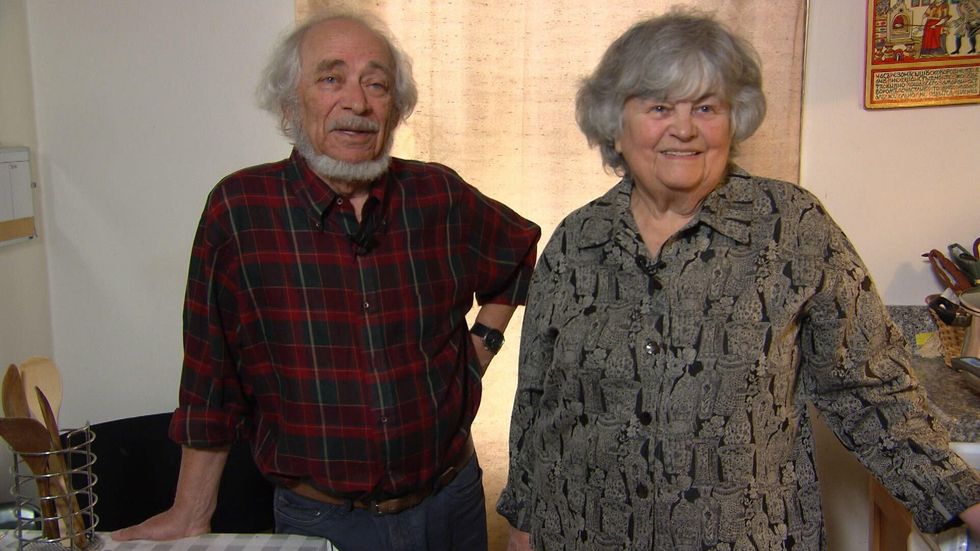 Mikhail and Sophia Turovsky. Credit: GZERO Media
But as for whether a spoonful of borscht triggers a kind of deeper Proustian connection to their homeland — not so much.
"It's just food, you know? You like to eat it," says Sophia. For her it's really a tie to something more personal than political.
"All my life I was a working woman," she says, "and cooking wasn't a big part of my life. But I learned it from my mom, and since my mom passed away, each time I do something, I think about her."
With her bubbling pot of borscht ready, Sophia carefully ladles it into bowls and sets them on a table laden with rushniki, the traditional red-and-white embroidered cloths from Ukraine.
And with a dollop of sour cream, a sprinkle of parsley, and — at Mikhail's insistence — a shot of vodka (two shots), it's time to eat.
Hungry to make your own bowl of borscht? Get details on Ukrainian chef Ievgen Klopotenko's own recipe here.