Is this the beginning of the end for Israel's Netanyahu?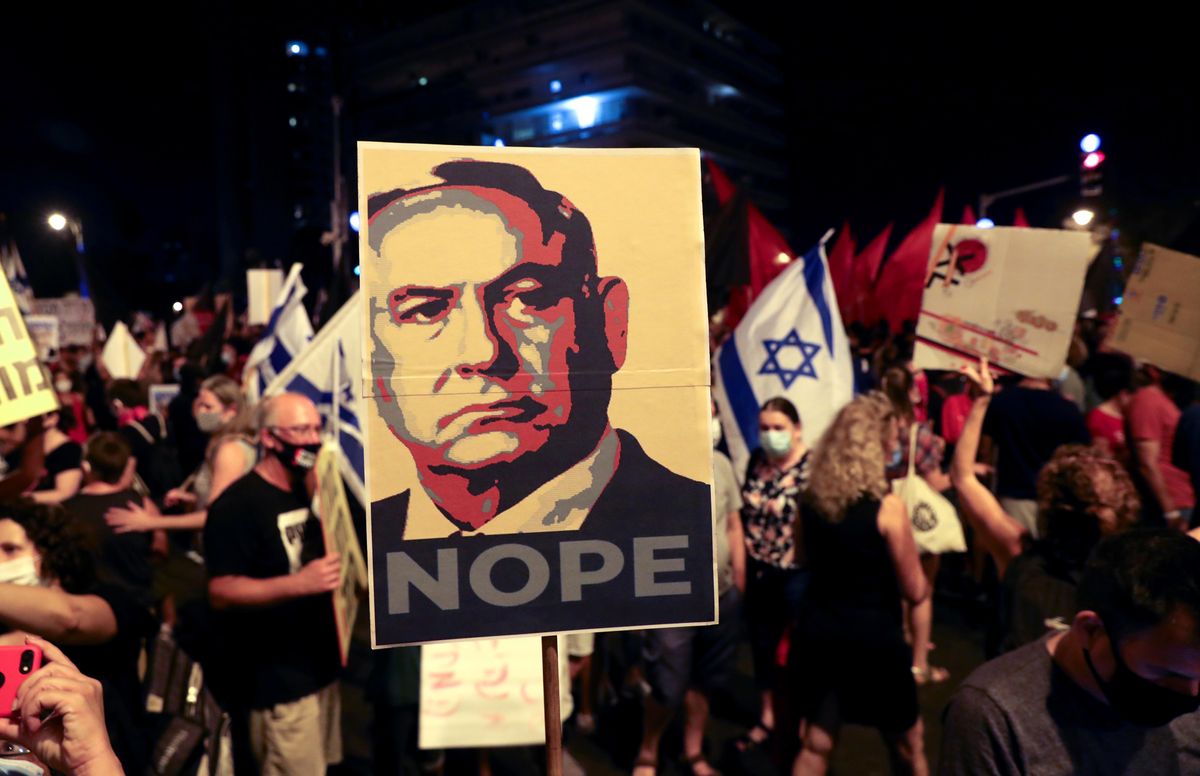 "There won't be tricks and there won't be shticks," Israel's forever-Prime Minister Benjamin "Bibi" Netanyahu said back in March as he tried to convince the up-and-coming centrist opposition party, Blue and White, to join his coalition government.

But since then, the wily prime minister has, in fact, unveiled such a bewildering array of tricks and shticks of his own that he caused the government to collapse, pitching the country into its fourth election in just two years.
Why did the government collapse? The immediate cause was the government's failure to pass a national budget, which by law triggers a new election.
---
But the budget negotiations didn't collapse on their own — there's a murkier story at play: Netanyahu, Israel's longest serving premier, has been trying to avoid handing over the top job to Blue and White leader, Benny Gantz, which was a condition of the coalition agreement they signed earlier this year. However, critics say that Bibi used a loophole in the deal to sever ties with Gantz — and stop him from rotating into the prime ministership — by stonewalling on the 2020 budget.
For Netanyahu, the stakes couldn't be higher. Come February, testimony will begin in the prime minister's corruption trial, which could ultimately send him to jail. If he loses the top job — as prescribed by his power-sharing agreement with Gantz — he would be vulnerable to prosecution. But leading Israel's government next year would allow Netanyahu to limit his own legal exposure by ensuring the passage of an immunity bill that would shield him from prosecution in three criminal cases. (Netanyahu had previously withdrawn an immunity request amid an ongoing political battle.)
Bibi-fatigue. But Netanyahu's recent politicking hasn't played out as he might have hoped. The defection of his former ally, Gideon Saar, who recently formed a right-wing alternative to Bibi's Likud party, has dealt a significant blow to the PM, as several Likud loyalists have jumped ship to join Saar's mission to unseat their former boss.
Meanwhile, there's much speculation that the former Likud members could form a right-wing coalition with Naftali Bennett, a former Netanyahu protege who heads his own far-right party and has also put his hat in the ring for the top job. Both Bennett and Saar are hoping to exploit public disillusionment over the pandemic response and economic crisis to unseat a man they believe has put his own considerations ahead of the national interest. "The [Likud] party turned into a cult for one person," Saar recently said.
Indeed, if that were to happen, it would be impossible for the bullish Netanyahu to revert to his old playbook by portraying his rivals as Palestinian-loving "traitors" given their right-wing bonafides.
The centre-left Gantz, meanwhile, is in dire straits. He hemorrhaged support from his broad base after promising not to form a government with Bibi and then doing it anyway.
COVID politics. In recent days, Israelis entered another national lockdown as COVID cases there surged — the country's third since the pandemic began. For many Israelis, both right and left wing voters, it's another stark reminder of the government's inept handling of the pandemic that's plunged the country into its worst economic recession in decades.
But ever the political schemer, Netanyahu managed to get access to the coveted Pfizer-BioNTech vaccine, and Israel has since launched the most ambitious inoculation drive in the world, having administered the first Pfizer dose to 4.4 percent of the population, the most of any country.
But it's unclear whether vaccine politics will get Bibi across the finish line this time. Tel-Aviv based journalist Neri Zilber told GZERO that recent poll numbers suggest that even some diehard Likudniks could finally break away from Bibi. "There is also the economic impact of COVID lockdowns that has hit a wide swath of the public, with the Netanyahu-government (but not Saar or Bennett in opposition) viewed as the main culprits," Zilber said.
How will it play out ahead of the election in March? For now, Bibi's poll numbers remain steady considering the tumult of the past year, though it seems unlikely at this stage that he has a path to forming a coalition government down the track.
"Given the fine margins involved in forming a coalition government," Zilber warns, "it wouldn't take very much to shift the overall race — especially since now, unlike in the past, a rightwing voter has 3-4 credible options from which to choose."
While Israel's prominent political players have a common goal — to get Bibi out — they are competing for the same right-wing anti Netanyahu vote that could end up undermining their mission. Either way, the stakes couldn't be higher for Netanyahu. After 11 years in power, does he have enough tricks and shticks left to avoid downfall?