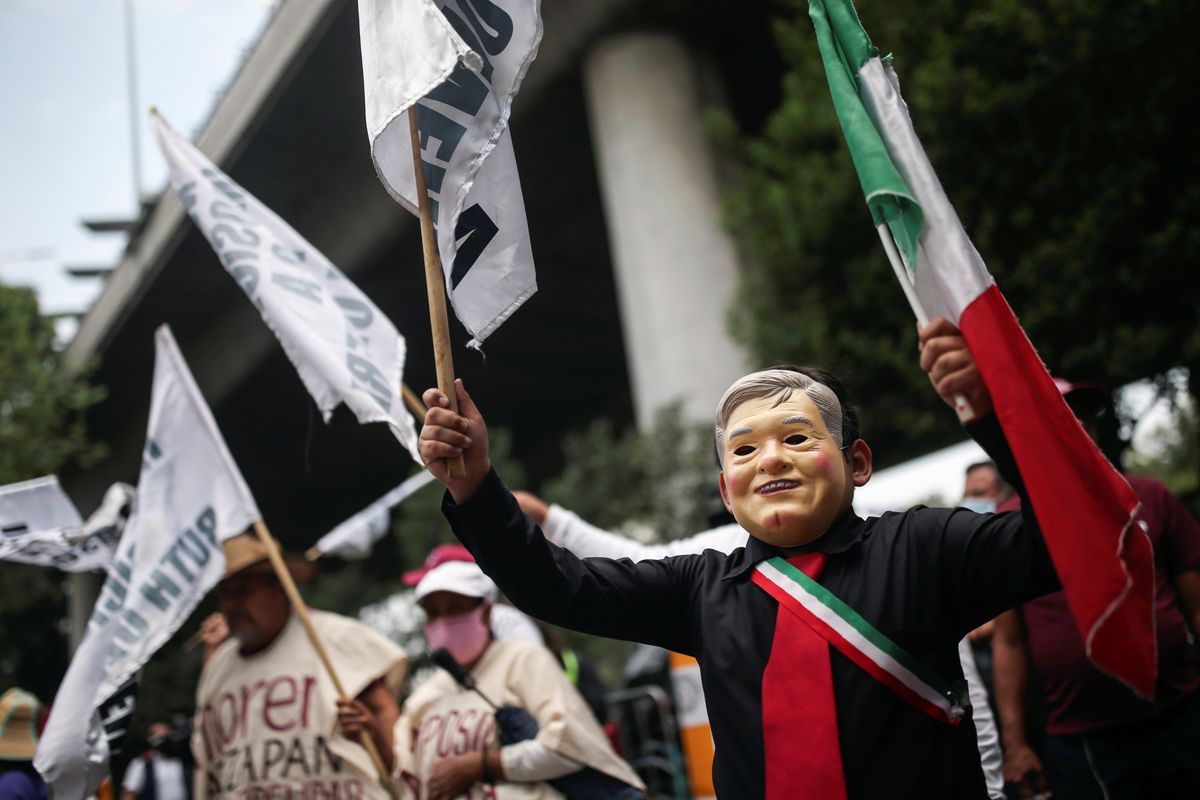 REUTERS/Edgard Garrido
On Sunday Mexican voters will go to the polls to elect 500 members of the lower house, roughly half of the country's governorships, more than two dozen state assemblies, and some 20,000 other local government posts. Some are calling it the largest election in the country's history.
The ruling Morena party of President Andrés Manuel López Obrador, popularly known as AMLO, is looking to hang on to its current two-thirds majority in the lower house, and to pick up several governorships to boot.
Although his name won't be printed on a single ballot, the vote is largely seen as a referendum on AMLO himself, the leftwing nationalist who swept to power in 2018 with huge promises to tackle violence, root out graft, help the poor and, above all, break the power monopoly of the traditional political class.
---
So, how has AMLO done so far? His record is mixed, at best. In the first half of his six-year term, he's boosted pensions and unveiled a massive job training program for Mexico's young people. He kept Mexico's finances stable and deftly managed relations with Donald Trump, certainly no mean feat.

But the country's murder rate, at nearly 30 per 100,000 people, is still among the world's highest. Dozens of candidates in Sunday's elections have been gunned down, presumably by powerful drug cartels. By any measure, AMLO's "hugs not bullets" policy has failed.
Progress against corruption, meanwhile, has been scant. His administration has prosecuted several high profile cases, but also cut funding for the judiciary and sidelined graft watchdogs. A third of Mexicans still pay bribes for basic services, and most state contracts are awarded without competitive bids.
Additionally, AMLO mishandled the pandemic, dismissing the seriousness of COVID, refusing to free up pandemic stimulus money, and failing to secure enough vaccines early on. Mexico now has the fourth highest reported death toll in the world. Meanwhile, the pandemic has pushed nearly 10 million Mexicans into poverty.
But more than all of this, critics worry about the way the president has centralized power, clashed with electoral authorities, and threatened to change the constitution to pursue his aims — including renationalizing parts of the country's oil industry.
And yet, despite all this, AMLO is still super popular. Why? An approval rating in the 60s is impressive for a democratically-elected leader these days.

For most Mexicans — including his base among rural, elderly, and working class folks — AMLO's appeal has more to do with his persona than with his policies. He's a plainspoken and conspicuously ascetic leader who styles himself as a messiah of the masses. In a country long-accustomed to elite politicians who live lavishly and steal compulsively, that plays really well, even if violence is still raging and graft abounds.

What's more, where are those who dislike AMLO going to go? The traditional political parties now in opposition have little appeal in a country where two-thirds of people say they don't trust political parties at all.
The big question on Sunday isn't whether Morena will win. They will, handily. The party is currently polling at 40 percent, more than twice the level of any of its nearest rivals. No matter what, Morena and AMLO will continue to dominate Mexican politics.
The question is whether they'll hold that two-thirds majority. If they do, AMLO would be wholly unbound: in a much more commanding position to steamroll any opposition to his plans from now until 2024. That could include messing with the constitution.
At the moment, polls show Morena coming up a meager ten seats shy of that mark. A close result could be disputed. AMLO, and Mexico more broadly, have a lot on the line. Keep an eye on news from Mexico this weekend.