A Hot Week In Africa Diplomacy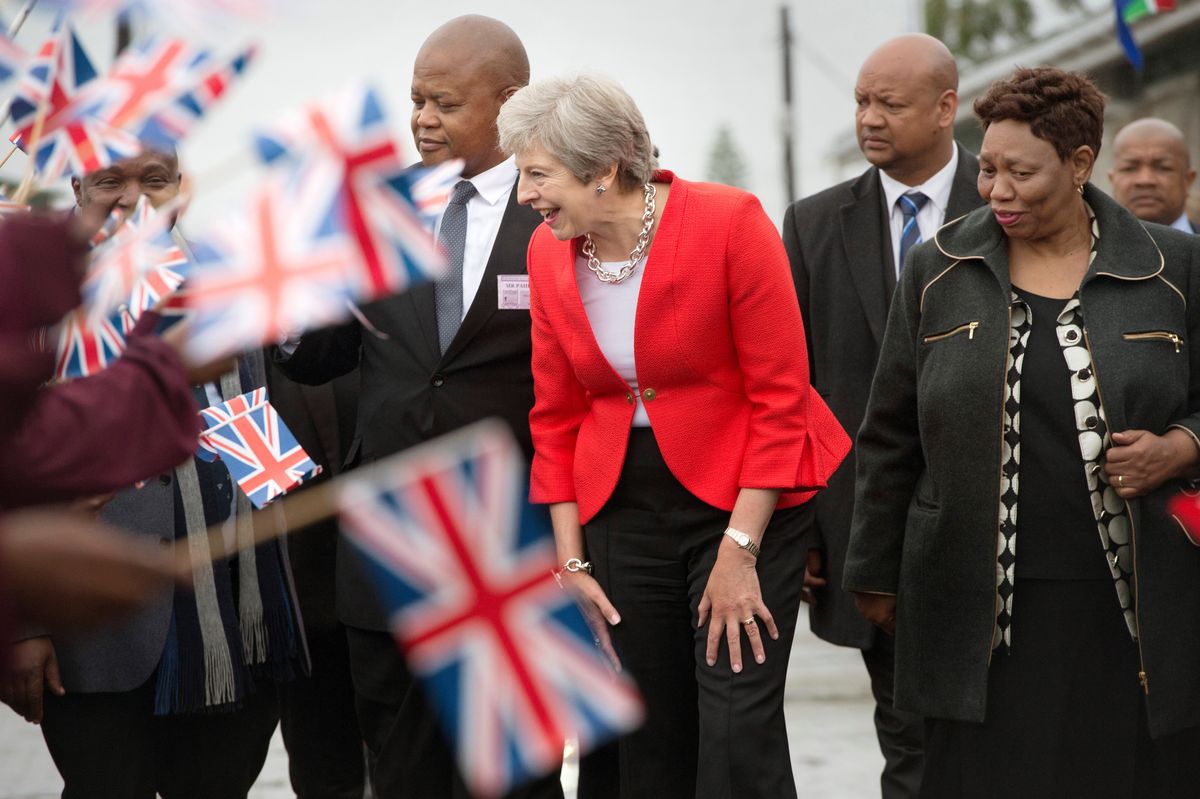 Africa is hot these days – diplomatically speaking. UK Prime Minister Theresa May and German Chancellor Angela Merkel are both hitting the road with multi-country visits to the continent this week, and next week Chinese President Xi Jinping will preside over a yearly China-Africa forum that brings representative from 53 of 54 African nations (all but Swaziland) to Beijing.
---
And why not? Africa is set to be the fastest growing region in the world economically over the coming decades. But the approaches of the UK, Germany, and China in the region also reveal interesting details about their broader global concerns and who, ultimately, is poised to prevail.
The UK, Going Global, Alone: 
On Tuesday
, Theresa May arrived in South Africa for her first ever trip to the continent as prime minister. The purpose of the visit, which will also see her stop in Nigeria and Kenya (where no British prime minister has made an official visit in 
30 years
) is to solidify British commercial ties in Africa as part of a broader post-Brexit "Global Britain" plan. In a word, the UK is looking for new friends, economically. Skeptics back home have 
pointed out
 that collectively the economies of May's three stops are smaller than the Netherlands. Others snickered at her awful, if not somewhat courageous, 
dancing
. All in all, it's hard to see Africa making a big dent in Britain's post-Brexit economic blues.
Germany, Looking for a Quick Fix: Meanwhile, German Chancellor Merkel starts her own three-day visit to the continent today, with will include stops in Senegal, Nigeria, and Ghana. Merkel's main aim is to negotiate the return of some of the 14,000 migrants from these three countries that currently reside in Germany without approval. Merkel, once the EU's standard bearer in promoting development and investment to deal with the drivers of mass migration from Africa, has been forced onto the back foot by political forces in Germany and the EU. She's now looking for quick fix to a long-term challenge.
China, A Grand Strategy: Then there is President Xi. Fresh off a trip to Senegal, Rwanda, South Africa, and Mauritius last month, the Chinese leader is now preparing for the opening of the annual Forum on China-Africa Cooperation in Beijing next week. In recent years, Chinese trade with region has ballooned—hitting $170 billion last year, four times larger than that between the US and Africa. Initially reliant on Africa for commodities exports, China has since expanded its investments into sectors such as construction and telecommunications. Despite some recent pushback, it has built ports, laid down miles of new railways, and established a bigger military foothold.
As Africa's global economic and strategic footprint continue to grow, more countries will be eager to court new opportunities there. Beyond their choice of international partners, African leaders have plenty of domestic priorities to worry about – including elections next year in Nigeria and South Africa. The latest diplomatic flurry suggest that China, with its steady hand and long-term thinking, will continue to overshadow other contenders across the continent.