Infrastructure week, at last.
For 4 years, the Trump administration promised and failed to deliver transformational investments in the nation's physical infrastructure. Even before 45, Congress's chronic inability to pass an infrastructure bill despite high levels of public support had become a running joke in Washington.
That ended late last Friday when Congress passed the first of two major fiscal bills President Joe Biden campaigned on. "We did something that's long overdue, that long has been talked about in Washington, but never actually been done," Biden said on Saturday.
An accomplishment that eluded Democratic and Republican administrations alike, the $1.2 trillion bipartisan infrastructure bill known as BIF will reauthorize planned surface transportation spending for the next five years as well as new spending on roads, bridges, rail, transit, power grids, water pipes, and broadband.
Want to understand the world a little better? Subscribe to GZERO Daily by Ian Bremmer for free and get new posts delivered to your inbox every week.
The fact that the bill attracted 13 Republican votes in the House and 19 in the Senate reflects infrastructure's long-standing bipartisan appeal. The Democratic thumping in Virginia, on top of a near loss in a governor race that shouldn't have been close in New Jersey, was the final push to ensure most Democrats came together, although intra-party divisions over tactics cost the bill votes from six progressive House members.
What's in the bill
Only $550 billion of the $1.2 trillion bill is new spending, to be spread out over five years. This money will go toward delivering fixes to the nation's outdated physical infrastructure while addressing generational challenges like climate change and the digital divide.
The biggest buckets the bill will fund include:
Transportation. $110 billion for roads and bridges; $66 billion for passenger and freight rail; $39 billion for public transit systems; $25 billion for airports; $17 billion for ports; $11 billion for road safety programs; and $1 billion for reconnecting communities (largely of color) that were previously physically segregated by highways and bridges.
Clean drinking water. $55 billion for water and wastewater infrastructure, including $15 billion for replacing lead pipes and $10 billion to clean up drinking water for the estimated 10 million households lacking safe drinking water.
Broadband. $65 billion to provide reliable and affordable access to high-speed internet for every American and close a digital divide that limits opportunities for an estimated 17 million households, most of them from vulnerable or marginalized communities.
Climate. $65 billion for clean energy transmission and grid-related investments; $47 billion for weatherization and climate resiliency, including protections against fires, droughts, floods, etc.; $21 billion for environmental remediation; $7.5 billion for a nationwide charging network for electric vehicles; and $7.5 billion to electrify buses and ferries.
According to the White House, the new spending is mostly paid for through unused Covid relief funds, the delay of a Medicare expense for a year, more stringent anti-fraud enforcement for unemployment insurance, tighter reporting rules for cryptocurrency investment gains, and other sources of revenue.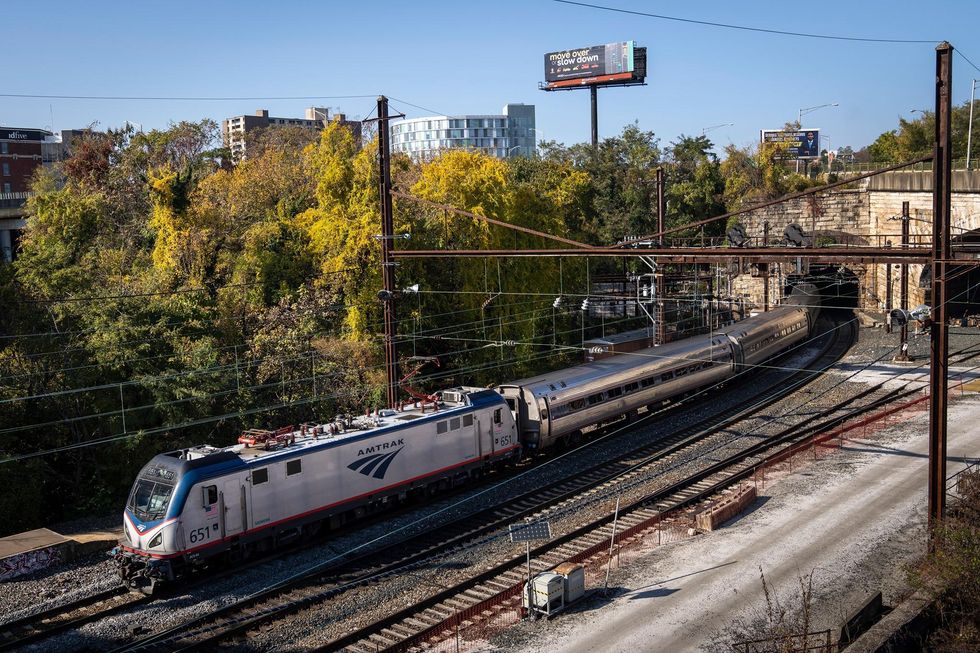 The bill will provide Amtrak with the largest federal investment since its creation. (Drew Angerer/Getty Images)
The Congressional Budget Office estimates that the bill will add $256 billion in projected deficits over ten years. Experts like Moody's Mark Zandi say that once the bill's pro-growth impact is taken into account, the addition to the deficit will be more modest.
What's not in the bill
BIF falls short of funding the full spectrum of America's most urgent needs. According to the American Society of Civil Engineers, the US needs to invest about $2.6 trillion in infrastructure over the next decade to meet basic national needs. Several more trillions in spending on clean energy and climate change adaptation and mitigation will be needed to achieve carbon neutrality by 2050.
In other words, while a breakthrough, the bill doesn't go far enough. Among the things it doesn't include:
Any money for caregiving for the aging and disabled ($400 billion requested), workforce development ($100 billion requested), or modernizing Veteran Affairs hospitals ($18 billion requested).
Enough money to replace lead pipes (estimated at $60 billion) or to seriously prevent and prepare for the worst impacts of climate change (estimated in the trillions).
As much money as requested in the American Jobs Plan for roads and bridges ($49 billion more) or broadband expansion ($35 billion more).
Alas, the bill is the product of hard-fought compromises made along the way between Democrats and Republicans, and among Democrats, in order to reach a final deal.
I'll take an insufficient bill that will be signed into law over more substantial legislation that can't make it through Congress any day. It will make America more inclusive, more competitive, and more resilient than the country is today.
Why it matters
This is the largest federal investment in infrastructure in over a decade, and it is long overdue.
The American Society of Civil Engineers gives US infrastructure a score of C-, while the World Economic Forum ranks it 13th in the world. This is a result of decades of neglect, during which public spending on physical infrastructure persistently failed to keep up with economic growth. Continued underinvestment in infrastructure would cost Americans in terms of foregone productivity, growth, jobs, and living standards.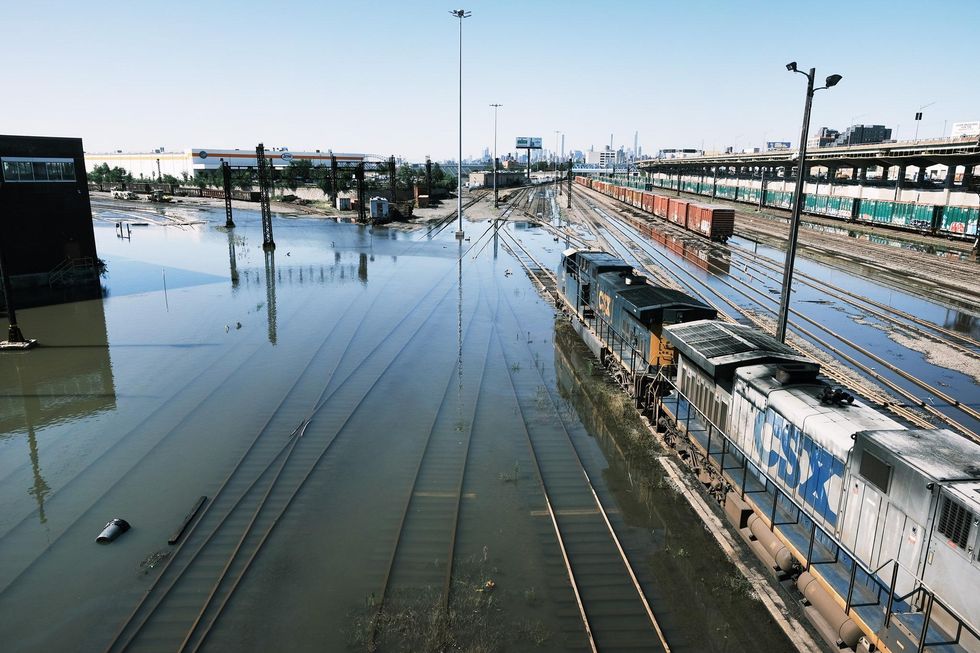 Train tracks flooded as Hurricane Ida moved through the Northeast. (Spencer Platt/Getty Images)
"Somewhere along the way, we stopped investing in ourselves, we stopped investing in our people, and we've risked losing our edge as a nation," Biden said on Saturday. "We're now turning it around in a big way."
Economists estimate the infrastructure bill will generate benefits the include: increasing productivity growth, wages, and competitiveness, crowding in private sector investment, creating good jobs, boosting growth in the short and medium term, raising long-term growth potential, easing inflationary pressures, and reducing income inequality. Because the topline investment is small relative to the size of the economy, the magnitude of these benefits will be modest, albeit positive.
The bill also includes new measures to combat climate change like money for electric vehicles and modernizing the power grid, as well as significant funding for climate adaptation. While not nearly ambitious enough to address climate change on its own, the bill is arguably a step in the right direction, according to fellow Bulletin writer Andrew Revkin.
Perhaps most importantly, the bill will deliver critical public goods and services that the private sector is unable or unwilling to provide, and its benefits will accrue mostly to lower- and middle-income Americans. "For all you at home who feel left behind and forgotten in an economy that's changing so rapidly -- this bill is for you," Biden said on Saturday. "This is a blue-collar blueprint to rebuild America."
🔔 And if you haven't already, don't forget to subscribe to my free newsletter, GZERO Daily by Ian Bremmer, to get new posts delivered to your inbox.