China's Hong Kong turns 25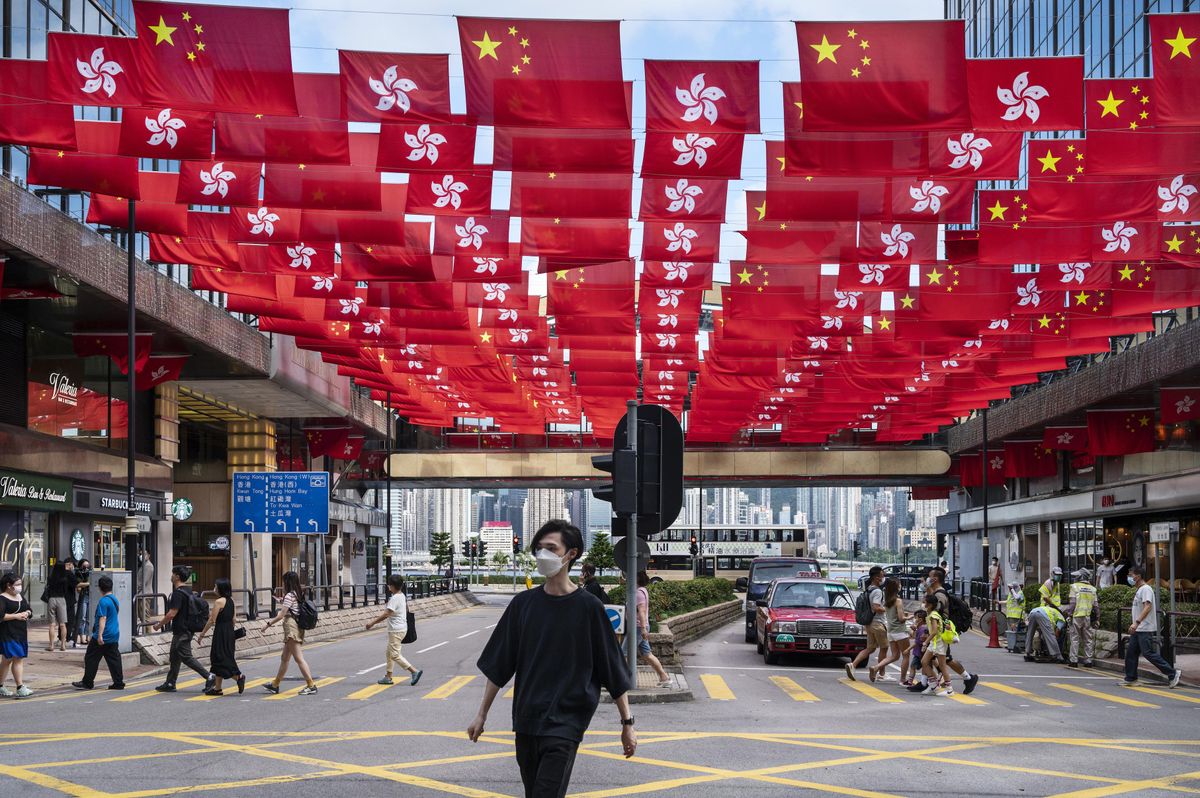 Miguel Candela / SOPA Images/Sip via Reuters Connect
On Friday, President Xi Jinping will leave mainland China for the first time in more than two years to mark the 25th anniversary of the UK's handover of Hong Kong to the People's Republic. It's the halfway mark for the "one country, two systems" deal with the Brits for the territory to enjoy (limited) democracy for 50 years. We asked Eurasia Group analyst Neil Thomas to shed some light on why this date is such a big deal for Xi and the future of Hong Kong.
---
What is the significance of this anniversary?
This July 1 marks 25 years of the UK transferring its sovereignty over Hong Kong to China, following 156 years as a British colony. The territory, which the British Empire forced the Chinese Empire to cede following the Opium War, was a symbol of what the Communist Party calls China's "century of humiliation" at the hands of foreign powers. To Beijing, Hong Kong's "return to the motherland" fulfilled part of its aspirations to recover historical territory and restore China's place in the world, as well as positioning the party as a champion of Chinese nationalism.
What does Xi's presence tell us?
Advancing the CCP's control in the territory is enough of a priority for Xi to make his first trip outside mainland China since January 2020, when he visited Myanmar. The spread of COVID-19 in Hong Kong, however, means that Xi is not staying overnight, and all participants in events that he is attending are undergoing quarantine. Xi is likely to deliver a major speech on Hong Kong affairs that will outline a vision for closer political, economic, security, and even military integration with the mainland over the next 25 years, after which all the guarantees Beijing made about respecting Hong Kong's economic and political systems expire.
What do you expect from Hong Kong's new chief executive, who'll be inaugurated on Friday?
John Lee is Beijing's man. When he visited Beijing for meetings at the end of May, Xi told him that the CCP's Central Committee "fully approves of you and fully trusts you." Lee's selection shows that political control remains the Communist Party's top priority for Hong Kong. He rose through the ranks of the police, before becoming undersecretary and then secretary for security. He played a leading role in the government's crackdown against a massive pro-democracy movement in 2019 and the June 2020 implementation of Beijing's draconian security law for the territory. Outgoing chief executive Carrie Lam promoted Lee to Hong Kong's second-highest office in June 2021.
One of Lee's top priorities is to enact Hong Kong's own national security law, as required by the territory's constitution. This will include crimes covered by Beijing's law — secession, subversion, terrorism, and collusion with foreign organizations — plus treason, stealing state secrets, and political activities by foreign political organizations. It will further erode political liberties, press freedom, and the rule of law, and is likely to increase scrutiny of foreign individuals, firms, and NGOs with connections to Hong Kong politics. Still, the direct impact will be modest relative to the political earthquake of the 2020 security law and the crushing of Hong Kong's freedoms.
Lee lacks deep ties with the traditional political and business elite, so he'll probably be an especially loyal servant of China. His leadership will further erode the professionalism that once characterized Hong Kong's civil service, as Beijing's policies, practices, and personnel all gain influence. As secretary for security, his protest crackdown helped transform the Hong Kong police from a respected institution to a hated symbol of mainland repression and abuse of power.
How do you expect Hong Kong's relationship with China and the world to evolve in the coming years?
Hong Kong's decline as a global business hub will continue under Lee's leadership. He vows to boost Hong Kong's economy, further internationalize its dollar, and strengthen its role as an offshore center for China's currency, but has said little about how he plans to do it. The vagueness of Lee's economic statements points to a politician without many policy ideas, especially beyond his background in public security. He'll likely take his cues from Beijing, and prioritize economic integration with the mainland over restoring Hong Kong's international competitiveness.
Hong Kong's position as China's key capital gateway — which should endure for at least the next decade — will support financial stability. But Lee's lack of economic experience, plus the difficulty of attracting talent to the public service, would be liabilities if Hong Kong faces a shock, such as spillovers from the economic slowdown in China. And policies important to business, from data flows to a free financial media, will increasingly approach those in mainland China, making it harder to retain foreign firms and employees given competition from other financial centers such as Singapore, Tokyo, and Dubai.
Prospects for US-Hong Kong relations are grim. Washington sanctioned Lee for his role in undermining Hong Kong's autonomy, banning him from entering the US and Americans from doing business with him. The Biden administration may consider additional sanctions against Hong Kong if Lee enacts the homegrown security law, but these would likely be symbolic unless there is a major provocation, such as a bloody crackdown on new protests.