Sign up for GZERO's free newsletters on global politics
SUBSCRIBE
GZERO Daily: the newsletter for people who love global politics
Sign up for our free newsletter to keep up with what's going on around the world - and why it matters.
Subscribe
GZERO Daily: the newsletter for people who love global politics
Subscribe Now

We have updated our Privacy Policy and Terms of Use for Eurasia Group and its affiliates, including GZERO Media, to clarify the types of data we collect, how we collect it, how we use data and with whom we share data. By using our website you consent to our Terms and Conditions and Privacy Policy, including the transfer of your personal data to the United States from your country of residence, and our use of cookies described in our Cookie Policy.
What We're Watching: Catalan separatist off the hook, Biden's special counsel, Oz-PNG deal, Czech election, nukes for South Korea?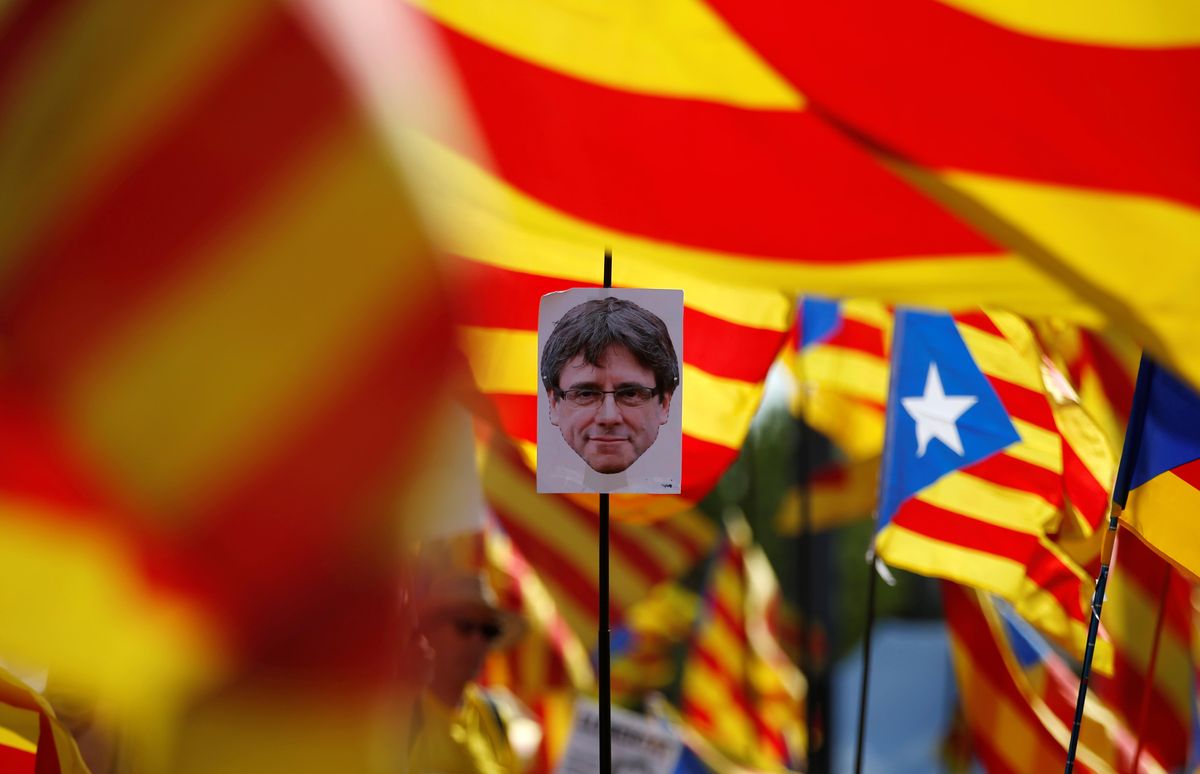 REUTERS/Vincent Kessler
Spanish justice gives up on Catalan fugitive
After trying for more than five years to bring fugitive ex-Catalan leader Carles Puigdemont to trial for sedition, on Thursday a Spanish judge threw in the towel and dropped the charge. Why? The left-wing government of PM Pedro Sánchez has watered down the crime of sedition so much that it no longer covers what Puigdemont did in Oct. 2017: declare Catalonia an independent republic before skipping town when he was about to get arrested. And why did Sánchez tweak the law? Because he needs the votes of Catalan separatist parties in the national parliament to stay in power (which also explains why he pardoned the other politicians who tried to secede along with Puigdemont.) The judge's decision has big political implications in an election year. On the one hand, it's vindication for the Catalan independence movement, which has been losing steam since its failed secession bid. But on the other, it's a poison pill for Sánchez, whom the the Spanish right has long accused of pandering to Catalan separatists. The PM will get a sense of what Spanish voters think of his Catalonia policy in local and regional elections in late May, a dress rehearsal for a general vote in December.
---
Biden gets a special counsel, too
US Attorney General Merrick Garland on Thursday appointed a special counsel to lead the investigation into the discovery of two batches of classified files allegedly taken by President Joe Biden when he was VP. The White House has promised full cooperation. Garland has followed his playbook from a similar probe involving former President Donald Trump, who stashed 300+ classified files from the White House at his Mar-a-Lago pad and gave the Feds a hard time about it. While Garland's move is unsurprising, the appointment of the special counsel can hurt Biden in two ways. First, it gives Republicans fodder to investigate the president in the House, regardless of Trump's own mishandling of sensitive government information. Second — and perhaps more importantly — it might mess with the Justice Department's own case against Trump and weaken the political argument to prosecute him as a presidential candidate in 2024. Even if the probe ends up not recommending charges for Biden, expect it to drag on for months and for the GOP to make a big stink about the whole thing. On another note, seriously, what's up with US presidents/veeps and classified files? Is it so hard to leave office without taking your past homework with you? Let us know what you think.
Oz & PNG working on security agreement
It's an open market for security pacts in the Pacific. Nine months after China clinched a controversial deal with the Solomon Islands, Australia is negotiating its own with Papua New Guinea and expecting to sign a security pact by June. This comes at a time when the US and its allies in the region are worried about Beijing's growing clout in a part of the world the West has long neglected. The leaders of the two countries promised transparency to contrast with China's secrecy, but so far the Aussies are keeping the details as much under wraps as the Chinese did. Regardless, the talks are quite a milestone for Australia-PNG relations given the messy legacy of Canberra's colonial rule. What's more, striking a deal would be a big win for Australia in its race to counter China because PNG has a lot of natural resources — fossil fuels, minerals, you name it — that Beijing is eager to get its hands on. We'll keep an eye on this in case the deal has any effect on Australia-China ties, now enjoying a warm-ish spell after years of frostiness.
Czech elections: round one, fight!
Czechs vote this weekend in the first round of a presidential election featuring three very distinct frontrunners. Leading the polls is Petr Pavel ("Peter Paul"!), a retired general and former top NATO official who's running as a safe, Europhile pair of hands and a strong supporter of Ukraine. Just behind him is Andrej Babiš, a Eurosceptic populist agriculture tycoon who was prime minister from 2017-2021. Babiš has been dogged by allegations of corruption, though he was cleared this week by a Czech court. His ANO party, popular with older and more rural voters, remains the largest in parliament. Lastly, economics professor Danuše Nerudová, a progressive on social issues, has highlighted the importance of electing her as the country's first female president. Czech presidents have limited powers, but they play a role in forming governments and represent the country abroad. Outgoing President Miloš Zeman, an ally of Babiš, fomented controversy throughout his 10 years in power, not least because of his overt sympathies for Russia. No one is expected to win outright in the first round — a runoff will be held in late January.
Wait, why did "Czechoslovakia" split into the Czech Republic and Slovakia 30 years ago? Read our recent explainer here.
South Korea mulls nuclear weapons ... again!
Nuclear rhetoric is heating up again on the Korean Peninsula, but this time the push is coming from South Korea. President Yoon Suk Yeol says that if the threat from the North continues, Seoul could develop its own nukes, or push the US to deploy them. Washington pulled its tactical nukes from South Korea in the 1990s, and it is unlikely to redeploy them. But Yoon isn't coming out of left field. He has serious public support for developing nukes, and he's not the first South Korean leader to have such ambitions. But considering the last time a South Korean leader proposed nuclear proliferation was in the 1970s, Yoon is the first one in decades to do so. He was elected last year with a mandate for a tough stance against Pyongyang, which has been amping up its missile tests and even flying drones into the South. Analysts say it's unlikely that Yoon will actually go down the nuclear route. It's more likely this stance could trigger China to convince its friends in the North to tone down the aggression, while also possibly push the US to extend its deterrence umbrella to the South.