What We're Watching: Turmoil in Kazakhstan, Macron targets anti-vaxxers, Haiti presidential murder probe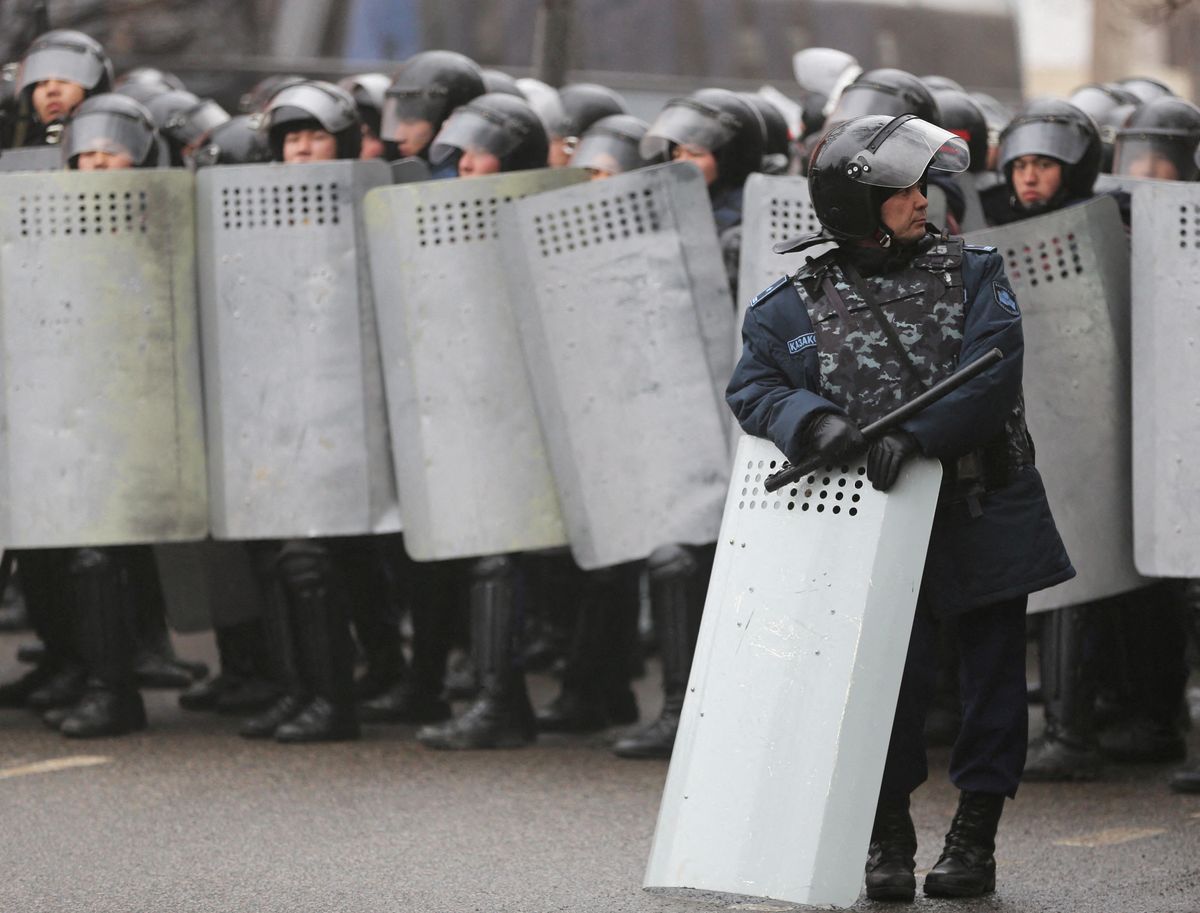 Kazakh political turmoil. "Dozens" of anti-government protesters have been killed by security forces in Kazakhstan, which has declared a state of emergency over the worst political crisis in a decade. President Kassym-Jomart Tokayev sacked the entire government in response to widespread street protests, which started days ago over a planned fuel price hike. Since then, the demonstrations have morphed into wider outrage against an entrenched regime, in power since the Central Asian republic broke away from the USSR in 1991. Things are escalating rapidly in Almaty, the business capital, where demonstrators have reportedly set the presidential palace on fire. Tokayev — who took over in 2019 as the handpicked successor of former strongman Nursultan Nazarbayev — now says he may assume wider powers to end the crisis and asked Russia to send in "peacekeepers" under the umbrella of the CSTO, a Moscow-led grouping of former Soviet Republics. Vladimir Putin, always wary of popular uprisings in the Kremlin's sphere of influence, is one of the two world leaders closely watching developments in Kazakhstan along with Xi Jinping, given that China is thirsty for Kazakh oil, gas, and minerals.

---
Macron wants to make the unvaccinated miserable. French President Emmanuel Macron is in hot water after saying he wants to make life difficult for unvaccinated people (he used the French word emmerder, which translates to "piss off" or "hassle.") The unrefined comment comes as omicron cases are surging in France, while hospitalizations are also steadily rising. As the public health situation deteriorates — and the collective appetite for lockdowns wanes — the French parliament is set to pass a bill that would tighten requirements for the health pass system, so that proof of a negative test will no longer be enough to enter public places like restaurants, bars, and museums. While France has a solid vaccination rate — 73 percent of the population is fully vaxxed — a very vocal vaccine-hesitant constituency has rallied against government containment measures. Naturally, Macron's political opponents used the unfolding scandal to smear the president just three months out from a tighter-than-expected presidential election: far-right hopeful Marine Le Pen accused the incumbent of "continuing his policy of division." It's unclear if this mini-scandal will have real political implications, but Macron — who in the past has been accused of being an aloof elitist detached from real people — can hardly afford another misstep as he tries to maintain a steady lead in the polls.
US charges suspect in killing of Haitian president.
Six months after Haiti's President Jovenel Moïse was
assassinated
in his bed in the middle of the night, the first suspect has been arrested by US officials and
charged
in an American court. Mario Antonio Palacios, a former Colombian soldier, was arrested in Jamaica and flown to Panama, from where he was extradited to the US. (America has jurisdiction over the proceedings because Haiti says the operation was largely planned and financed in Florida.) Indeed, the FBI has been helping Haitian authorities — who lack resources and institutional backing — to investigate the attack, which has plunged the Caribbean country
further into chaos and lawlessness.
If convicted, Palacios could face a life sentence. But operatives involved in the plot — many of whom are former Colombian military — say they were deceived by a Florida-based security company, which originally trained them to kidnap the former president, not kill him. At least 18 Colombians believed to be involved in the magnicide remain in prison in Port-au-Prince, as well as dozens of Haitians, including a US physician of Haitian origin believed to be the mastermind of the entire plot to take out Moïse.