What We're Watching: Ukrainian city under siege, Ripple Effects, Afghan railway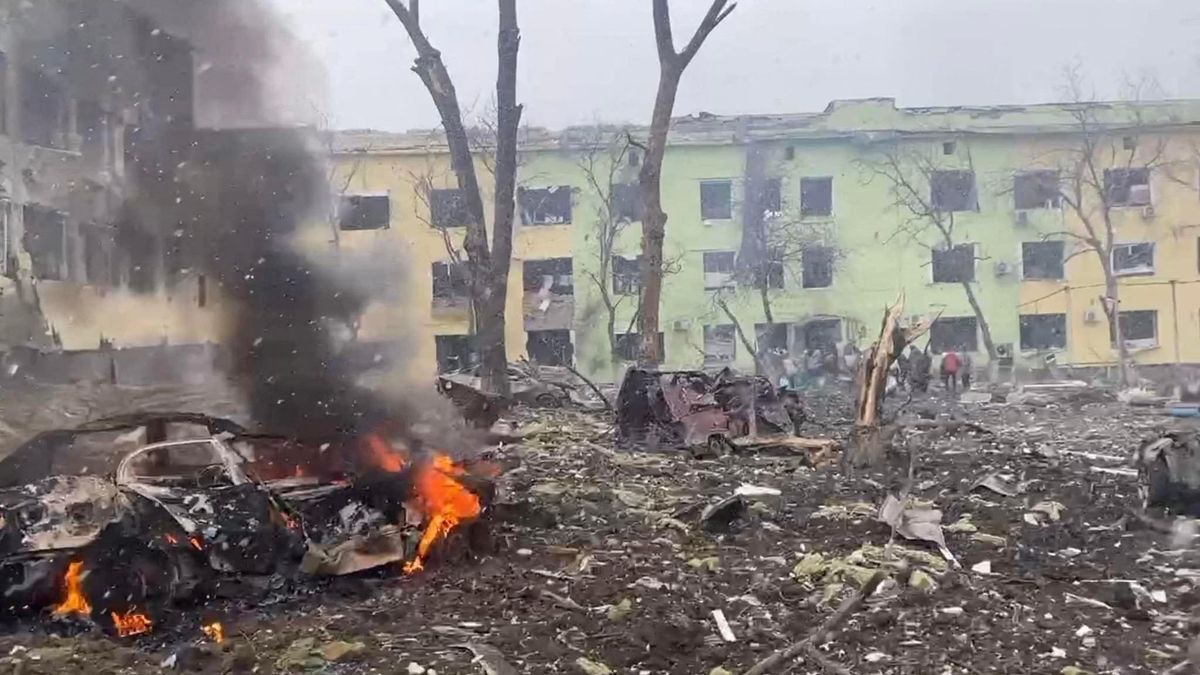 Ukraine National Police/Handout via REUTERS
Zelensky calls hospital strike in Mariupol an 'atrocity'
Children and mothers fall victim. On Wednesday, Russian bombs and missiles ravaged the strategic Black Sea port city of Mariupol in southeastern Ukraine, just 35 miles from the Russian border. In one of the war's most gruesome moments thus far, a children's hospital and birthing center were badly damaged by munitions, reportedly killing two adults and one child and injuring several others. A Ukrainian official said the attack occurred during an agreed-upon ceasefire with Russia. The town's administrative center was also badly damaged. If the city falls, Russia would have all but established a "land bridge" to Crimea.
---
Russia uses conscripts. The Russian Ministry of Defense's own media outlet admitted Tuesday that a small number of Russian conscripts (those drafted against their will into the army) had been sent into Ukraine, something that President Putin has repeatedly denied. It's a further sign that Putin's initial plan — for a swift takeover with professional soldiers — has failed. This could be politically dangerous for the Russian leader: conscripts going to Ukraine and possibly coming home in body bags is something that may have a more immediate impact on Russian public and elite opinion than any Western sanction or corporate departure from Russia.
US aid for Ukraine, but no jets. The US Congress agreed to earmark $13.6 billion in humanitarian and military aid for Ukraine as part of a broader budget bill. In haggling over the $1.5 trillion omnibus spending legislation, Democrats agreed to strike $15.6 billion in additional COVID relief funds. It remains to be seen whether Democrats will pay a price for prioritizing Ukraine over pandemic stimulus. Meanwhile, the Pentagon confirmed that it was formally rejecting Poland's proposal to send Mig-29s to NATO for a handoff to Ukraine. Washington continues to have zero appetite for even the appearance of a direct clash between NATO and Russian planes.
Who owns Chelsea? The British government on Thursday included billionaire and Chelsea FC owner Roman Abramovich in its latest wave of sanctions against Russian oligarchs with assets in the UK and ties to the Kremlin. Perhaps fearing he'd be next on the list, the billionaire had already decided to sell his soccer club, current UEFA Champions League champion. Now the sale is on hold — although the UK has said a special license will enable the club to continue operating. Interestingly, Abramovich brokered the initial peace talks between Russia and Ukraine in February, but he and six other oligarchs, including Igor Sechin (CEO of energy giant Rosneft), are now sanctioned.
The Ripple Effect
Putin's war has brought immense suffering to Ukraine, led to near-complete isolation of Russia from the West, and created a refugee crisis of historic proportions. But it's also sending economic shockwaves around the world in ways that could profoundly affect everyday life. In the Middle East and North Africa, soaring prices for wheat and fertilizer (Russia and Ukraine are top producers of both) threaten a food crisis that could leave millions starving. Fears of an interruption in sunflower oil exports from Ukraine and Russia, meanwhile, have caused major economies like India to switch to palm oil. This, in turn, has driven up prices, forcing Southeast Asian producers like Indonesia to impose export bans. Meanwhile, Central Asian economies that depend on remittances from Russia are reeling as the Russian economy nosedives. Worldwide, higher energy prices are slamming economies already struggling with pandemic-related inflation. The ripple effects are far-reaching, and we are only just beginning to see them. What aspects of the crisis are echoing where you live?
Iran, Afghanistan discuss massive rail project
Tehran is talking to the Taliban about
resuming a massive rail project
connecting five Central Asian countries, which the Iranians hope will boost trade and travel while limiting transit costs. The
Khaf-Herat
link, halted when the Taliban
seized control
of Afghanistan last year, is part of the $2 billion Five Nations Railway Corridor that will link China, Kyrgyzstan, Tajikistan, Afghanistan, and Iran. While Iran has not yet officially recognized the Taliban as the Afghan government, it remains Afghanistan's No. 1 trade partner and its key oil supplier. The project is a big deal. If completed, the railway would connect China to Turkey and Europe along the ancient Silk Road. For another, Afghanistan would surely benefit from modern infrastructure to trade its
mineral wealth
.