What We're Watching: Macron in Kyiv, Philippine election, Haiti presidential assassination probe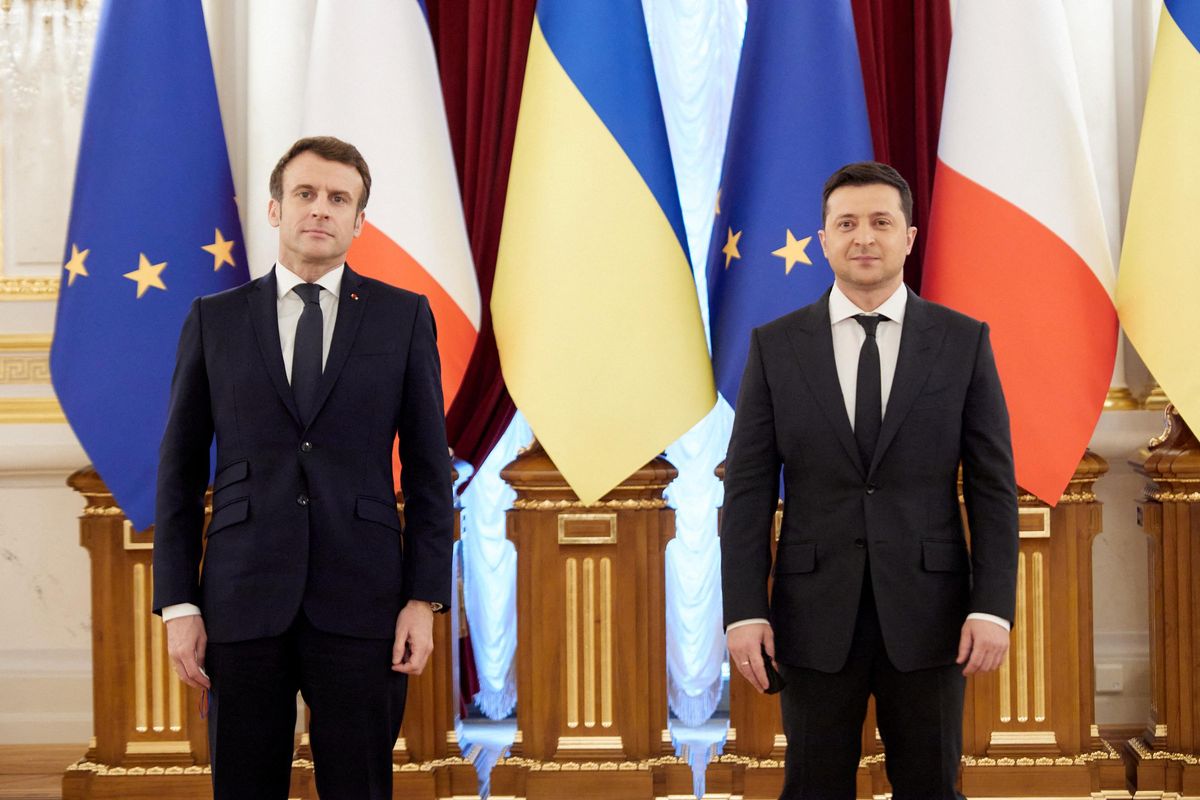 Ukrainian Presidential Press Service
Macron does the rounds. French President Emmanuel Macron is on a diplomatic tour to find a solution to the Ukraine crisis. On Monday, he met with Russian President Vladimir Putin. The two chatted for five hours, with Macron reporting he had "secured an assurance there would be no deterioration or escalation." But Russia later said Macron's version was "not right," and pushed back against reports that Putin had agreed to withdraw troops from Belarus. Was Putin lashing out because Macron left the Kremlin to fly to Kyiv where he reaffirmed Europe's commitment to Ukraine? Either way, German Chancellor Olaf Scholz, who's set to meet with Putin in Moscow on Feb. 15, will be taking note. Tellingly, Macron appeared less sanguine in Kyiv, saying the stalemate could continue for months.
---
Will the Marcos family rise again? Ferdinand Marcos, Jr., son of the late dictator, is the frontrunner to succeed outgoing Philippine President Rodrigo Duterte. Marcos, alongside VP running mate Sara Duterte — whose father is ineligible to run due to term limits — is polling well ahead of his rivals. Marcos has a massive social media presence, but he remains a polarizing figure due to his dad's legacy of kleptocracy and martial law. He recently beat a disqualification petition against him over an old tax conviction, but several more are pending. While the cases make their way through the courts, expect a campaign dominated by personalities and political dynasties in a country where name recognition is the only game in town. The official race kicked off this week, and the election will be held on May 9.
Haiti assassination plot thickens.
Haitian
President Jovenel Moïse
was killed at his home in Port-au-Prince last summer, and former Colombian military personnel arrested in connection with his assassination have claimed they were set up. But now a bombshell
CNN report
says Prime Minister Ariel Henry, a doctor who has served as interim leader since Moïse's murder, was involved in the plot and has tried to thwart the murder investigation. What's more, Henry, who heads large swaths of the justice department, has been accused of firing prosecutors and judges who sought potential charges against him. While some observers have criticized the US for not pressuring Henry to step down, American officials are likely wary of anything that could lead to more upheaval.