What We're Watching: Something Insane Over Paris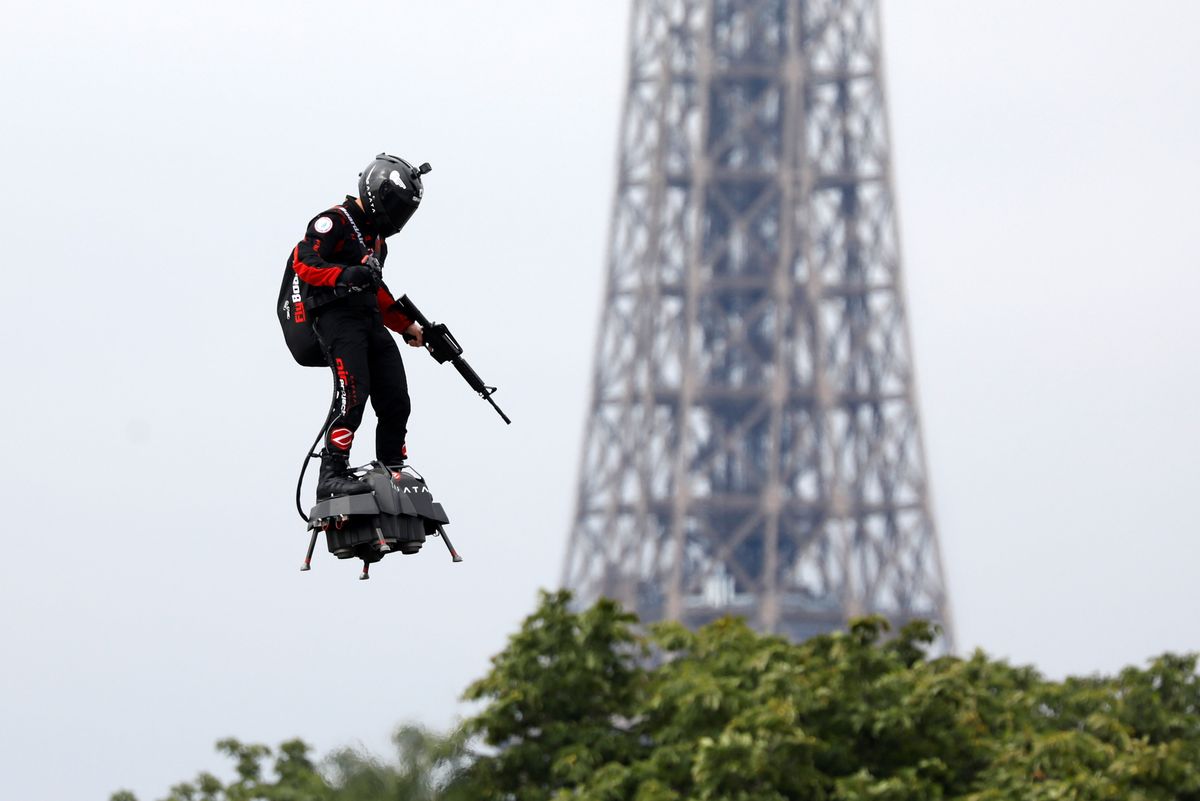 Le Flyboard - I could describe the sight of a guy holding a rifle flying around on a hoverboard above France's Bastille Day festivities this weekend, but you should just see the video yourself, courtesy of president Macron. The Flyboard is a drone powerful enough to carry a standing person at speeds up to 118 miles per hour (190 km/h) for short periods of time. We are watching this because it is absolutely next-level awesome, and also because we suspect it won't be long before these things start to change the face of warfare – maybe of crime too?
A Warning in Nigeria – Former Nigerian president Olusegun Obasanjo has sent a public letter to current President Muhammadu Buhari warning, among other things, that ongoing violence between farmers and herders could lead to a "Rwanda-type genocide" of ethnic Fulanis. More broadly, unchecked violence could lead to "dismemberment of the country." These two men are political rivals, and Obasanjo has written open letters before. But given ethnic tensions that have led to hundreds of recent murders in the country and continuing attacks from the Boko Haram terrorist group, these are warnings worth watching. Nigeria is home to about 200 million people, and it is Africa's largest economy.
A big vote in Europe – German Defense Minister Ursula von der Leyen has won the backing of German Chancellor Angela Merkel, French President Emmanuel Macron, and other EU leaders for her bid to be the next president of the European Commission, the 28 member bloc's executive body. To win that post later today, she'll need an absolute majority among the 746 European members of parliament. The vote – which will occur via secret ballot – is too close to call. She is liked by the center and center-right, but not the left. It's a good early test of EU unity after a hotly contested election for the European Parliament a few weeks ago. We'll soon know whether she'll be setting the agenda in Brussels for the next five years or whether Merkel and other leaders of an increasingly fractious EU will have to go back to the drawing board.
What We're Ignoring
Toxic Paradise in Russia - Limpid turquoise waters shimmer in the summer sun. The beautiful people paddle about and pose for selfies that garner millions of likes on social media. You can practically hear the pulse of Balearic house music emanating from the photos…Welcome to the Maldives….of Siberia. Yes, we're talking about a lake outside the smallish Russian city of Novosibirsk that has become an object of cult obsession this summer. The catch? It's actually a man-made waste site for a nearby electrical plant. The vivid blue isn't the result of pristine shallow waters, white sands, and coral reefs – it's actually an aquamarine stew of toxic salts and oxides flushed into the water by Heating and Electrical Station Number 5. We are ignoring (just barely though) the urge to enjoy a post-apocalyptic dip.