What we're watching: "Unfare" protests in Chile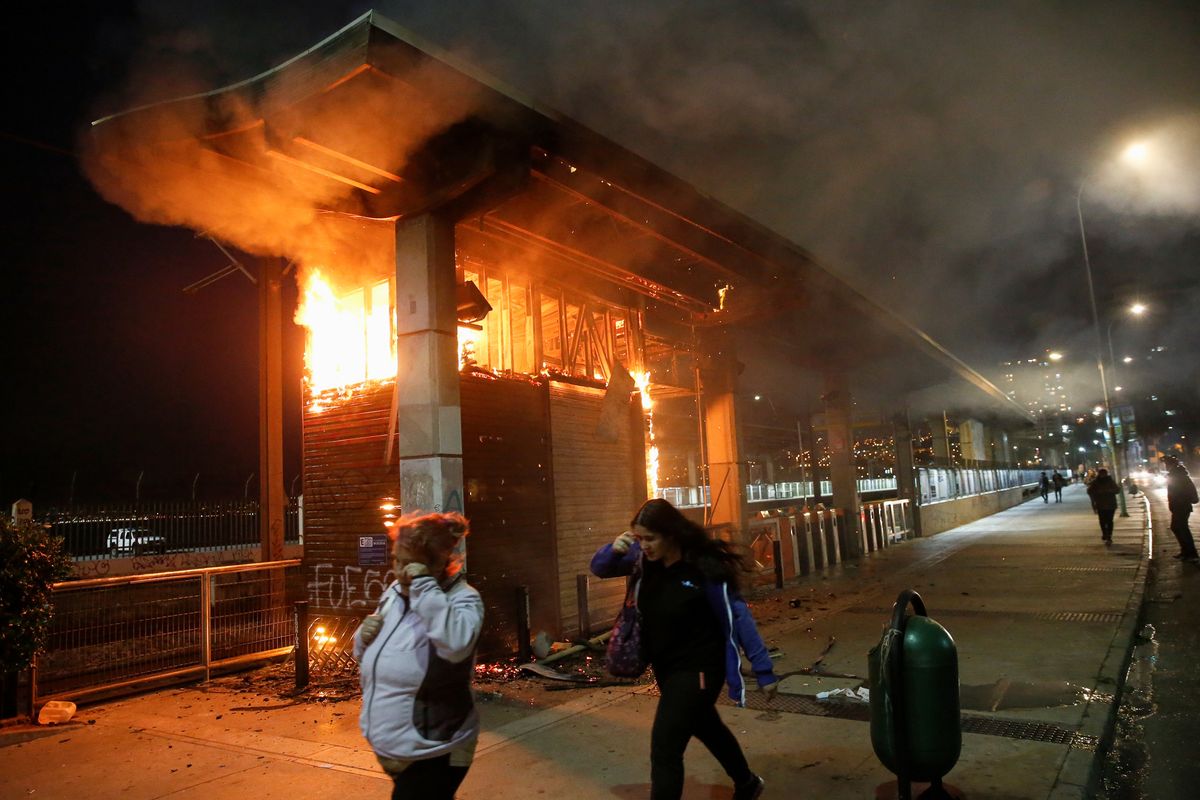 "Unfare" protests in Chile: You wouldn't think a 3 percent fare hike to ride the metro would plunge one of Latin America's most prosperous countries into days of deadly protests, looting, and fires. But that's the scene in Chile right now, where the government of President Sebastian Piñera has imposed a state of emergency to contain the chaos. He's already cancelled the fare hike, but this explosion of anger is about more than the take at the turnstile. Chile, long one of Latin America's most stable and steadily growing economies, has run into a common problem with rapid growth: as incomes rise and a middle class emerges, consumers expect access to good schools, hospitals, and roads—and affordable public transport. If government doesn't deliver, expectations become frustrations, with huge political consequences. It wasn't so long ago that similar protests over a 10-cent hike for bus fares in Sao Paulo plunged Brazil into its worst political and economic crisis in a generation.
---
Trudeau hangs on in Canada: The embattled Canadian leader will return as prime minister, albeit leading a minority government, after his Liberals won a plurality of seats in Monday's national elections. This was a tough fight for Trudeau, whose image as a competent torch-bearer for pro-immigration, pro-free-trade liberalism in a time of rising nationalism and trade wars has been marred by a political influence scandal and revelations that he had appeared in blackface as a younger man. But with 99 percent of the votes counted in the wee hours on Tuesday, his Liberals looked set to hold onto 157 seats – 13 short of a governing majority – while holding off a resurgent Conservative Party led by the opposition leader Andrew Scheer. Although, Trudeau appears to have lost the popular vote, 33 percent vs Conservatives' 34 percent. A chastened Trudeau won't find it as easy to govern in his second term as he is forced to ally with Canada's smaller, left-leaning New Democratic Party to make progress on individual issues like climate change and social reforms. But for now, he's still standing.
Lebanon's "revolution": Hundreds of thousands of anti-government protestors across Lebanon are in the streets demanding the resignation of the current government and an end to political corruption. There's plenty to protest: Public debt has ballooned, and a withering economy has forced young people to leave the country to find good jobs abroad. But it was last week's announcement of a new tax on calls made using free internet messaging services, including WhatsApp and FaceTime, that pushed many over the edge. Protestors from across Lebanon's sectarian groups have pledged to continue a general strike, Lebanon's largest in almost two decades, despite the resignations of four members of the government, sharp cuts in the salaries of top officials, and the passage of other major economic reforms. They've now called for a "revolution," and we're watching to see what might change their minds. We are also listening to the music at this protest-turned-rave in Tripoli.
Haiti's Implosion: A year-long political standoff between President Jovenel Moïse and an opposition movement demanding his ouster has now closed roads, shuttered schools, hospitals, and businesses, and brought the economy to a standstill. Food, fuel, and patience are in short supply. Haiti, one of the world's poorest countries, is no stranger to political dysfunction, but this is a political and economic crisis that is slowly strangling its most vulnerable citizens.
What We're Ignoring
"Iranian" hackers: Cyber analysts in the UK and US have uncovered evidence that cyber-attacks designed to steal secrets from more than 35 countries were not, as it initially seemed, carried out by Iranians. A Russian organization, in fact, had hacked into an Iranian group's system, stolen its tools, and ran its operations in ways meant to look like Iran was behind them. We are paying attention to this as an example of how cyberthreats are growing as national governments get deeper into the hacking game. But we're ignoring this particular attack by Iranians because this particular attack wasn't by Iranians.