What would you do if you were Greenland?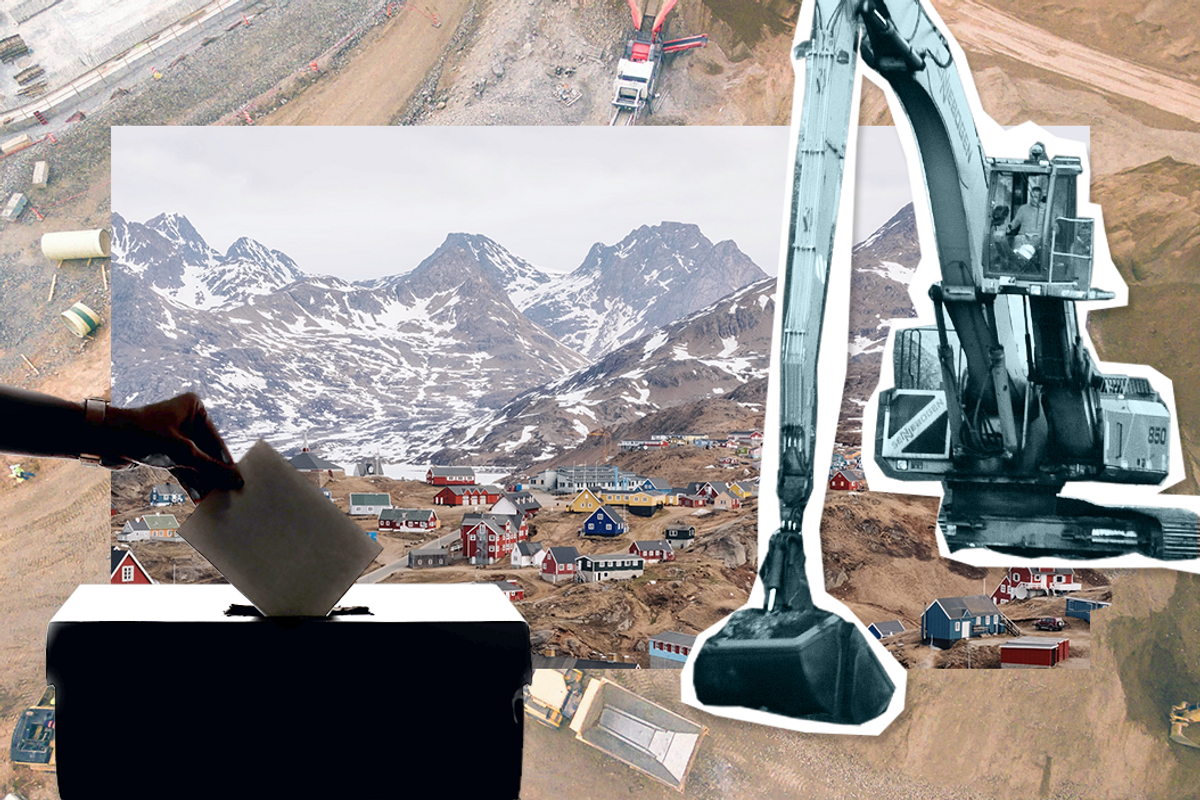 Gabriella Turrisi
It's not often that an election in a remote island of 56,000 people can reverberate across the globe like this, but trust us: it's been a wild few months in Greenland.
---
Earlier this year, the government collapsed over a proposal to grant a Chinese-backed mining company the rights to develop what would be one of the world's largest uranium and rare earths mines.
Supporters of the project, including the government coalition, envisioned a windfall of much-needed income and jobs. But the opposition saw a future of uranium dust and pollution blighting Greenland's pristine Arctic landscapes.

Protests erupted. Death threats flew. And the coalition government collapsed, triggering fresh elections in which opponents of the mine — the leftwing pro-independence Inuit Ataqatigiit party — have just won the most seats.
The party will now take power amid a maelstrom of economic and political challenges. And they'll do so at a time when the island nation is already in the crosshairs of some of the world's biggest geopolitical rivalries.
What's the back story?
For one thing, Greenland wants more independence. For more than 40 years, it has enjoyed autonomy from its former colonial masters in Denmark, but it's still a territory within the Danish kingdom. Most Greenlanders, including the Inuit Ataqatigiit party itself, want to be independent some day. But to do that, they need a self-sufficient economy. Right now, Greenland depends on cash from Denmark for almost half of its budget. The rest comes largely from fishing exports.
Mining is a huge opportunity. Greenland sits atop some of the world's largest reserves of rare earths, the metals that are used in everything from cell phones to fighter jets. Given the global scramble for those resources -- and the growing rivalry between the US and China over their production -- developing and selling them on the global market could be a ticket to boom town, particularly for such a small population. (Just ask the nearby Nordics of Norway, where oil discoveries in the late 1960s helped to quintuple per capita GDP in just ten years.)
Climate change is opening up more possibilities. Global warming has upended many of Greenland's traditional hunting and fishing practices, but it is also making the place more, well, green. Rising temperatures are making it easier to mine for resources and build infrastructure as once-frozen areas become easier to reach.
But all of this forces Greenlanders to answer a tough question. Are they willing to risk despoiling their environment in order to help realize their independence? (Just to be clear, if you've seen what Greenland's environment looks like, you can understand why this is such a big deal.)
There is a geopolitical angle here too. Remember when former US president Donald Trump offered to buy Greenland back in 2019? It was a moment of slapstick politics with real significance, because there is, in fact, a wider global tussle for influence in Greenland. It's partly about gaining preferential access to those mineral resources. But it's also about the battle for control over lucrative new Arctic shipping lanes that are opening up as the polar ice cap recedes — an Arctic route from Asia to Europe would cut export times in half, and would quickly become one of the world's most important economic arteries, right in Greenland's back yard.
The US-China rivalry is of course part of this. The United States government, which has an airbase in Greenland, but not a consulate, has eyed China's increased presence on the island — including via the mining project — with heightened suspicion. As the US-China rivalry deepens, Greenland could find itself drawn ever deeper into that conflict.
Can Nuuk's new leaders skillfully play that rivalry off in order to get what they want in terms of economic development and independence? We are about to find out.